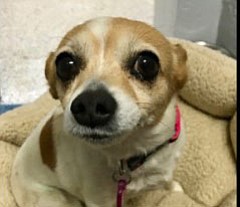 Originally Published: May 30, 2018 5:58 a.m.
Hey there, my name is Nod. I complete the Wynken, Blynken, and Nod trio.
I am the only female of the group, and boy am I a doll! The shelter staff says that I am good with small dogs, but would need to be properly introduced to a big dog to see how I would like them. I have personality for miles and surely won't last long at the shelter. Please come see me today!
Information and photo provided by the Chino Valley Animal Shelter, 1950 Voss Drive, which can be reached by calling 928-636-4223, ext. 7.