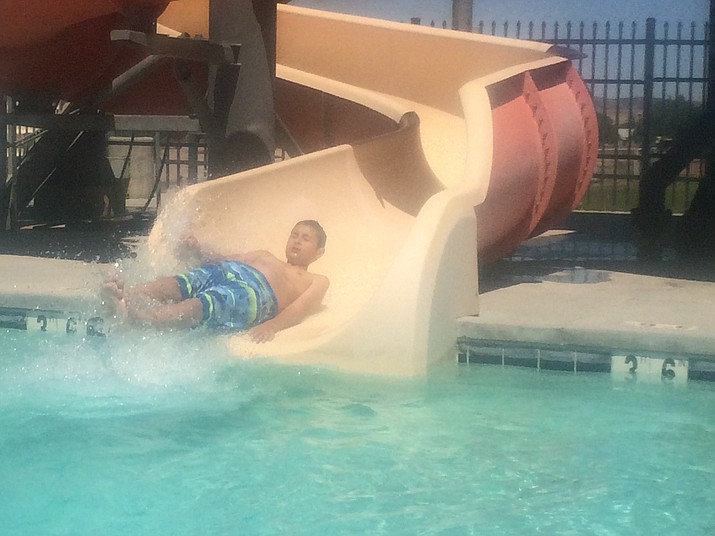 Originally Published: May 30, 2018 5:55 a.m.
Cougar football fundraiser June 9
The Cougar football Booster Club is hosting a dinner from 6 to 7 p.m. Saturday, June 9. The dinner costs $10 per plate. From 7 p.m. to midnight, there will be a Texas Hold 'Em tournament with a $50 buy-in. There will also be a silent Auction and 50/50 raffle.
The event will be located at the American Legion Post 40, 650 E. Road 3 South, Chino Valley. For additional information, contact Mike Paulus at 928-899-5606.
Willow Creek bridge repair on Iron Springs
Technology Construction, Inc., in conjunction with Yavapai County, will be performing bridge construction on Iron Springs Road at the Willow Creek bridge. Bridge construction will include removing half of the current bridge deck, replacing steel stringers, repairing cracks in the abutments, new guardrail placement, and resurfacing the new bridge deck.
Construction work began on May 29 and will continue through Sept. 20, a news release states. Construction activities will be Monday through Thursday from 7 a.m. to 5:30 p.m.
Motorists will encounter lane restrictions, reduced speed and flagging operations in the construction zone.
Technology Construction, Inc. will be implementing a 24-hour temporary traffic signal at the bridge. Motorists should expect minor delays and allow extra time to get through the construction area. Please follow all traffic control devices, including the traffic signal, when traveling through the work zone.
For more information, contact Yavapai County Public Works at 928-771-3183 or visit www.yavapai.us/publicworks.
Craft indoor show and sale this weekend
CASA Senior Center, 9360 E. Manzanita Circle (at the end of East Spouse in Prescott Valley) is hosting its first summer craft indoor show and sale from 10 a.m. to 2 p.m. Friday, June 1 and Saturday, June 2. There will be a CASA booth with a huge inventory of craft supplies. Additionally, there will be great craft booths and very reasonably priced supplies.
For more information, call 928-772-3337.
Laughing, health topics of June 1 event
When David Granirer comes to Prescott on Friday, June 1, it will be another night of hilarity and insight. He performs at 7 p.m. at the Elks Opera House in downtown Prescott.
In today's world, change, stress and tension are major challenges to everyone's mental health! Laughter is the cure, the best medicine, a cod liver oil for the soul, according to a news release.
Granirer has been honored with a Meritorious Service Medal from the Governor General of Canada. A counselor, Canadian and stand-up comic, Granirer suffers from depression, and looks at how comedy builds confidence and busts the stigma around mental illness. He shows audiences mental health from a totally different perspective while uplifting, inspiring and educating.
Quilt trunk show, presentation June 4
On Monday, June 4, the Lonesome Valley Quilt Guild will host Jane Tenorio-Coscarelli, who is a renowned author, artist and quilter. Jane will present a trunk show on her beautiful quilts.
The meeting begins at 7 p.m. and will be held at Emmanuel Lutheran Church, 7763 E. Long Look Drive (corner of Long Look/Loos off Glassford), Prescott Valley. It is free and there will be free refreshments. For more information, contact Karen at 928-830-2565.
At 9 a.m. Tuesday, June 5, Tenorio-Coscarelli will teach a class on Block of the Month. The class will be held at Mingus View Presbyterian Church, 8340 E. Leigh Drive, Prescott Valley. For more information, contact Sue at 415-271-5740.
Blood donation opportunities ahead
The American Red Cross is counting on volunteer donors to give blood and help ensure patient needs can be met this summer.
Around Memorial Day, the Red Cross sees a steep decline in blood donations. Busy summer schedules, vacations and school breaks also cause a drop in donations. Accidents and medical emergencies don't take a summer break — patients need blood every minute, every day.
• 10 a.m. to 4 p.m. June 4, Las Fuentes Resort Village, 1035 Scott Drive
• 10 a.m. to 3:30 p.m. June 13, Frontier Village, 1781 E. Highway 69, Suite 51
• Noon to 5 p.m., June 14, Shepherd of the Hills Lutheran Church, 1202 Green Lane
Simply download the American Red Cross Blood Donor App, visit RedCrossBlood.org or call 1-800-RED CROSS (1-800-733-2767) to make an appointment or for more information. All blood types are needed to ensure a reliable supply for patients. A blood donor card or driver's license or two other forms of identification are required at check-in. Individuals who are 17 years old in most states (16 with parental consent where allowed by state law), weigh at least 110 pounds and are in generally good health may be eligible to donate blood. High school students and other donors 18 years of age and younger also have to meet certain height and weight requirements.
Fish fry at Post 40 June 1
There a fish fry from 4:30 to 7 p.m. the first Friday in June (June 1) at the American Legion Post 40. The cost is $10. The event is to help veterans. The post is located 650 E. Road 3 South. Karaoke starts at 6 and ends at 11 p.m. The public is welcome.
Coffee with a Cop event set for May 30
Interested in having a conversation with your local law enforcement? Now you can. On Wednesday, May 30, the Chino Valley Police Department is hosting a Coffee with a Cop event at the Overflow Coffee Shop on 448 N. Highway 89. Meet Chief Wynn, Lt. Schaan and other CVPD employees from 8 a.m. to 9 a.m. May 30.
'Spring Salebration' set for June 1-2
Spring Salebration, from 7 a.m. to 2 p.m. Friday and Saturday, June 1-2, at Chino Valley United Methodist Church, 735 E. Road 1 South. There will be clothing and accessories, jewelry, household items, electronics, books, collectibles, home décor, appliances, toys, tools, garden supplies, furniture and more — including baked goods. A hot dog lunch with all the fixings will be at 11 a.m. Cash and credit cards will be accepted (no checks). For information, or to donate items, please contact the Church 8 a.m. to noon, Monday through Thursday or call 928-636-2969.
2nd annual Caregiver Symposium is June 1
Area Agency on Aging NACOG will host the second annual Quad-Cities Caregiver Symposium – Resources Make the Difference on June 1 in Prescott Valley. This free symposium welcomes family caregivers to find programs, services and other resources while networking with other caregivers.

Individuals with chronic or terminal conditions and their family caregivers will find information about caregiver resources, palliative care, dementia diagnosis resources, mental health for caregivers, help with navigating the Arizona Long Term Care System (ALTCS) and how to utilize the supports and services within your community.
Lunch will be provided by AARP Arizona. Registration for the symposium is required and can be completed by calling 1-877-521-3500.
Respite care may be available while you attend this event; inquire about eligibility at 1-877-521-3500.
The Northern Arizona Council of Governments (NACOG) provides answers on aging through resources, services and advocacy. For more information, visit www.nacog.org/aging.
Tickets on sale for Jay Leno performance
Yavapai College has launched its Golden Anniversary celebration with one of the best emcees in the history of show business. Beloved comedian, Mark Twain Prize-winner and longtime Tonight Show host Jay Leno performs Saturday night, Aug. 25, at Yavapai College Performing Arts Center.
Tickets went on sale Monday, May 14, for this one-of-a-kind, one-night-only YCPAC Celebrity Performance.
Widely acclaimed as "the hardest working man in show business," Leno has spun his biting wit and sly affability into a landmark career in stand-up comedy and a genre-defining reign as the Number One host in late night television.
Leno's late night television ratings domination included more than two decades of "The Tonight Show with Jay Leno," winning every consecutive quarter of his hosting over the course of 19 years. In the process, he has been honored by the Television Academy with an Emmy for "Outstanding Comedy, Variety or Music Series." "The Tonight Show with Jay Leno" has also taken home the trophy for "Favorite Late Night Show" in the annual TV Guide Awards determined by voting viewers, and he was recently installed in the Television Academy's Broadcast Hall of Fame.
The recipient of many honors — including Harvard's Hasty Pudding Award, a People's Choice Award, and his star on Hollywood's Walk of Fame — Leno has not slowed down post-Tonight Show. He has, instead, expanded a career that now includes philanthropy, children's books, producing and hosting the car-enthusiast program "Jay Leno's Garage" and making more than 100 stand-up shows annually across the country and internationally each year.
His local performance will be the centerpiece of an Aug. 24-25 weekend that commemorates Yavapai College's very first classes, offered in the autumn of 1968. Weekend events will include a block party, a fun run and a host of entertaining and educational events on the Prescott Campus. Then, YC's 50th Anniversary Celebration will expand county-wide with carnivals, trade fairs, live music and specialized events at each of YC's campuses and learning centers through early November.
Tickets for Jay Leno start at $69, and go on sale at 10 a.m. Monday. For reservations or more information, contact the YCPAC Box Office, 1100 E. Sheldon St., Prescott, between 10 a.m. and 4 p.m. Monday through Friday, or call 928-776-2000 (or 877-928-4253 toll free).
Town to erect Yellow Ribbon Honor Tree
The purpose of the Yellow Ribbon Honor Tree is to recognize and support current Chino Valley Town Council members and family members; town employees, their spouses or close family members; and other individuals living in the Chino Valley community/area who are currently serving full-time active duty in the military and are deployed; and individuals in the Reserves or National Guard who are currently deployed.
A yellow ribbon in recognition of each deployed individual will be displayed on a tree inside Chino Valley Town Hall. The public is welcome to visit the display during hours that Town Hall is open to the public. Each yellow ribbon will indicate the individual's name, rank and military branch.
The yellow ribbon will be on display for six months. Ribbons will then be removed and stored for one year. Contact the Town Manager's Office to pick up the ribbon.
To participate, complete the application form, Town of Chino Valley's Yellow Ribbon Honor Tree, providing information about the individual who is deployed. Application forms are available at Chino Valley Town Hall, Chino Valley Senior Center, Library, Human Resources, or the application can be completed online at the Town of Chino Valley website, www.chinoaz.net.

Submit the completed application form to the Chino Valley Town Manager's Office, 202 N. Highway 89, Chino Valley, Arizona 86323, or submit online through the Town of Chino Valley website.
Applications for the Yellow Ribbon Honor Tree will be available and accepted starting May 1.
Cancer Society seeks Relay For Life signups
The American Cancer Society is calling on all community members to participate in the annual Relay For Life of the Quad Cities starting at 6 p.m. Friday, June 1, at the Town of Prescott Valley Civic Center lawns. Be part of the fight, and together we can beat our biggest rival.
The American Cancer Society is seeking volunteers to form teams and stand shoulder to shoulder with cancer patients and those supporting them.
Founded by Dr. Gordy Klatt in Washington in 1985, the Relay For Life movement unites communities across the globe to celebrate people who have been touched by cancer, remember loved ones lost, and take action for lifesaving change. Symbolizing the battle waged around the clock by those facing cancer, the event can last up to 24 hours and empowers communities to take a stand against cancer.

Last year, 2.7 million participants in the U.S. raised more than $279 million at more than 3,500 events to help the American Cancer Society attack cancer in dozens of ways, each of them critical to achieving a world without cancer — from developing breakthrough therapies to building supportive communities, from providing empowering resources to deploying activists to raise awareness. Money raised supports the American Cancer Society 24/7 cancer help line and free rides to chemo.
To learn more about Relay For Life, and register a team, visit www.relayforlife.org/quadcitiesaz or contact Kristi Jones at kristikay@cableone.net or via phone at 928-710-1021.
Chino Valley seeks volunteer applicants
The Town of Chino Valley is seeking applicants interested in sharing their talents, expertise, and enthusiasm to serve on the following Town Council-appointed boards and committees: Board of Adjustment, Parks and Recreation Advisory Board, Roads and Streets Committee, Senior Center Advisory Board, Industrial Development Authority and Municipal Property Corporation.
Visit www.chinoaz.net/222/Boards-Commissions to view committee descriptions, desired qualifications, residency requirements, terms of office, and meeting days and times, and see where you best fit in!
Obtain a Public Body Appointment Application from the link above or address below. Application must include brief resume or summary describing relevant experience. Applicants must be willing to serve on a volunteer basis. Applications will be accepted until the positions are filled. First review to occur in mid-May.
Submit application or direct questions to: Town of Chino Valley, Attention: Town Clerk's Office, 202 N. State Route 89, Chino Valley, AZ 86323, phone 928-636-2646, ext. 1052, fax 928-636-2144 or vnipper@chinoaz.net.