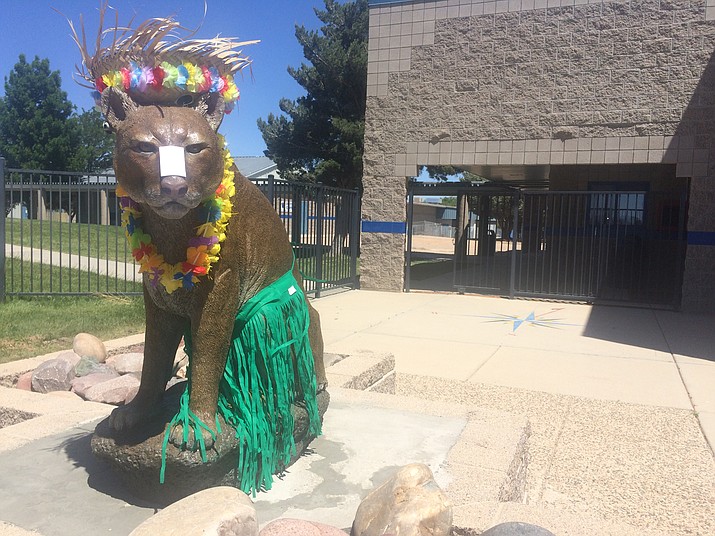 Originally Published: May 23, 2018 5:50 a.m.
American Legion hosting Memorial Day celebration
The American Legion is having a Memorial Day celebration at the Chino Valley Cemetery at 10 a.m. There will be a pool and horse shoe tournament afterward. Hotdogs and hamburgers will be sold for $1 and $3. The celebration is open to the public.
There is a fish fry on the first Friday of the month from 4:30 to 7 p.m. at the American Legion, 650 E. Road 3 S, Chino Valley. Karaoke is from 6 to 10 p.m. This is open to the public.
The American Legion, 650 E. Road 3 S, Chino Valley, offers breakfast is offered the first, second and third Sundays from 8 to 11 a.m. for $7. The public is welcome to attend.
BUNCO
Play BUNCO at 6 p.m. Friday, May 25 at the Chino Valley Community Church, 1969 N. Highway 89.
Memorial day ceremony
American Legion Post 40 is hosting a Memorial Day ceremony at 10 a.m. Monday, May 28. There will be a pool and horse shoe tournament. Hot dogs will be sold for $1 and hamburgers will be sold for $3. The celebration is open to the public. The American Legion Post 40 is located at 650 E. Road 3 S., Chino Valley.
Fish fry
There is a fish fry from 4:30 to 7 p.m. the first Friday of the month at the American Legion Post 40, 650 E. Road 3 S., Chino Valley. The same night karaoke starts at 6 and ends at 11 p.m. The public is welcome.
Quilt trunk show and presentation
On Monday, June 4, the Lonesome Valley Quilt Guild will host Jane Tenorio-Coscarelli, who is a renowned author, artist and quilter. Jane will present a trunk show on her beautiful quilts.
The meeting begins at 7 p.m. and will be held at Emmanuel Lutheran Church, 7763 E. Long Look Drive (corner of Long Look/Loos off Glassford), Prescott Valley. It is free and there will be free refreshments. For more information, contact Karen at 928-830-2565.
At 9 a.m. Tuesday, June 5, Jane Tenorio-Coscarelli will teach a class on Block of the Month. The class will be held at Mingus View Presbyterian Church, 8340 E. Leigh Dr., Prescott Valley. For more information on the class, contact Sue at 415-271-5740.
Cougar football fundraiser
The Cougar football Booster Club is hosting a dinner from 6 to 7 p.m. Saturday June 9. The dinner costs $10 a plate. From 7 p.m. to midnight, there will be Texas Hold EM tournament with a $50 buy-in. There will also be a silent Auction & 50/50 raffle. The event is located at the American Legion Post 40, 650 E. Road 3 S., Chino Valley. For additional information, contact Mike Paulus at 928-899-5606.
Arizona Eco Development open house for future project
Representatives from Arizona Eco Development will hold an open house regarding their proposed annexation and development in the City of Prescott. This meeting is intended to present information and receive input from the public. This is not a city-sponsored event.
The meeting will be held at 6 p.m. Thursday, May 24, at Mile High Middle School, located at 300 S. Granite Street.
Women of Wellness meeting
Women of Wellness (WOW) is a women's group for women 50+ who realize age is just a number and are excited about living a full, youthful and adventurous life. Focused on all components of health, this group will meet once a month to enjoy education, comradery, support and fun. Please RSVP by calling 928-708-3110. The event is located at Touchmark Health & Fitness Club, 3150 Touchmark Boulevard, Prescott. We meet at 4 p.m. every fourth Thursday.
2nd Annual Quad-Cities Caregiver Symposium
Area Agency on Aging NACOG to host the 2nd Annual Quad-Cities Caregiver Symposium – Resources Make the Difference on June 1 in Prescott Valley. This free symposium welcomes family caregivers to find programs, services and other resources while networking with other caregivers.

Individuals with chronic or terminal conditions and their family caregivers will find information about caregiver resources, palliative care, dementia diagnosis resources, mental health for caregivers, help with navigating the Arizona Long Term Care System (ALTCS) and how to utilize the supports and services within your community.
Lunch will be provided by AARP Arizona. Registration for the 2nd Annual Quad-Cities Caregiver Symposium is required and can be completed by calling 1-877-521-3500.
Respite Care may be available while you attend this event. Please inquire about eligibility at 1-877-521-3500.
Area Agency on Aging NACOG provides answers on aging through resources, services and advocacy. If you would like to learn more about the programs at Area Agency on Aging NACOG, please visit www.nacog.org/aging.
Laughing your way to good mental health
When David Granirer comes to Prescott on Friday, June 1, it will be another night of hilarity and insight. He performs at 7 p.m. at the Elks Opera House.
In today's world, change, stress and tension are major challenges to everyone's mental health! Laughter is the cure, the best medicine, a cod liver oil for the soul.
David has been honored with a Meritorious Service Medal from the Governor General of Canada. Counselor, Canadian and stand-up comic David Granirer, who himself suffers from depression, looks at how comedy builds confidence and busts the stigma around mental illness. He shows audiences mental health from a totally different perspective while uplifting, inspiring and educating.
Coffee with a Cop event set for May 30 in Chino Valley
Interested in having a conversation with your local law enforcement? Now you can. On Wednesday, May 30, 2018, the Chino Valley Police Department is hosting a Coffee with a Cop event at the Overflow Coffee Shop on 448 N. Hwy 89 in Chino Valley. Meet Chief Wynn, Lt. Schaan and other CVPD employees from 8 a.m. to 9 a.m. May 30.
Grace Baptist Church to present 'One Nation Under God' on May 26-27
Grace Baptist Church will present "One Nation…Under God" a musically based, patriotic program in two performances over Memorial Day weekend. Admission is free and everyone is invited to attend at 7 p.m. Saturday, May 26 or 4 p.m. Sunday, May 27. A refreshment reception will follow each performance.
The program will feature choral singing, solos, quartets, poetry and stirring, poignant imagery as well as audience sing-alongs to "The Star Spangled Banner" and "America the Beautiful."
Grace Baptist Church is located at 2010 S. Highway 89 in Chino Valley. Call 928-636-2949 or go to www.cvgace.com for more information.
'Spring Salebration' set for June 1-2
"Spring Salebration," from 7 a.m. to 2 p.m., Friday, June 1 and Saturday, June 2, at Chino Valley United Methodist Church, 735 E. Road 1 South. There will be clothing and accessories, jewelry, household items, electronics, books, collectibles, home décor, appliances, toys, tools, garden supplies, furniture and more—including baked goods. A hot dog lunch with all the fixings will be at 11 a.m. Cash and credit cards will be accepted (no checks). For information, or to donate items, please contact the Church 8 a.m. to noon, Monday through Thursday or call 928-636-2969.
WaterSmart: Drop by Drop Series Conservation
The City of Prescott Water Resource Management presents the fifth installment of WaterSmart: Drop by Drop, an interactive education initiative addressing water supply and water conservation. A presentation and factsheet highlighting a different topic each month will be offered in the Founders Suite at the Prescott Public Library, at 215 E. Goodwin St., on the third Wednesday of each month. Can't make it to the library? See the City's website. Newspaper, radio and social media will support the monthly topics.
This month's presentation about "Conservation" will be held at noon on Wednesday, May 16. Participants will learn about how to effectively reduce water usage and will also shed light on just how many gallons of water are used per day in a household.
The City encourages everyone to do your part and be WaterSmart! The program offers the community water education so that we can protect our water resources now, and for generations to come!
For further information, contact Leah Hubbard at the City of Prescott Water Resource Management at 928-777-1144.
Chino Valley Cougars continue signups
Registration is ongoing for the upcoming season of football and cheerleading with the Chino Valley Cougars. Payment plans are available through http://tshq.bluesombrero.com/cvyfc. Coaches, sponsors and a fundraising coordinator are still needed.
Republican Women give out scholarships
Republican Women of Prescott (RWOP) are awarding $16,000 in scholarships to 12 seniors graduating from high schools within the Quad Cities. Applicants were judged on transcripts, outside activities, their 500-word essay, letters of recommendation written on their behalf and a 20-minute interview by the RWOP Scholarship Committee.
Funding for the scholarships came from the proceeds of RWOP fundraisers and from two endowments from members.

Winners include five from Prescott High School: Grace Barrett, Abigail Chartier, Charles Hicks, Kody Jones and Rhodes Award winner, Braden Lopez.

Bradshaw Mountain High had two winners: Jacquelyn Bassford and Sarah Nisse.

AZ Agribusiness & Equine Center also had two winners: Kateri Wrublik and Kuebler Award winner Bridget Koehl.

Bagdad High School's winner is Bethany Loveall.

Dayna Burns, who is home schooled, is also a recipient of a RWOP award. Scholarships will be awarded at the RWOP luncheon at the Prescott Resort on May 15. Announcements of the awards will be given at the various high schools with presentations by individuals of the RWOP Scholarship Committee.
All of the recipients are invited to participate in a student forum at Las Fuentes from 3 to 4 p.m. Friday, May 18. Friends, families and public are encouraged to attend.
Tickets on sale for Jay Leno performance
Yavapai College has launched its Golden Anniversary celebration with one of the best emcees in the history of show business. Beloved comedian, Mark Twain Prize-winner and longtime Tonight Show host Jay Leno performs Saturday night, Aug. 25, at Yavapai College Performing Arts Center.
Tickets went on sale Monday, May 14, for this one-of-a-kind, one-night-only YCPAC Celebrity Performance.
Widely acclaimed as "the hardest working man in show business," Leno has spun his biting wit and sly affability into a landmark career in stand-up comedy and a genre-defining reign as the Number One host in late night television.
Leno's late night television ratings domination included more than two decades of "The Tonight Show with Jay Leno," winning every consecutive quarter of his hosting over the course of 19 years. In the process, he has been honored by the Television Academy with an Emmy for "Outstanding Comedy, Variety or Music Series." "The Tonight Show with Jay Leno" has also taken home the trophy for "Favorite Late Night Show" in the annual TV Guide Awards determined by voting viewers, and he was recently installed in the Television Academy's Broadcast Hall of Fame.
The recipient of many honors — including Harvard's Hasty Pudding Award, a People's Choice Award, and his star on Hollywood's Walk of Fame — Leno has not slowed down post-Tonight Show. He has, instead, expanded a career that now includes philanthropy, children's books, producing and hosting the car-enthusiast program "Jay Leno's Garage" and making more than 100 stand-up shows annually across the country and internationally each year.
His local performance will be the centerpiece of an Aug. 24-25 weekend that commemorates Yavapai College's very first classes, offered in the autumn of 1968. Weekend events will include a block party, a fun run and a host of entertaining and educational events on the Prescott Campus. Then, YC's 50th Anniversary Celebration will expand county-wide with carnivals, trade fairs, live music and specialized events at each of YC's campuses and learning centers through early November.
Tickets for Jay Leno start at $69, and go on sale at 10 a.m. Monday. For reservations or more information, contact the YCPAC Box Office, 1100 E. Sheldon St., Prescott, between 10 a.m. and 4 p.m. Monday through Friday, or call 928-776-2000 (or 877-928-4253 toll free).
Town to erect Yellow Ribbon Honor Tree
The purpose of the Yellow Ribbon Honor Tree is to recognize and support current Chino Valley Town Council members and family members; town employees, their spouses or close family members; and other individuals living in the Chino Valley community/area who are currently serving full-time active duty in the military and are deployed; and individuals in the Reserves or National Guard who are currently deployed.
A yellow ribbon in recognition of each deployed individual will be displayed on a tree inside Chino Valley Town Hall. The public is welcome to visit the display during hours that Town Hall is open to the public. Each yellow ribbon will indicate the individual's name, rank and military branch.
The yellow ribbon will be on display for six months. Ribbons will then be removed and stored for one year. Contact the Town Manager's Office to pick up the ribbon.
To participate, complete the application form, Town of Chino Valley's Yellow Ribbon Honor Tree, providing information about the individual who is deployed. Application forms are available at Chino Valley Town Hall, Chino Valley Senior Center, Library, Human Resources, or the application can be completed online at the Town of Chino Valley website, www.chinoaz.net.

Submit the completed application form to the Chino Valley Town Manager's Office, 202 N. Highway 89, Chino Valley, Arizona 86323, or submit online through the Town of Chino Valley website.
Applications for the Yellow Ribbon Honor Tree will be available and accepted starting May 1.
Cancer Society seeks Relay For Life signups
The American Cancer Society is calling on all community members to participate in the annual Relay For Life of the Quad Cities starting at 6 p.m. Friday, June 1, at the Town of Prescott Valley Civic Center lawns. Be part of the fight, and together we can beat our biggest rival.
The American Cancer Society is seeking volunteers to form teams and stand shoulder to shoulder with cancer patients and those supporting them.
Founded by Dr. Gordy Klatt in Washington in 1985, the Relay For Life movement unites communities across the globe to celebrate people who have been touched by cancer, remember loved ones lost, and take action for lifesaving change. Symbolizing the battle waged around the clock by those facing cancer, the event can last up to 24 hours and empowers communities to take a stand against cancer.

Last year, 2.7 million participants in the U.S. raised more than $279 million at more than 3,500 events to help the American Cancer Society attack cancer in dozens of ways, each of them critical to achieving a world without cancer — from developing breakthrough therapies to building supportive communities, from providing empowering resources to deploying activists to raise awareness. Money raised supports the American Cancer Society 24/7 cancer help line and free rides to chemo.
To learn more about Relay For Life, and register a team, visit www.relayforlife.org/quadcitiesaz or contact Kristi Jones at kristikay@cableone.net or via phone at 928-710-1021.
Chino Valley seeks volunteer applicants
The Town of Chino Valley is seeking applicants interested in sharing their talents, expertise, and enthusiasm to serve on the following Town Council-appointed boards and committees: Board of Adjustment, Parks and Recreation Advisory Board, Roads and Streets Committee, Senior Center Advisory Board, Industrial Development Authority and Municipal Property Corporation.
Visit www.chinoaz.net/222/Boards-Commissions to view committee descriptions, desired qualifications, residency requirements, terms of office, and meeting days and times, and see where you best fit in!
Obtain a Public Body Appointment Application from the link above or address below. Application must include brief resume or summary describing relevant experience. Applicants must be willing to serve on a volunteer basis. Applications will be accepted until the positions are filled. First review to occur in mid-May.
Submit application or direct questions to: Town of Chino Valley, Attention: Town Clerk's Office, 202 N. State Route 89, Chino Valley, AZ 86323, phone 928-636-2646, ext. 1052, fax 928-636-2144 or vnipper@chinoaz.net.
NACOG fall prevention workshop ongoing
A "Matter of Balance" fall prevention workshop, sponsored by NACOG Area Agency on Aging, will be held at 1 p.m. Wednesdays through May 23, at the Pioneer Home, 300 S. McCormick St., Prescott. For more information, contact Beth Brehio at 928-775-9993 ext. 4272 or bbrehio@nacog.org.
Candidate packets are available at Town Hall
The Town of Chino Valley has its primary election set for Tuesday, Aug. 28, and its general election for Tuesday, Nov. 6.
The town's elected offices open for candidacy are the following: mayor, which has a two-year term; one council position with a two-year term; and three council positions with four-year terms.
Anyone who wants to run for any of these offices must be able to register to vote, must be 18 or older, live within the town limits of Chino Valley, and have resided within the town for one year.
Candidate packets are available at the Town Clerk's Office in Town Hall, 202 Highway 89, by appointment with Town Clerk Jami Lewis. Prospective candidates have until Wednesday, May 30, to file the necessary papers with Lewis, who can be reached at 928-636-2646 ext. 1052.