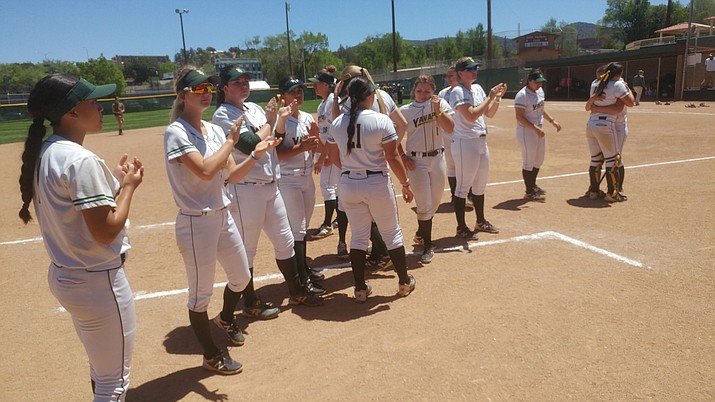 Originally Published: May 5, 2018 10:32 p.m.
But Eastern AZ has last laugh, wins region title
PRESCOTT — Hitting slumps are tricky, and oftentimes unforgiving. For Yavapai College's softball team in 2018, the mini-slump that the Roughriders endured at home in the NJCAA Division I, Region I Tournament was no different.
After managing three hits in a 10-0 loss to second-seeded Eastern Arizona, a setback that dropped top-seeded Yavapai into the losers' bracket Friday, No. 4 seed and 2017 region champion Central Arizona limited the typically heavy-hitting Roughriders to two runs on four hits and eliminated the favored Roughriders, 3-2, Saturday at Vallely Field.
This was the second straight season that two-time defending Arizona Conference champion Yavapai succumbed in regionals on its own field. Eastern Arizona, which moved on to beat Central Arizona, 8-6, for the region title on Saturday and advanced to the NJCAA National Tournament, upended the Roughriders in 2017.
"It's really rough," emotional Yavapai sophomore slugger Jaydee Boursaw said. "We sat down last night [Friday] and we talked about how we wanted to come out [Saturday] and what we wanted to achieve from this team and how we've done so many big things this season that people weren't expecting us to do. It's just devastating to see us lose like this."
Fourth-year Roughriders coach Doug Eastman, who led Yavapai to nationals in his second season in 2016, said he couldn't explain why his team struggled to hit in its last two games of the tournament. The Roughriders were shut out for 12 straight innings before scoring two runs in the sixth inning Saturday.
"If I could've figured it out, I'd have made changes," Eastman said. "But we hit the ball all year. We're one of the nation's leaders in home runs and RBIs and walks, and on-base percentage. Like anybody, sometimes it just doesn't work out. It's just not your time, and that's the beauty about sports and what's frustrating about sports.
"There's been some great teams that came out and didn't get it done, and this was a great team."
Central lost to Yavapai 8-0 in six innings on Friday, but bounced back nicely in Saturday's game behind sophomore pitcher Kyrstan Garcia of Sierra Vista. Lauren Shirley pitched the first inning for the Vaqueras before giving way to Garcia, who hung on to win the game after surrendering two runs on three hits in the sixth.
Garcia, who allowed one hit from the second through the fifth innings, finished with four strikeouts and three walks.
"We've had to fight to get here [to regionals], so we weren't going to give up now just because we're playing Yavapai," said Garcia, who had lost twice to the Roughriders this spring, including Friday.
Third-year Vaqueras coach Shelby Davis, who won a national championship with Central as a player, said she had confidence in Garcia that she would "shine in the big moment when we needed her to."
The Vaqueras claimed a 3-0 lead by the end of the second inning against Yavapai starter Kiana Spencer. Garcia's RBI single and Makiya Thomas' RBI double were the key hits. But Spencer would stay strong, pitching a scoreless third and fourth, and recording two outs in the fifth before ace Jaya Allen relieved her.
Allen allowed two hits and walked one in the finial 2-1/3 frames. Yavapai's third pitcher, Santana Parra, a crucial piece for the hosts, couldn't play in this tournament due to illness.
"She was just too weak [Friday]," Eastman said of Parra. "She was having a hard time walking around."
Yavapai had one hit through the first five innings, a single to right field by Shelby Hotchkiss in the third.
"We got overanxious, and we went for anything [pitch] that was near us, and that hasn't been our strong suit all year," Boursaw said.
The Roughriders, who stranded six baserunners on the day, showed signs of life in the sixth when Boursaw launched her conference-best 28th homer to deep left with one out. Later, with two outs, catcher Kylie Brown smoked a double to the left-field gap and Makea Kaluau ripped an RBI single to cut the Central lead to 3-2.
"I was really hoping that at that point, it could've gotten everybody into it, and it could've gotten everybody to the point of just having the fight that we needed to have [Saturday]," Boursaw said.

In the seventh, pinch hitter Meredith Clark lined a single to left with one out and represented the tying run.
But pinch runner Katelyn Kubitschek fell victim to a force out at second when Garcia gathered herself after dropping a ball hit by Brianna Griffiths in the shallow infield.
"We just weren't hitting [Saturday]," a teary-eyed Kaluau said. "If we could've hit the way we could, we would've done way better."
With the potential game-tying run at first in Griffiths, the next batter, Makayla Guerra, popped out to Central catcher Madison Besaw on a 3-2 count to end the game as Central's players celebrated near home plate. A stunned Yavapai squad felt the weight of losing, despite a sterling season in which the Roughriders compiled a 50-12 overall record.
"We have high-character kids – kids that came to the ballpark and worked hard, and stayed out of trouble and focused on what a scholarship meant," Eastman said. "Obviously we had talent, but we had young ladies that are credible, and that's what we try to do at Yavapai."