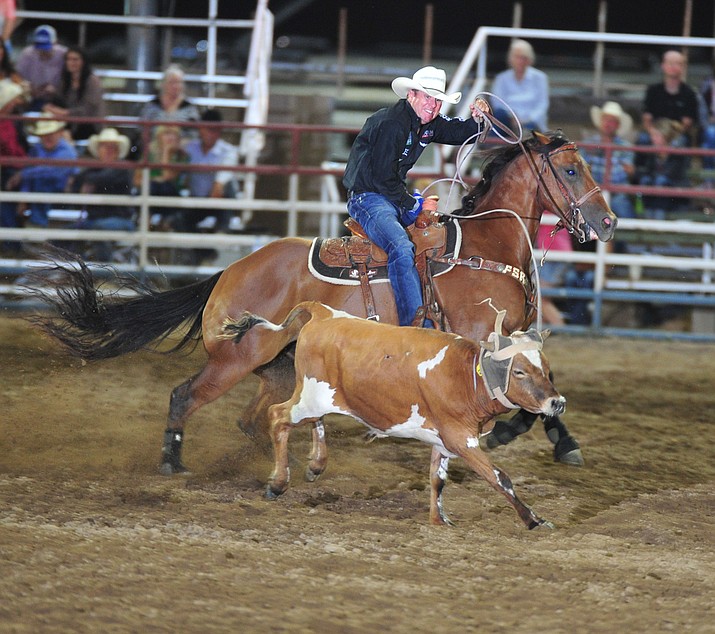 Originally Published: June 30, 2018 9:49 p.m.
PRESCOTT — Donning a dark purple polo shirt and jeans, Trevor Brazile sipped coffee from a black lid-covered paper cup early Thursday evening, shaded by a white travel trailer on the vast dirt lot west of the historic Prescott Rodeo Grounds.
About an hour before the first performance of the 131st annual Prescott Frontier Days Rodeo, Brazile wore sunglasses, which masked the eyes of a man who has his routine mapped out in his head.
If you didn't know who Brazile is, you'd have no idea that he's a roping legend in the Professional Rodeo Cowboys Association (PRCA).
"Hey, have you seen the draw?" Brazile hollers at his brother-in-law and travel partner, world champion tie-down roper Tuf Cooper, who's 10 feet away. "I'm gonna get my shirt on and stuff."
On the PRCA's pro-rodeo website, Brazile's biography is a full four pages long — in small type. He has won a whopping 23 world titles since 2002, including 13 in the all-around (highest money winner in two or more events in one season), three in tie-down roping, one in team roping, and six in steer roping.
He's a multi-millionaire, and yet 22 years after he turned pro, here stands the 41-year-old native of Amarillo, Texas, his passion for roping intact. Although Brazile hesitates to admit it, he's close to moving on from rodeo.
Back home in Decatur, Texas, Brazile's wife, Shada (pronounced Shad-uh), is with their 11-year-old son Treston and their two daughters, 8-year-old Style and 2-year-old Swayzi. Trevor seems torn between two loves — his family and his roping.
"Unless there's a really huge, fundamental change in the sport, I've done my deal and I don't want to miss out on what my kids have got going when it's ready for them to chase their dreams," Brazile said. "I've had tremendous support from my family through all of it, and I just don't want to miss it as a dad or husband.
"But I still love what I do. I still feel competitive. I just can't allocate the time to it that I once did."
GREATER PURPOSE
Brazile remains one of rodeo's shining beacons. This year, he has already won 10 buckles, nine of which were outright championships, at rodeos in Texas, Nevada and western Canada. He's well on his way to qualifying for his 51st National Finals Rodeo (NFR) — the Super Bowl of pro rodeo conducted every December in Las Vegas.
There's something more to this picture, though. Brazile has been mentoring Cooper, who's as hungry for success as he is, for years.
"He eat, sleeps and breathes it," Brazile said of Tuf's commitment to roping.
Cooper, it seems, is Brazile's heir apparent. Tuf, Shada's brother, is a handsome blonde with a bright smile and an engaging personality. He's 28 and, like Brazile, has star power. Since he joined the PRCA in 2008, Cooper — who travels in his own rig with his fiancée, Tiffany, and at times Brazile, among others — has captured four world titles, including three in tie-down roping and one in the all-around.
Tuf's currently ranked No. 1 in the world in the all-around. Brazile's third.
"He's been in my life ever since I've been a little kid, and ever since I've been rodeoing we've been rodeoing together," Tuf said of Brazile. "He's actually pushed me to more all-around events, pushed me to do more steer roping and team roping. I haven't picked up bull doggin' [steer wrestling] yet. I've been working on it."
Cooper, who rides a horse named Topaz, won his first all-around buckle at the 2017 NFR, which he wore at Prescott Frontier Days. On Thursday, Cooper posted a 12.6-second time in tie-down roping for fourth place in the first go-around.
"It's unreal, it's amazing," Cooper said of capturing his world all-around buckle. "It's so awesome to win the all-around. Every day I still can't believe it. Every day I put the buckle on, it's just like, 'Wow.'"
Like Brazile, Tuf's become a millionaire. He also possesses rodeo pedigree. Tuf's father, Roy "Super Looper" Cooper, is a PRCA Hall of Famer and an eight-time world champion. Tuf's brothers, Clint, a four-time NFR qualifier, and Clif have been PRCA tie-down ropers.
"His dad was one of the greatest that's ever swung a rope," Brazile said of Roy. "Usually that's enough for most people, but it didn't matter what it was, he [Tuf] was a sponge [for learning more]. It's been cool to watch."
FULL CIRCLE
This is Brazile's second year back in the PRCA after having joined the short-lived Elite Rodeo Athletes (ERA) circuit in 2016. That year he competed in 10 rodeos with Tuf and several other of the world's best rodeo cowboys.
"Financially, I didn't do as well [in the ERA], but it was really one of the best years of my life," Tuf said. "Realizing what it means to put a cowboy hat on and how awesome it is to be able to do what I love to do — travel to rodeos, compete — I'm fortunate to be in the position that I am."
Brazile enjoyed the ERA experience, too, because he didn't have to attend multiple rodeos in short windows of time in the winters and summers. In the PRCA, sponsors expect Brazile to be on top of his game consistently. Brazile has plans for a graceful rodeo exit, however, thanks to his licensing company, Relentless.
"I really have a passion for developing products in the Western industry," Brazile said. "That's been a lot of fun, and I've brought that along since 2008. My team-roping partner [Patrick Smith] and I have an oil-field service company. So, actually, there's times when I feel way too busy doing this [rodeo], but this is what I love — the people you meet and the places you go."
In 2017, Brazile did not win a PRCA world championship, but he was competitive, finishing second to Cooper in the all-around. Brazile calls Cooper "a detail guy" and a "student of the game" who "works at it."
"It's going to be a habit, actually," Brazile said of Cooper winning world titles consistently. "He's not cheated the system, so when it starts paying off, it keeps paying off. When you don't cheat the process, you're here to stay when you have the kind of talent that he has."
Brazile has won four buckles all-time at Prescott Frontier Days — two in the all-around and one apiece in team roping and tie-down roping. On Thursday, he placed eighth in tie-down roping and team roping in the first go-around.
When he's done roping for good, Brazile will miss visiting places like Prescott.
"I love this rodeo — it seems like I've learned something new about it," Brazile said. "I love how the town embraces it. I go to the Palace [restaurant on Whiskey Row] every time. I just love the rich history here. As much as the town itself has grown and built up, there's still a core historical tie to the rodeo, and I love that part of it."
Doug Cook is a sports reporter for The Daily Courier. Follow him on Twitter at @dougout_dc. Email him at dcook@prescottaz.com or call 928-445-3333, ext. 2039.