Originally Published: June 27, 2018 5 a.m.
Update: Chino Valley Mayor Darryl Croft said the fireworks show in Chino Valley for the Fourth of July celebration has been canceled although other festivities will take place as planned.
See updated story: Chino Valley cancels Fourth of July fireworks, celebration will go on as planned
Original story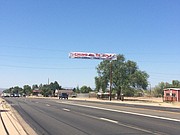 Not only is there going to be a huge Fourth of July celebration next week at Community Center Park, but Town of Chino Valley staff is fully expecting there to be fireworks.
"The only time that there may be a cancellation is if our resources were expended," said Parks and Recreation Lead Dallas Gray. "If there was a local fire somewhere that we didn't have the resources to take care of if something happened here."
Starting at 3 p.m. Wednesday, July 4, the event will also have seven inflatables including water slides, food trucks, snow cones, face painting, a dunk tank, midway games, a watermelon eating contest, sack races, three-legged races, a water balloon toss and free open swim sessions. The only cost is for wristbands meant for the inflatables and pace-painting as well as the midway games, said Recreation Coordinator Hailey Byrd. Wristbands are $12 for pre-purchase and $15 on the day of the event and midway games are 25 cents each, Byrd said.
The fireworks start after it gets dark at about 9:15 p.m.
The expectation is a huge turnout of about 3,000 to 2,500 people, Gray said. Yet, there won't be too many people, Byrd said.
"Chino has the hometown feel to it … there's a lot going on but it won't be overcrowded," she said. "It'll still have that family feel to it that we want to keep."
The event is headed by the Recreation Foundation and put on by the Word of Life Assembly church, the Rotary Club of Chino Valley and the Chino Valley Lions Club, Byrd said.
The town itself is support, providing the venue and working to help make it the best, biggest and most fun event possible, she said. The Foundation has a great group of people who really know what they're doing, Byrd said.
Chino Valley Community Services Director Scott Bruner mentioned the banner above highway 69 and said that getting the banner up meant going all the way to the top. He started trying last year and ADOT kept saying it couldn't happen, Bruner said. However, Town Manager Cecilia Grittman inquired into it and Mayor Darryl Croft wrote an email which resulted in the town being able to put the banner up, he said.
Putting it up meant having two patrol cars overseeing the operation and making the highway go to one lane each direction, Bruner said.
"It was a lot of to get it back, but it's a big deal even though it's something simple. We used to always have that banner over the top for our special events," he said. "We always felt like it was part of a small town."

There will be some traffic closures for the event, Gray said. According to a map provided by the Chino Valley Police Department, no traffic is going to be allowed into the event area from 8:45 p.m. until traffic from the event has exited; traffic north on Road 1 East from Juniper Drive to Mahan Lane, part of Road 2 North and eastbound traffic on Perkinsville Road from highway 89 to Road 1 East will be closed; and no parking is allowed on Perkinsville Road, Mahan Lane or Road 1 East.
Presale tickets for the inflatables and face painting are available at Aquatics Center, 1615 N. Road 1 East. For more information, visit www.chinoaz.net or call 928-636-9780.