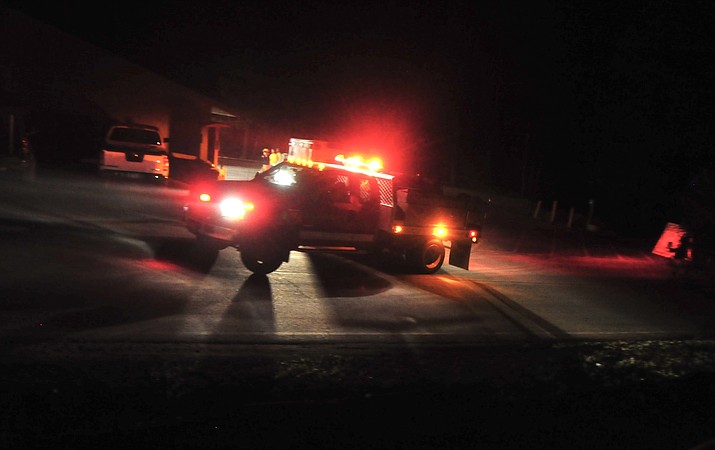 Originally Published: June 8, 2018 10:45 p.m.
Updated as of Saturday, June 9, 2018 6:03 AM
UPDATE, 11:30 p.m.:
Fire command reports the fire is essentially contained to the property, said Dwight D'Evelyn, spokesman for the Yavapai County Sheriff's Office.
Further attack on the blaze is pending APS crew arrival to shut power off. One structure lost, no injuries. Crews expected to monitor the location throughout the night; information on the cause is not available yet, he added.
Original post:
A fire in the 3100 block of East Bluff Road, in Potato Patch off East Walker Road, has claimed a cabin but all residents are safe, said Dwight D'Evelyn, spokesman for the Yavapai County Sheriff's Office.
The blaze, first reported at 9:30 p.m. Friday, June 8, fully engulfed a cabin and a propane tank blew up, he added.
"It appears fire personnel have it contained to the property – but this is tentative at the moment," D'Evelyn stated in an email.
Social media posts state the fire is about one acre in size.
Courier Photo Editor Les Stukenberg, reporting from the scene, related that, what authorities are calling the Treehouse Incident, burned less than one acre on Treehouse Lane.
Law enforcement radio traffic at 9:40 p.m. called for the Forest Service to respond, and the Groom Creek Fire Department was en route. Concern was that the fire could spread to nearby trees; however, at 11 p.m. the fire appeared to be under control.
Yavapai County remains in Stage II Fire Restrictions, which ban all fires, smoking outside, and use of firearms and equipment that can cause sparks. Click here for the latest on the restrictions.
Watch The Daily Courier and dCourier.com for details as they are made available.