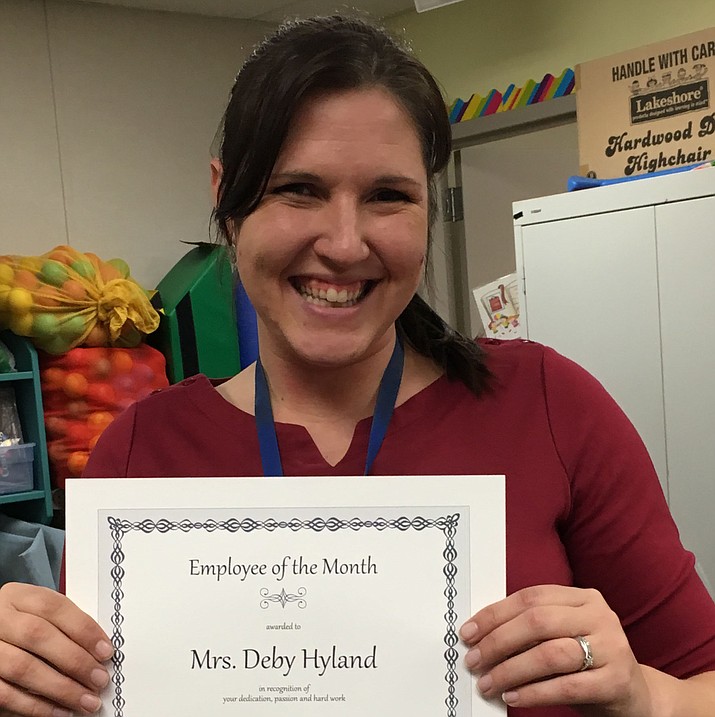 Originally Published: January 31, 2018 6 a.m.
The Chino Valley Unified School District Teacher of the Month is Deby Hyland, a teacher at Territorial Early Childhood Center. She has created a magical preschool program to enrich the youngest learners in our community.

She has extremely high standards for herself and her students. Deby is one of the most passionate and dedicated teachers I know. She goes above and beyond to make sure her students are receiving the highest quality experiences possible.
She openly welcomes all students and provides enriching opportunities at every turn. Deby is innovative, creative and enthusiastic in every sense of the word. She is always trying something new and fun to excite her young learners.
Using a variety of voices while reading aloud, she captures the attention of each student and plants the seeds of literacy. She has a natural ability to take any lesson and make it fun and exciting! Her kids hang on every word, and you can see that she is instilling a love for learning in them. Her constant attention to detail provides a safe, enchanting, and memorable first school experience for students and their families.

I know I can always count on her to not only complete her tasks, but to complete them to the best of her ability, never taking any shortcuts. When you enter the preschool setting you feel a sense of warmth and love that is truly magical! Mrs. Deby Hyland's presence at Territorial Early Childhood Center has strengthened the entire staff immensely.
We all consider it a privilege to work with Deby!
Information provided by Chino Valley Unified School District.