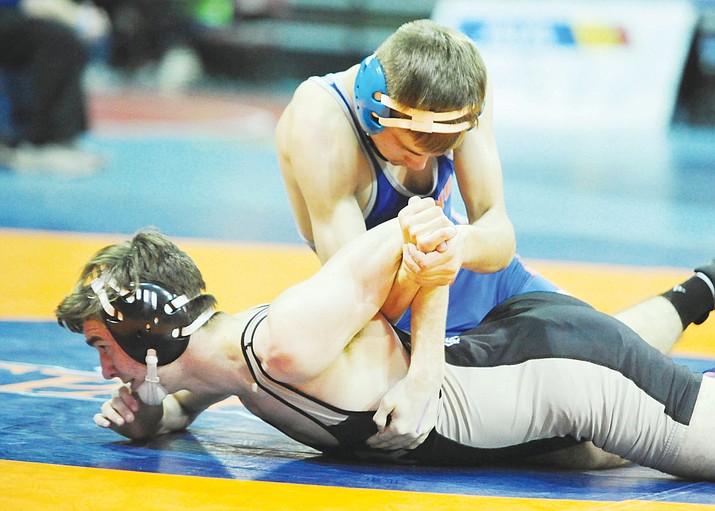 Originally Published: February 10, 2018 10:44 p.m.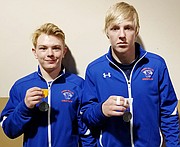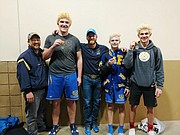 Prescott's Tomitz, Coates, Nelson, Chino's Mortensen 5th; Cougars' Jasper 6th
Chino Valley 160-pound star wrestler Keller Rock may not have repeated as an AIA Division III individual state champion Saturday at Prescott Valley Event Center, but he sure proved his mettle, crawling out of the consolations to place a convincing third in a different weight class.
Rock, who captured a state title as a freshman at 138 pounds in 2017, won three straight matches in the consolation round and topped off his run by pinning Show Low's Roper Howard (15-6 overall record) in 57 seconds. Rock and two of his teammates — 126-pounder Cody Jasper (sixth place) and 138-pounder J.C. Mortensen (fifth place) — led the Cougars to a ninth-place team finish.
"Chino Valley wrestling just finished a successful season," first-year Chino Valley coach Kevin Giese said. "We are looking forward to another great season next year. We should be bringing in about 10 new freshmen, and we are losing only one senior."
During the 2017-18 season, Rock overcame an injury to claim a D-III, Section IV title Feb. 3 in Payson, which earned him the No. 1 seed at 160 pounds. He finished with a 39-2 record.
In the first round of state on Friday, Rock pinned Lee Williams' Johnathan Montoya (38-22) before Safford sophomore Robert White (47-5) upset him by decision, 9-2, in the quarterfinals. That bumped Rock into the consolation rounds, as White moved on to place second.
On Saturday in the consolations, Rock pinned Sahuarita's Hector Acuna (25-9) in 1 minute and 59 seconds, beat Yuma's Servando Campos (51-19) by tech fall and pinned third-seeded Marcos Gamez (15-3) of Walden Grove in 2:12 to qualify for the third-place bout.
"Keller Rock had a tough bracket, including one undefeated senior and one wrestler he lost to at Marana," Giese said. "After his loss in the quarters, he was able to settle down and dominated the mat in his next three matches, scoring takedown after takedown. We couldn't be more proud of him."
The following wrestlers from Prescott and Chino Valley placed among the Top 6 to medal at the Division III state meet on Saturday. Prescott took 13th place as a team.
PRESCOTT
120 pounds: Unseeded Colton Tomitz (28-11 overall record) exceeded expectations, placing fifth by upsetting fourth-seeded Kyle Ramirez (34-12) of Sunrise Mountain, 6-4. He endured through two overtime matches in this tournament.
Earlier Saturday, Tomitz defeated Salpointe Catholic's Sebastian Robles (34-19) by decision, 10-5, before narrowly besting Casa Grande's Jordan Busch (46-9), 4-3. Despite losing, 13-0, to second-seeded Malik Shuaibe-Jones (45-9) of Marcos de Niza, who later placed second, Tomitz qualified for the fifth-place match against Ramirez.
On Friday, Tomitz won his first-round match against Florence's Armondo Rodriguez by decision, 9-3, prior to the top-seeded Diego Guerrero of Walden Grove pinning him in 1 minute in the quarterfinals.
152 pounds: Koby Coates (35-12), who was pinned by fourth-seeded Jeffrey Cordova (19-11) of Florence in 5:42 in Friday's quarterfinals, exacted revenge by returning the favor and pinning Cordova in 1:43 for fifth place.
Coates, who pinned Youngker's Shane Cruz (47-8) in 2:20 in the first round before losing to Cordova, pinned Snowflake's Gage Gabaldon (14-6) in 1:58 and Sunrise Mountain's Bobby Ramirez (29-11) in 32 seconds on Saturday. A subsequent 10-5 loss to second-seeded Nick Doerksen (51-12) of Mingus Union dropped Coates into the fifth-place match. Doerksen moved on to place fourth.
"Koby Coates and Colton Tomitz are only sophomores, and for them to come to the state tournament and place is a big deal," Prescott coach Max Payne said. "They both had injuries; they both fought very hard."
Heavyweight: Gavin Nelson (41-8), a senior, placed fifth after winning by forfeit over Greenway's Josiah Winans (31-15), who suffered an injury.
"The kid busted his knee pretty bad before, so we knew ahead of time that he was going to have a default," Payne said of Winans. "But big Gavin Nelson's been a powerhouse all season and steadily competing really well. For him to be able to place this year was a pretty big accomplishment."
Earlier in the consolation bracket on Saturday, Nelson pinned Thunderbird's Mike Quarcco (17-6) in 1:29 and Show Low's Chase Avila (13-6) in 1:46. Florence's Nikolas Arnold pinned Nelson in 2:10, which dropped him into the fifth-place match.
On Friday, Nelson pinned Sunrise Mountain's Jake Wagner (33-13) in 1:22 in the first round. But Monument Valley's Malik Clark (41-2), the weight class' No. 1 seed and eventual state runner-up, would pin Nelson in 52 seconds in the quarterfinals.
CHINO VALLEY
126 pounds: Cody Jasper (37-16) placed sixth after losing to Estrella Foothills' Abraham Rivera by decision, 5-2.
Earlier in the day in the consolations, Jasper pinned Combs' Jadon Barber (31-12) in 4:26 and defeated Monument Valley's Zachary Stegmeier, 9-5, before losing 17-5 to eventual fourth-place finisher and No. 1 seed Jose Bugarin (61-9) of Yuma.
On Friday, Jasper lost his first-round match to eventual state champion Brian Lujan (42-5) of Pueblo, 13-0, before pinning Shadow Mountain's Reece Calvin (11-18) in 2:54 in the consolations.
138 pounds: After a solid performance on Friday unseeded J.C. Mortensen (26-13) wound up placing fifth, pinning Canyon del Oro's Rene Garcia in 40 seconds.
Earlier on Saturday, Mortensen lost to eventual state runner-up and third-seeded Talon Wilhelm (40-8) of Show Low, 13-11, in the quarterfinals and dropped into the consolations. Mortensen succumbed to eventual third-place finisher and second-seeded Taylor Vargas (50-5) of Apache Junction, which put him in the fifth-place match.
On Friday, Mortensen upset Vargas in the first round by decision, 10-9, and subsequently pinned Salpointe Catholic's Federico Robles (33-19) in 1 minute and 18 seconds.
---
The following Chino Valley and Prescott wrestlers were eliminated from medal contention on Saturday in the consolations.
120 pounds: Chino Valley's Wade Payne (42-13 overall record) was pinned in 1:33 by Show Low's Conner Schweigert (42-8), the third seed and eventual third-place finisher.
On Friday, Payne lost his first-round match to Casa Grande's Jordan Busch (46-9) by tech fall in the second period before pinning Sabino's David Valenzuela (29-16) in 55 seconds in the consolations.
126 pounds: Prescott freshman Lincoln Eby (31-15) was eliminated from medal contention by Page's Kaleb June (33-13), 8-2. In Friday's first round, Eby lost 14-2 to the No. 2 seed and eventual state runner-up Lazaro Lombillo (35-9) of Safford. Eby later pinned Mohave's Dylan Tahbo (19-12) in 2 minutes and 12 seconds in the consolations.
145 pounds: Chino Valley's Kyle Lund (40-11) pinned Thunderbird's Alan Montesinos (20-18) in 2:15, but he later lost 3-1 to Greenway's Nicholas Thomas (37-16), a No. 3 seed who moved on to place fourth.
On Friday, Lund won his first-round match, pinning Yuma's Erick Cervantes (54-14) in 3:27. He later lost to Canyon del Oro's Zane McKissick (55-5), 11-3, in the quarterfinals. The second-seeded McKissick would place third over Thomas.