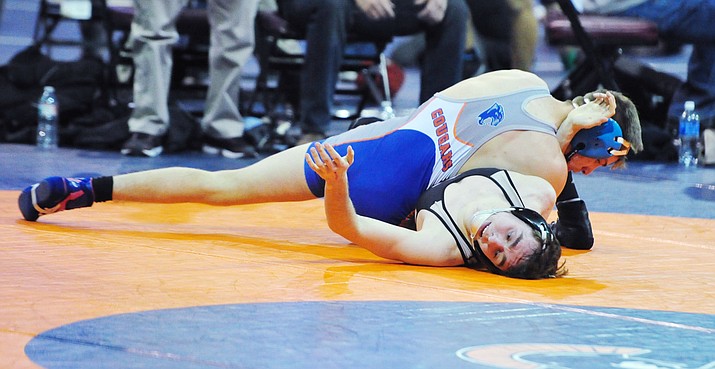 Originally Published: February 10, 2018 12:01 a.m.
Photo Gallery
AIA Wrestling 020918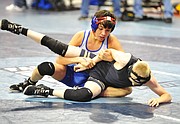 Cougars' Rock upset, but can still medal
Chino Valley unseeded 138-pound junior wrestler J.C. Mortensen pulled off a stunner in the opening rounds of the AIA Division III state tournament Friday at Prescott Valley Event Center, advancing to the winners' bracket semifinals after edging the No. 2 seed and registering a pin in the quarterfinals.
Mortensen (25-11 overall record), who placed fourth at the D-III, Section IV meet last Saturday in Payson, upset second-seeded Apache Junction grappler Taylor Vargas (46-5) in the first round by decision, 10-9, and subsequently pinned Salpointe Catholic's Federico Robles (33-18) in 1 minute and 18 seconds.
"He turned the corner," Chino Valley coach Kevin Giese said of Mortensen, who has worked to overcome an injured collar bone. "He tries to force some things, and he didn't do that [Friday]. He actually wrestled very well. He went back to the basics – used his takedowns, and it worked for him. He went back to what he should be doing."
Today, Mortensen needs two consecutive wins to capture his first individual state title. He will first take on Show Low's Talon Wilhelm (39-7), the D-III, Section IV champion, in the semis. A victory would qualify him for the championship match. A setback in the semis would drop Mortensen into the consolations, where no matter if he wins or loses he would medal.
Mortensen lost to Wilhelm this season, "but it was a closer match than what it should've been," Giese said.
"As long as J.C. wrestles smart, like he has been all day [Friday], he can pull out a win," he added.
Chino Valley 160-pounder Keller Rock (35-2), the No. 1 seed in his weight class and a defending state champion, pinned Lee Williams' Johnathan Montoya in 2:10 in the first round before being upset by Safford's Robert White (46-4) in a 9-2 decision.
"He's definitely got the talent to win in any weight class, but he did something that he normally doesn't do," Giese said of Rock in his match versus White. "He's a 'takedown' person, and that's what he needed to stick to, and he tried to force a head throw. That's something he shouldn't have even been using. Hopefully it's an eye-opener for him."
Rock battles Sahuarita's Hector Acuna (25-8) in the consolations today. He needs two wins to vie for a medal.
The Division III and IV tourneys conclude today with session two at 10 a.m., followed by the medal rounds at 4 p.m.
Individual wrestlers in each division need four straight wins to capture a state championship. Those who lose in the first, second or third rounds in the championship bracket drop into the single-elimination consolation bracket with a chance to earn third-, fourth-, fifth- and sixth-place medals.
For fans, the AIA grants admission only to those who buy all-day passes. Passes cost $15 per adult, $13 per senior/military member and $5 per student. Children ages 5 and younger get in free.
The following Prescott and Chino Valley wrestlers dropped into the consolation rounds after suffering a loss in the winners' bracket on Friday.
PRESCOTT
120 pounds: Colton Tomitz (28-11 overall record) won his first-round match against Florence's Armondo Rodriguez (18-13) by decision, 9-3, before the top-seeded Diego Guerrero (44-1) of Walden Grove pinned him in 1 minute in the quarterfinals. Tomitz will face Salpointe Catholic's Sebastian Robles (34-18) today. Tomitz needs consecutive wins in the consolations to contend for a medal.
126 pounds: Freshman Lincoln Eby (31-14) received a difficult draw in the first round, losing 14-2 to the No. 2 seed, Safford's Lazaro Lombillo (34-8). Eby later pinned Mohave's Dylan Tahbo (19-12) in 2 minutes and 12 seconds. Eby needs consecutive victories in the consolations to vie for a medal. He first faces Page's Kaleb June (32-12) today.
152 pounds: Koby Coates (32-11) pinned Youngker's Shane Cruz (47-7) in 2:20 in the first round, but he was pinned by fourth-seeded Jeffrey Cordova (19-8) of Florence in 5:42 in the quarterfinals. Coates, who needs consecutive wins to vie for a medal, battles Snowflake's Gage Gabaldon (14-5) today.
"Coates should have won his last match [against Cordova], but he wore himself out," Prescott coach Max Payne said. "But I am pleased so far [with all of our guys], and we expect to have a couple state placers."
Heavyweight: Gavin Nelson (38-7) pinned Sunrise Mountain's Jake Wagner (33-12) in 1:22 in the first round.
But he could not handle Monument Valley's Malik Clark (40-2), the weight class' No. 1 seed, who pinned Nelson in 52 seconds in the quarterfinals. Nelson needs consecutive wins to vie for a medal. First up today, he locks horns with Thunderbird's Mike Quarcco (17-5).
Payne said he's happy that all four of his state-qualifying wrestlers stayed alive. Tomitz, Eby, Coates and Nelson are contending with injuries, but they are "tough enough for it," the coach added.
"We've got to work hard in the first match [Saturday]," Payne said. "It will determine how well they will do."
CHINO VALLEY
120 pounds: Wade Payne (42-13 overall record) lost his first-round match to Casa Grande's Jordan Busch (45-8) by tech fall in the second period, but he pinned Sabino's David Valenzuela (29-16) in 55 seconds in the consolations. Payne needs consecutive wins in the consolations to compete for a medal. He first faces Show Low's Conner Schweigert (38-8), the fourth seed and D-III, Section IV champion, today.
126 pounds: Cody Jasper (35-14) lost his first-round match to Pueblo's Brian Lujan (40-5), 13-0, before pinning Shadow Mountain's Reece Calvin (11-18) in 2:54 in the consolations. Jasper needs consecutive wins to vie for a medal. He first battles Combs' Jadon Barber (31-11) today.
145 pounds: Kyle Lund (39-10) won his first-round match, pinning Yuma's Erick Cervantes (54-13) in 3:27. But he lost to Canyon del Oro's Zane McKissick (53-4), 11-3, in the quarterfinals. Lund needs consecutive wins today to vie for a medal. First up, he takes on Thunderbird's Alan Montesinos (20-18).
Five of Chino Valley's six state-qualifying wrestlers reached day two of state. Senior Tyler Plumb (25-19) at 182 pounds was eliminated after suffering an injury in the consolations Friday.
"They'll come around as the tournament goes on," Giese said of Payne, Jasper and Lund. "Kyle's really stepped up this whole year. He's really done very well, especially at sectionals [third place]. If he keeps looking the way he is, he'll do well as far as placing here at state. Same with Wade and Cody."
Doug Cook is a sports reporter for The Daily Courier. Follow him on Twitter at @dougout_dc. Email him at dcook@prescottaz.com or call 928-445-3333, ext. 2039.