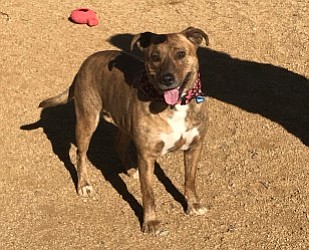 Originally Published: February 7, 2018 6 a.m.
Libby is a Pit Bull Terrier/Shepherd mixed female dog in need of a family to love. She is about 3-to-4 years old, and the staff at the Chino Valley Animal Shelter say she's a sweet, gentle girl. She's a bit shy when she meets someone new, but warms up to people quickly. Shelter staff say they believe she would get along great with other dogs and cats.
If interested in adopting Libby, visit her at the shelter, 1950 Voss Drive in Chino Valley. Call 928-636-4223, ext. 7.