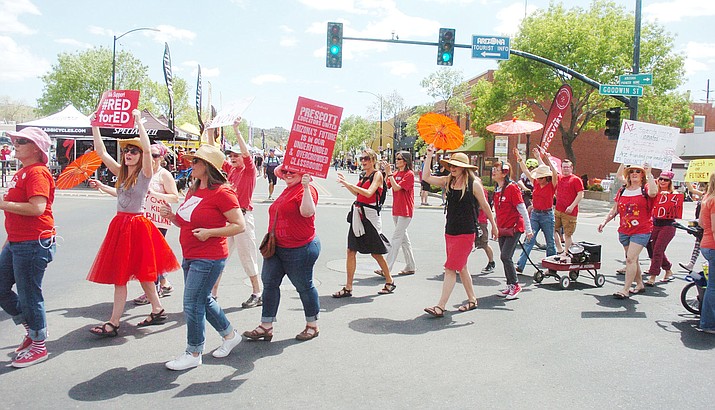 Originally Published: April 28, 2018 6:05 a.m.
So what happens now?
After two days of a statewide walkout/strike — the words are used synonymously yet hold different legal weight — school districts and charter school leaders must consider what will happen next week.
Will teachers opt to use up their personal days and sick time for prolonged absences? Will the numbers be such that schools will be unable to be open for instruction and other required services?
"I don't know," declared Yavapai County Superintendent Tim Carter.
Driving back from the state Capitol on Friday where thousands of teachers are continuing to push lawmakers to increase education funding beyond just teacher salaries, Carter said his sense is that rural Arizona is viewing the next step differently than the state's biggest cities. With only about half of this county's school districts participating in the #RedForEd walkouts in any "serious way," Carter said he would presume that next week schools will return to their normal schedules.
But again, Carter said, that is just a guess.
"Teachers I've been talking to, and most administrators, kind of expect by Monday things will start to get back to normal. What they base that on, maybe, it's hope," Carter said. "And that would be a good thing. They (teachers and their advocates) have made their point; the Legislature is either listening or not. So let's get back to the business of educating kids."
In Prescott Unified School District, Monday is a scheduled professional development day for teachers; no students. On Tuesday, district leaders expect schools will operate on schedule.
PUSD teachers and administrators worked hard to avoid a complete district school shutdown on Thursday and Friday; rather schools had a two-hour delay on Thursday and a half-day, early release on Friday. PUSD referred to their plan as a "Walk About" with all district educators, parents and community members invited to join rallies each day at the courthouse plaza.
And those have been well-attended.
In Humboldt, school was canceled both days, with four elementary schools open to serve breakfast and lunch to students. Superintendent Dan Streeter said late Friday that due to a high number of teacher absences, schools will be closed on Monday.
Streeter advised parents and the community to monitor the district website and social media for updates as plans evolve.
Chino Valley Unified School District scheduled a three-hour early release on Thursday after determining there was adequate staffing to operate the district's four schools on that schedule. Chino Valley operates on a four-day work week and so there is no school for students and staff on Fridays.
Given that experience, Superintendent John Scholl said they plan to be open for what he hopes will be a routine school day on Monday. Any unfilled classes will be covered with substitutes, and based on the fact Prescott was already to be off on Monday he does not expect competition for those substitutes.
As for how teachers are managing to participate, Scholl said he refers to the district's standard absence policies. Per policy, he said, teachers are able to take up to eight personal days a year, or sick time, and by federal law the district cannot require a teachers' note until a person has been out for three days. All of the area districts have similar policies.
Many of the area charter schools also operate on a four-day work week, or were closed on Friday afternoon. Like district leaders, charter school officials said they would remain in continued communication with parents about any plans about school operations into the next week.
For parents and guardians, Carter said the best he can suggest is to "stay tuned."
Follow Nanci Hutson on Twitter @HutsonNanci. Reach her at 928-445-3333 ext. 2041.