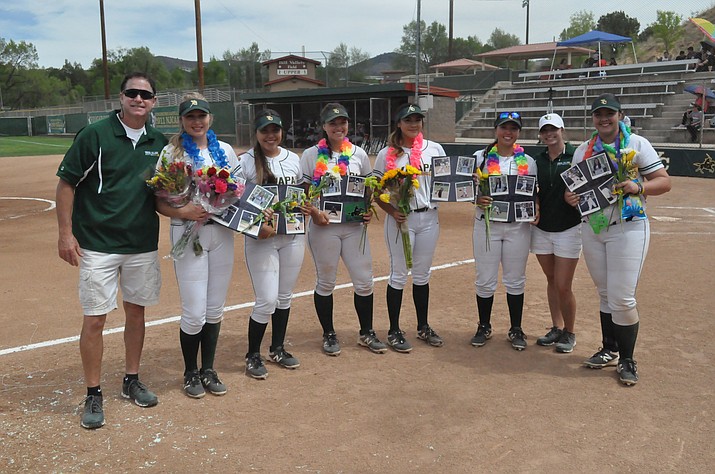 Originally Published: April 26, 2018 11:32 p.m.
In the final regular season doubleheader of the 2018 season, the Roughrider softball team scored 41 runs in route to a sweep over Glendale Community College, 20-1 and 21-0.
Yavapai concludes the regular season with a 49-10 overall record and 41-7 mark and secures, at least a share of the ACCAC title, the second straight conference crown for the Roughriders.
Additionally, Yavapai will host the NJCAA Region I Division I Playoffs on Friday and Saturday, May 4 and 5.
Santana Parra improved to 11-0 as she threw five innings, allowing three hits while striking out four.
The Roughriders collected 19 hits on the game with nine extra base hits, including three home runs.
Shelby Hotchkis was 4 for 4 with three RBIs. Haley Parson was 3 for 4, while Kylies Brown went 2 for 3 with four RBI's. Neenah Pangilinana was 2 for 3 with three RBIs.
Merideth Clark was 2 for 2 and Makea Kaluau had a three-run home run.
The second game was much of the same for the Riders as they knocked 20 hits in the rout. Makayla Guerra and Mariah Kalamaras were 4 for 4. Kalamaras knocked her eighth home run of the year. Kaluau was 3 for 4 with a home run. Brianna Griffiths was 2 for 3 with a home run. Pangalinan and Hotchkiss each had two hits.
Kiana Spencer threw the complete game surrendering just one hit and striking out six.
The NJCAA Region I Division I tournament begins May 4. The No. 2 and No. 3 seed will play at 9 a.m. on Friday. Yavapai, the No. 1 seed, will entertain the No. 4 seed at 11 a.m. The losers from the earlier games will play at 1 p.m. with the loser going home. The winners of the earlier games play at 3 p.m. in final game of the day.
Games will begin on Saturday at 10 a.m. with the championship game slated to start at 11 a.m.
Information provided by Yavapai College