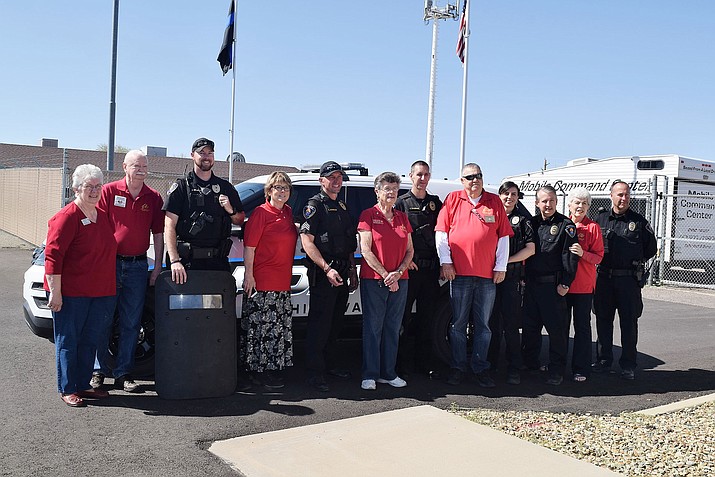 Originally Published: April 18, 2018 5:53 a.m.
Bake sale benefits animals sale on Saturday
Chino Valley Animal Partners (CVAP) will have a bake sale from 10 a.m. to 2 p.m. Saturday, April 21, at the Liquor Barn, 315 E. Chino Drive, Chino Valley, located on Highway 89. Proceeds benefit the Chino Valley Animal Shelter.
Home-baked goods, including gluten-free items, and home-baked dog treats will be sold.
Come out and support your local animal shelter.
Kindergarten, pre-school registration and visits April 19
Territorial Early Childhood Center is offering registration for its free all-day kindergarten program. School starts on Monday, Aug. 6.
To experience the Kindergarten Early Childhood Center program, come and check it out from 8:15 to 9:45 a.m. Thursday, April 19. All kindergarten classrooms will be open so that children and parents will be able to observe a snapshot of typical kindergarten activities going on in the various classrooms.
Also available is a pre-school program for 3- to 5-year-old children. Pre-school is a half day program and is tuition based with a one-time registration fee of $50. Payment of the $50, at the time of registration, will reserve a child's spot for the coming year. The pre-school is a four-star Quality First Program that has grown to be very well respected in the community, so don't wait to get enrolled.
For information, contact the office at 928-636-3842.

Love Peace and Joy Inc. event set for April 28
Love Peace and Joy Inc., a meet and greet event with special guests, American veterans, will be at 1 p.m. Saturday, April 28, at Reg. and Linda Howlett's Ranch, 3585 N. Highway 89, Chino Valley.
Everyone is welcome. There will be food, fun, entertainment and fellowship. For more information, call 602-750-0075.
Meet Chief Wynn at Coffee With COPS April 25
Join the Chino Valley Police Department for casual conversation with local law enforcement at Coffee With COPS from 8 to 9 a.m. Wednesday, April 25, at Chino Valley Senior Center, 1021 Butterfield Road, Chino Valley.
Meet Chief Wynn, Lt. Schaan and various other Chino Valley Police Department employees.
Chino Valley community outreach coffee is April 18
Community Outreach with the Mayor and Town Manager will be from 8 to 9 a.m. Wednesday, April 18, at Overflow Coffee, 448 N. Highway 89, Chino Valley. The special guest will be Jason Sanks, Chino Valley Services director, Planning and Zoning.
For more information, visit www.chinoaz.net.
Community cleanup in Paulden set for May
District 4 Supervisor Craig Brown and the Yavapai County Board of Supervisors, working with the Public Works Department, is pleased to announce a community cleanup in the Paulden area.
The cleanup will be at the Paulden Transfer Station, 23750 N. Marblehead Ave., and open to Yavapai County residents at no charge from 8 a.m. to 4 p.m. May 3, 4, 5, 10, 11, 12, 17, 18 and 19.
Accepted items: Household appliances, bagged trash, automotive batteries, unmounted tires, furniture, and yard trimmings.
Items that will not be accepted: Loose trash, liquids, hazardous materials, cars, NiCad batteries and dead animals.
Wildfires are never out of season and now is the time to create defensible space around your home. Cut away vegetation 5 to 30 feet from all structures. Remove all debris and dead vegetation from roofs, decks, and the ground around your home. Please remember to be cautious of sparks as you are cutting and trimming. All yard trimmings will be accepted at the cleanup.
This program is for residential use only. Commercial loads will not be accepted.
For additional information, contact the Yavapai County Public Works Department at 928-771-3183.
Lonesome Valley Quilt Guild meeting May 7
On Monday, May 7, the Lonesome Valley Quilt Guild will host Gail Shannon, who is an instructor for the Laura Heine patterns and has been involved in quilting for many years.
Shannon will present a trunk show on her work, including her love of fiber art quilts.
The meeting begins at 7 p.m. and will be held at Emmanuel Lutheran Church, 7763 E. Long Look Drive (corner of Long Look/Loos off Glassford), Prescott Valley. It is free and there will be free refreshments. For information, contact Karen at 928-830-2565.
At 9 a.m. Tuesday, May 8, Shannon will teach a class on "Collage Fun" with the Laura Heine patterns. The class will be held at Mingus View Presbyterian Church, 8340 E. Leigh Drive, Prescott Valley. For more information on the class, contact Sue at 415-271-5740.
Understanding options for assisted living, care at April 19 meeting
"Understanding Your Assisted Living, Memory Care and In-Home Care Options" is a free Senior Connection Speakers Bureau presentation to occur from noon to 1 p.m. Thursday, April 19, at Las Fuentes Resort Village, 1035 Scott Drive, Prescott.
Presenter Mark Sylvester of Care Patrol of Northern Arizona will talk about anticipating your care needs, the demographics, in-home care, assisted living, memory care, the risks of online research, getting your legal affairs in order and options to pay for long-term care including the Arizona Long-Term Care System.
RSVPs appreciated to Debbie@SeniorConnection.us or 928-778-3747. For a complete schedule of upcoming presentations, visit www.SeniorConnection.us/speakersbureau.html.
Yavapalooza brings Yavapai College and community together
Yavapalooza, the largest Yavapai College student-driven event of the year, will be from 4 to 8 p.m. Friday, April 20, on the Prescott campus. The festival is an opportunity for community residents to enjoy an evening of family entertainment and learn about all things YC, including the college's many academic and career-training opportunities.
According to student leadership council member Alex Daniels, the event aims to bring the college and the wider community together for games, food, music and information. "Yavapalooza attendees hopefully will take home with them a little more awareness of the college and the resources and services available to everyone," Daniels added.
Attendees will also have the opportunity to participate in a silent auction benefiting the YC emergency food pantry, a collaboration between students, faculty, staff, and community members created to alleviate food insecurity among YC students.
Admission is free for all YC students with a valid ID, and attendees younger than 18. Admission is $2 for adults, with proceeds benefiting the food pantry. Check in at amphitheater between buildings 3 and 4, Yavapai College, 1100 E. Sheldon St. Signage will be provided.
For information about Yavapalooza, visit www.yc.edu/fun.
Cruise 4 Veterans car show will be April 21
The 7th annual Cruise 4 Veterans car show will be from 9 a.m. to 3 p.m. Saturday, April 21, at Yavapai College, 1100 E. Sheldon St. This is a free event for the public.
There will be food vendors, sponsor booths and veteran-related booths. All the cars in the show are voted on by veterans only. Last year there were over 300 cars in the show and more are expected this year.
For the first time this year, a food bank specifically for the Yavapai County veterans will be set up. This food bank will be at the Veterans Resource Centers of America, 600 E. Gurley St., Suite F. All drivers of cars entered in the show, as well as the public, are asked to bring a non-perishable food item to the show. There will be a collection container at the registration/T-shirt booth. The Veterans Resource Center (VRC) is a recipient of money from this event. The volunteer services at the VA Hospital is the other recipient. Last year $10,000 was donated to the hospital and $7,000 was donated to VRC.
For more information about the Cruise 4 Veterans car show, visit www.cruise4vets.com.
Chalk It Up! Prescott event is set for April 21-22
Chalk It Up! Prescott is a free, family-friendly and community-centered chalk art festival intended to cultivate creativity in people of all ages and abilities, while raising money and awareness for the mental health, crisis intervention and substance use treatment services supported by the West Yavapai Guidance Clinic Foundation.
This annual event, in its 10th year, needs you! Gather your friends and family, fire up your imagination, and grab a box of chalk — the chalk will be provided for free! Artists like you, inspired by the street painting artists of the Renaissance Era, will create a temporary museum of pavement art from 10 a.m. to 4 p.m. Saturday and Sunday, April 21-22, at 201 N. Montezuma, Prescott. Come draw, walk around and look at the art, watch performing artists, and have a blast with us.
Artist, volunteer, entertainer and sponsor information is available at www.prescottchalkart.com or 928-445-5211, ext. 3635.
Yavapai County Republican Committee dinner is April 21
Yavapai County Republican Committee celebrates 164 years of Republican leadership at the Saturday, April 21, Lincoln Reagan Dinner at the Prescott Resort, 1500 Highway 69, Prescott.
Admission costs $55 and space is limited. Please sign up for this event now at info@YavGop.org or call 928-776-4500. Prominent speakers seeking election will be featured. Music hour begins at 5:30 p.m. Dinner program follows at 6:30.
Pioneers' Home, little red barn annual sale this weekend
There will be a little red barn annual rummage sale from 8 a.m. to 2 p.m. Friday, April 20, and Saturday, April 21, at 300 S. McCormick St., behind the Arizona Pioneers' Home in Prescott.
Come and support Arizona's pioneer residents and find some great treasures. All proceeds go directly to the Arizona Pioneer Home Foundation for the benefit of all the residents.
They are still taking donations for the sale. Drop donations behind the Pioneer Home in a small red "barn." For more information, call 928-445-2181.
Dance set for May 4 with 'Shades of Yesterday'
A dance, sponsored by the Ladies of St. Catherine Laboure, will be from 5 to 8 p.m. Friday, May 4, at 2062 N. Highway 89, in the church hall. Tickets are $15 and include pizza and beverages. Come dance to the '50s-'70s, and a bit of country by "Shades of Yesterday." There will be a line dancing lesson from 5:30 to 6 p.m. For tickets, call Patty at 928-925-7903 between noon and 5 p.m.
Chino Valley board and committee applicants sought
The Town of Chino Valley is seeking applicants interested in sharing their talents, expertise, and enthusiasm to serve on the following Town Council-appointed boards and committees: Board of Adjustment, Parks and Recreation Advisory Board, Roads and Streets Committee, Senior Center Advisory Board, Industrial Development Authority and Municipal Property Corporation.
Visit www.chinoaz.net/222/Boards-Commissions to view committee descriptions, desired qualifications, residency requirements, terms of office, and meeting days and times, and see where you best fit in!
Obtain a Public Body Appointment Application from the link above or address below. Application must include brief resume or summary describing relevant experience. Applicants must be willing to serve on a volunteer basis. Applications will be accepted until the positions are filled. First review to occur in mid-May.
Submit application or direct questions to: Town of Chino Valley, Attention: Town Clerk's Office, 202 N. State Route 89, Chino Valley, AZ 86323, phone 928-636-2646, ext. 1052, fax 928-636-2144 or vnipper@chinoaz.net.
New Horizons semi-formal benefit is April 21
New Horizons Disability Empowerment Center (NHDEC), 9400 E. Valley Road, Prescott Valley, is a disability empowerment campus providing members of our surrounding communities with multiple services. New Horizons has announced its upcoming Fundraiser Semi-Formal Benefit "Moving Forward Together," to enhance our programs and our new gymnasium facility for the community. This benefit is being held from 6 to 10 p.m. Saturday, April 21, at the St. Michaels Hotel, Crystal Ballroom. Come and enjoy cocktails, dinner, a silent auction with music and dancing performed by Little Larry Healey's (classic rock, R&B, blues). Tickets for this semi-formal benefit are $50 per person and can be bought online. RSVP by April 13. For further information, see our website: www.nhdec.org.
Brain and body health seminar is April 22
Healthy living tips for your brain and body will be offered in a seminar by the Alzheimer's Association, to be held from 2 to 3:30 p.m. Sunday, April 22, at Prescott's Temple B'rith Shalom, 2077 Brohner Way, Prescott.
Advice on keeping your mind and body healthy will include exercise, diet and nutrition, cognitive activity, social engagement, reminders on what you can do now and resources that are available to all.

The presenter will be Kathy Marzec. After retiring as a training and development manager, she decided to use those skills to give back to the community as a volunteer with Alzheimer's Association chapters in Connecticut and Prescott. Her mother passed away from Alzheimer's in 2016 and both her mother's and father's families have several members who have been victims of the disease.
The Alzheimer's Association is the leading voluntary health organization in Alzheimer's care, support research, and promotion of brain health. Its mission is to eliminate the disease.
Admission to the program on April 22 is free, but reservations must be made before April 18. Call 1-800- 272-3900 to reserve your seat.
University Women scholarship 'tea party' event is April 20
American Association of University Women (AAUW) Prescott invites the community to its second annual scholarship fundraiser, The Mad Hatter's Tea Party, an Art-Full Afternoon in the Yavapai College Richard Marcusen Garden, from 5 to 7 p.m. Friday, April 20.
Cost is $45 per person and includes music, tapas and tarts, wine tasting and non-alcoholic beverages. Tours of the sculptures and award-winning irises of the garden will be led by Yavapai College students and members of the Iris Society. Three local musical groups will be performing in various locations throughout the garden.
All proceeds from this event will go to AAUW scholarships for Yavapai College students.
Deadline for reservations is April 16. Tickets may be purchased online at https://www.yc.edu/gardenparty or by mailing a check to AAUW Prescott, P.O. Box 10881, Prescott, AZ 86304.
Register for football, cheer season this month
Chino Valley Cougars early registration is open. Visit the new website anytime during the month of April to register your athlete for the 2018 football and cheerleading season: http://tshq.bluesombrero.com/cvyfc.
Payment plans are available through the website.
Chino Valley Library book sale underway
Friends of the Chino Valley Library book sale for April is inspirational books. All proceeds benefit the Chino Valley Library located at 1020 W. Palomino Road. For more information, call 928-636-2687.
Taco dinner, auction benefit band programs
The Chino Valley Band-Aides is a nonprofit 501c3 organization and booster club whose purpose is to promote and support the Chino Valley Unified School District's band programs at both Heritage Middle School and Chino Valley High School.
The group is having a Taco Dinner and Silent Auction for the community to raise money for the various band events. The dinner will be from 5 to 8 p.m. Saturday, April 21, at Chino Valley High School, 760 E. Center Street, Chino Valley.
NACOG fall prevention workshop ongoing
A "Matter of Balance" fall prevention workshop, sponsored by NACOG Area Agency on Aging, will be held at 1 p.m. Wednesdays through May 23, at the Pioneer Home, 300 S. McCormick St., Prescott. For more information, contact Beth Brehio at 928-775-9993 ext. 4272 or bbrehio@nacog.org.
ERAU book drive to benefit Navajo Nation
"Books collected in the quad-city area by the Embry-Riddle Aeronautical University national honor society of Phi Kappa Phi will be given to the Tuba City Library and other sites to be determined on the Navajo Reservation," said Anne Boetcher, chapter president.
Those wishing to donate books can take them to the Hazy Library, the Jack L. Hunt Student Center, or the STEM Center, where bins will be placed for donations.

These categories of books are especially wanted, book drive organizers said: anything dealing with Native American topics, how-to-do books, biographies, fiction for all ages, movies and DVDs.

The book drive runs through April 30.

Candidate packets are available at Town Hall
The Town of Chino Valley has its primary election set for Tuesday, Aug. 28, and its general election for Tuesday, Nov. 6.
The town's elected offices open for candidacy are the following: mayor, which has a two-year term; one council position with a two-year term; and three council positions with four-year terms.
Anyone who wants to run for any of these offices must be able to register to vote, must be 18 or older, live within the town limits of Chino Valley, and have resided within the town for one year.
Candidate packets are available at the Town Clerk's Office in Town Hall, 202 Highway 89, by appointment with Town Clerk Jami Lewis. Prospective candidates have until Wednesday, May 30, to file the necessary papers with Lewis, who can be reached at 928-636-2646 ext. 1052.
April 19 is last night of Chino Valley Citizens Academy
Get a close-up and in-depth look at Chino Valley's government, as part of an academy moderated by Mayor Darryl Croft. It has been meeting weekly, from 6 to 8:30 p.m. Thursday nights, and the last one is April 19.
Sessions, which began March 1 (attend one or all), are led by a variety of local leaders, including the town's elected officials, department staff and local civic and service organization leaders, and participants will have the opportunity to discuss issues directly with the mayor, vice mayor, council members, town staff, community leaders and others.
Sessions are being held at Town Hall, 202 N. Highway 89. Participation in this program is free. Reservations can be made by visiting www.chinovalley.org. For information, call 928-636-2646 ext. 1395 or 1203.
CV Police Department Citizen Academy ongoing
Learn about the Chino Valley Police Department from 6 to 8:30 p.m. Wednesdays, through April 18, and 8 a.m. to noon Saturdays, April 21 and 28, at the Police Shooting Range classroom, 2178 Sergeant Dee Barnes Way. Call to register early as space is limited: Laurie, 928-636-4223 ext. 8.
Participants will meet the police officers who patrol Chino Valley streets and neighborhoods, experience firsthand some of the training officers go through in the shooting simulator, see vehicles and equipment used by the department, learn about Citizens on Patrol volunteers, see K-9 demonstrations and gain a deeper understanding of how cases are investigated and processed through the legal system.