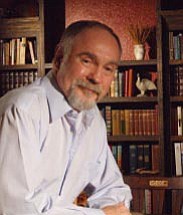 Will Williams is a contributing columnist for the Chino Valley Review and Prescott Valley Tribune newspapers.
Recent Stories
Back in the 1950s, my family attended Simpson Methodist Church on South Harrison Street in Fort Wayne, Indiana.

This column accomplishes a publishing feat never before attempted in this part of the country. I'm going to introduce two high-profile personalities in the entertainment world to you, then I'll tell you how they were connected even though they never met.
April 9 is Tax Freedom Day this year. That means that on April 9, the nation will have drained enough dimes and dollars out of our pockets to pay its own tax bill for the year.

My wife and I recently talked about the things we did in our earlier lives long before we met 12 years ago.

I've never been one to collect things just for the hell of it, but maybe I should start.

In 1731, Benjamin Franklin and a few of his friends founded a book club called the Junto.
I was a skinny kid at the age of 11. And 12. And 13. And 14.

This is another one of those columns in which an old guy laments that at least part of the past … is past.

June 16, 1953, was a sultry summer day in Fort Wayne, Indiana.

OK. This time we're moving to Chino Valley. Really.