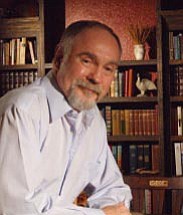 Will Williams is a contributing columnist for the Chino Valley Review and Prescott Valley Tribune newspapers.
Recent Stories

I strive to maintain dignity on a daily basis.

The Chino Valley Morning Lions Club is at it again. On Sept. 2, the Morning Lions will sponsor the 31st Annual Territorial Days celebration complete with a parade, a pancake breakfast at the Senior Center, a raffle drawing and a craft fair in Memory Park.
Think of a cowboy. I'm talking about the real kind, the kind that rode for the brand on the ranches and the acres throughout the Old West.
I remember way back in 1960s Columbus, Ohio, when my cousin and I decided to write messages in code to each other.
I've always been concerned about making rash decisions.

I'm amazed by the number of gear heads and classic vehicles in and around Chino Valley.

I just watched a YouTube video of Admiral William H. McRaven talking about life-lessons learned in the military.
Every once in a while, my wife and I feel the need to watch a really, really bad movie.
I'd never heard of a 2000 Kevin Spacey and Helen Hunt movie entitled "Pay it Forward," until recently.
As is true with most folks my age, I've traveled to a lot of places over the years and have met a lot of people.