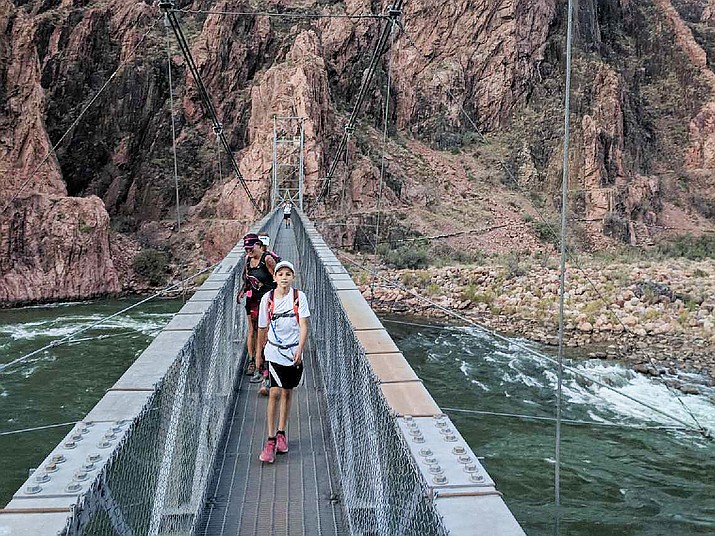 Originally Published: May 13, 2018 6:05 a.m.
DEWEY-HUMBOLDT – Kurt Pitterle of Dewey, father of 11-year-old Talen Pitterle, thought his gifted, dedicated, fleet-footed son could've set a Guinness World Record April 28 by becoming the youngest person to run/walk from rim-to-rim-to-rim of the Grand Canyon in 20 hours and 14 minutes.
On May 11, Guinness World Records confirmed to The Daily Courier via email that it does not track such feats and "additionally, we do not typically monitor titles related to individuals under the age of 16. Anyone between the age of 16-18 and/or under must provide consent from a parent/guardian to attempt these records."
Perhaps the ball's in Kurt's court now. Although you wouldn't need a record book to recognize that Talen's one-day accomplishment was altogether remarkable for someone his age, let's go for it, using Guinness' own criteria for determining a world-record title.
Measurable: A rim-to-rim-to-rim run/walk of the Grand Canyon can be measured objectively, as long as the same route is used and it's tallied in miles. Talen, a compelled fifth grader at Humboldt Elementary School who spent 1-1/2 years training for this, started at the Bright Angel Trailhead on the South Rim.
He crossed the footbridge over the Colorado River, jetted up the North Rim, returned to the canyon bottom and, after a short break, ended the trip by heading back up the South Rim with his mom, Jen.
"My motivation is, 'The faster you run, the sooner you're done' and 'Pain is Temporary,' " said Talen, who's become a better student as a result of his running. "When you finish, you feel like you can accomplish anything."
Talen, bundled in a red windbreaker with black gloves and a black knit hat, started the trek at 3:30 a.m. April 28 along the wind-whipped canyon at 6,800 feet of elevation in 37-degree weather.
"The best part was probably the views, and nature and the animals," said Talen, who primarily spotted deer, insects and frogs.
Talen, Kurt, 41, and Jen, 44 (an Ironman triathlon/marathon competitor), ran the first 3 miles downhill in an hour, from 3:30 to 4:30 a.m. Kurt's strength is running shorter distances, while Jen's better at longer jaunts. Talen, the middle of five children in his family, does both well.
"I knew this was going to be a challenge," said Jen, who, like Talen, is goal-oriented. "Even though he's done a couple marathons, the canyon's different. And hiking out those rims is tiring."
Once 2 hours and 35 minutes had elapsed (9 miles), around 6 a.m., the sun had already crept over the horizon as Talen reached the base of the South Rim and crossed the footbridge to the base of the North Rim.
By then, Talen had shed a layer or two of clothing, donning a long white T-shirt, black shorts and a plain white cap with a neon orange CamelBak (with a water bladder) on his shoulders and salty, high-energy snacks tucked away to prevent dehydration.
At 18.5 miles, Talen, Kurt, Jen and the affectionately named Ironman Dan (an experienced long-distance runner/hiker) reached Cottonwood Camp while heading up the North Rim, although they still had 7 miles to go to reach the top of the rim.
Once at the top, they turned around after meeting their pit crew and picking up their son, 16-year-old Lauton, and his two friends, who made the return trip with them. Kurt decided at that point not to continue due to cramping and "depleted energy sources," Jen said. Talen would take a break and later swim with those two friends and Lauton at Ribbon Falls before trekking up the South Rim.
"Going up the last 11 miles, from Phantom Ranch [was most difficult]," Talen said May 10 from his home in Dewey's hill country. "The last 6 miles, I was getting tired."
Under darkness at 12:14 a.m., Talen reached the South Rim, completing the 50-miler with Jen.
"We finally finished," a smiling Talen said on his dad's video as exhaustion and droopy eyes set in. "A little emotional, but I'm done."
Breakable: If Guinness representatives were willing to establish and open a rim-to-rim-to-rim run/walk competition for boys ages 11-13 who have the proper training and adult supervision, for example, times could be officially recorded.
Able to standardize: Albeit rare for an 11-year-old to complete a rim-to-rim-to-rim run/walk in a day, it would be possible for exceptional boys Talen's age to travel to the Grand Canyon and challenge his time. A set of parameters and conditions for the run/walk would be feasible for all participants to follow, too.
Verifiable: Yes, Talen's (or any other boy's) claim to the rim-to-rim-to-rim run/walk record can be proven, primarily through video and photographic evidence, as well as GPS tracking data. Each boy could wear a cellphone and/or a GoPro equipped with audio, video and a GPS app, accompanied by a trail guide.
There's video/photographic evidence of Talen's 50-mile excursion, complete with 18,100 feet of elevation gain, and Jen was there to shoot the photos. A fifth grader at Humboldt Elementary in nearby Humboldt, Talen runs track for the school, and he and Jen train together.
"He loves running with his mom, and they do yoga, Pilates, Upper Fix, Lower Fix and ab workouts together as well," Kurt said.
Based on one variable: The time it takes to run/walk from rim-to-rim-to-rim in one day is the variable in question here, and it would be measured in hours, minutes and seconds.
The best in the world: Has anyone else Talen's age accomplished this, let alone do it faster than him? We probably don't know. But Guinness World Records could establish a "challenging minimum requirement" for trained youngsters to beat. Maybe start with Talen's time and go from there?
An app on Kurt's phone painted the mathematical picture of Talen's journey… 50 miles at an average pace of 23:18 per mile (breaks/stops included!) … 7,993 calories burned.
Talen's not done after this, though. He's already run two marathons, the Buckeye and the Lost Dutchman (where he took 44th overall out of some 300 runners in 3 hours and 50 minutes), and the Sedona Half-Marathon (1:56:00).
He'll be back at the Canyon, whether or not Guinness shows an interest. He's run 500 miles since Christmas.
"My goal is to complete 100 miles [in one run]," Talen said with conviction.
Doug Cook is a sports reporter for The Daily Courier. Follow him on Twitter at @dougout_dc. Email him at dcook@prescottaz.com or call 928-445-3333, ext. 2039.