Originally Published: May 9, 2018 6 a.m.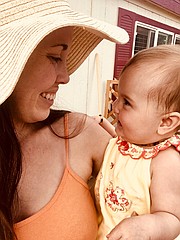 "A baby fills a place in your heart that you never knew was empty."
We don't know who may have said that first, but it's a sentiment new moms surely feel. Following are some other thoughts that some new moms in Chino Valley are sharing ahead of their first Mother's Day as a mother.
Jessica Clelland gave birth to Raylee Elizabeth Clelland on Sept. 19, 2017.
"When I first found out I was going to be a mother, I had just about every emotion you can think of," Clelland said. "I was nervous, scared, excited and, of course, very happy. I think the most difficult part to get used to is the lack of sleep. But the best part of being a mom is knowing that something so little loves you so much and totally depends on you. My husband, Josh, and I really enjoy watching her personality change as she grows.
"Just looking at her is so awesome, to know that our love for each other created something so beautiful," she said. "Being a mother is one of the hardest but most rewarding things I've ever done. Raylee is my purpose in life."
Grady Wade League was born on Jan. 10, 2018, to Michaela and T.J. League.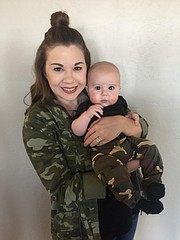 "When I first found out I was pregnant, I was excited and nervous because it is such a huge responsibility," Michaela said. "All the new things of being a mother takes getting use to, but the best thing about being a mom is having someone to hang out with all the time.
"Feeding Grady, when he was first born, was my favorite thing to do, but now my favorite thing is giving him a bath, which he loves," she said. "Everyone says the baby stage goes by so fast, and now I know it really does. Our life is now completely different, and we wouldn't change it at all!"
On Oct. 21, 2017, Lindsey and Kody Cross were blessed with a baby boy, Beckham Jeffrey.
"When I first found out I was pregnant, I was over the moon!" Lindsey said. "The best part of being a mom is it's a whole new joy. It's a joy unlike any other joy or love I've ever experienced before. Over the months, Beckham smiles and laughs a lot. He is probably the smiliest baby in the world.
"The hardest part for me is not being able to be with him as much as I'd like because I work full time. But both my husband and I do a lot of singing to Beckham, and it really seems to sooth and calm him. One of our favorite songs to sing to him is a worship song, 'Peace Be Still.'
"To those who are going to be new moms, my advice is take in every moment; don't get caught up in the logistics of being a mom. You will miss out on some of the most precious moments with your baby."
Happy Mother's Day, from these moms and the Chino Valley Review!