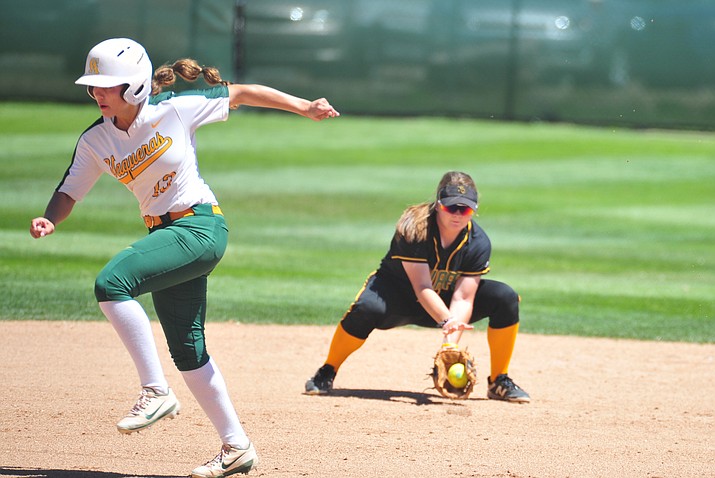 Photo by Les Stukenberg.

Originally Published: May 4, 2018 11:20 p.m.
Photo Gallery
Yavapai vs Central Arizona Softball 05 04 18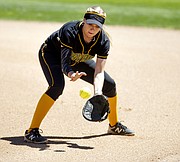 Yavapai needs 3 straight wins to overcome Eastern Arizona
PRESCOTT — After Friday's NJCAA Division I, Region I semifinal at Bill Vallely Field, it's safe to say Eastern Arizona College has become the Yavapai College softball team's postseason nemesis.
Since the Roughriders upset Eastern on its home field in Thatcher in the 2016 regionals and advanced to nationals that spring, things haven't gone as well these past two years at regionals in Prescott.
NJCAA D-I No. 18-ranked Yavapai blanked Central Arizona, 8-0 in six innings, for its 50th win of the season in its regionals opener Friday, but the Roughriders were subsequently no-hit through 4-1/3 innings against No. 9 Eastern and lost, 10-0, to drop into the losers' bracket.
Last year, Eastern eliminated Yavapai from regionals, although Central Arizona moved on to win the title. This year, the two-time defending Arizona Conference champion Roughriders, who saw their 12-game winning streak end Friday, again find themselves one loss away from postseason elimination.
In the four-team, double-elimination tournament, third-seeded Arizona Western was eliminated by Central, 11-3 in five innings, after Eastern had blanked Western, 3-0, in the opener.
"Winning 21 out of our last 22 games in the season [before the Eastern loss] is just incredible," Yavapai freshman shortstop Brianna Griffiths of Tucson said after the Central win Friday. "Nobody expected us to host [regionals] after what our first half of the season looked like. We just came back. We had Central, Western, Eastern and Phoenix [College] all in a row, and we competed really well with them [to end the regular season]."
In the No. 1-seeded Roughriders' first game of this regional tournament against No. 4 Central Arizona, Yavapai starting pitcher Jaya Allen of Spokane, Washington, and reliever Kiana Spencer of Gallup, New Mexico, combined for a two-hit shutout.
Before the Eastern loss, Allen said that the Yavapai squad's "energy's been up, and everybody's so excited."
"It's really nice [to be at home]," Allen added. "The atmosphere obviously helps us keep the energy up, and it's nice to just be able to get out of bed and come down to your own field instead of traveling four hours to Thatcher. It's really fun, and we love having our fans here, because they really help us throughout the season."
Allen surrendered only two infield singles, while striking out four and walking three in five innings. The Vaqueras couldn't catch up to Allen's inside pitches, and her off-speed stuff kept them guessing, even though Allen said Central's hitters were good at laying off of her lower-placed pitches in the zone.
"She's just a stud out there; she's our rock of the team," Griffiths said of Allen. "She works hard every day to be better, and she never settles for anything less than a win."
Spencer pitched a spotless sixth, retiring the side on two groundouts and a strikeout. Allen's 25 wins and 229 strikeouts after the Central victory are among NJCAA D-I's Top 5 in both categories this spring.
"Every practice and every game, you just try and get better," Allen said. "And I don't know if this is my peak or I can get better, but I always strive to get better. Really, the ideal situation is to peak at nationals, if we make it there. I'm just working hard, and it's going to happen when it happens."
Roughriders freshman catcher Kylie Brown of Aztec, New Mexico, said Allen "was really focused on hitting her spots, and when she did it, you could tell she knew and she was going to come back and throw it in that spot again."
"She was really aggressive in the strike zone, and she wasn't going to let anybody go easy," Brown added.

Offensively for Yavapai, nine-hole hitter Shelby Hotchkiss of Tucson went 2 for 3 with a grand slam and an RBI walk-off single in the sixth on the run rule. Hotchkiss registered 5 RBIs.
"She's definitely come in clutch lately," Allen said of Hotchkiss. "Before she hit that grand slam, I said, 'Shelby, we just need your little bloopers that you always get.' And she proved us all wrong, and just hit it out. She's been working hard, taking good cuts at practice, and we're all really proud of her."
Makea-Al Kaluau of Buckeye followed with an RBI double and a run scored, Makayla Guerra of Silver City, New Mexico, had a double and a run scored, and slugger Jaydee Boursaw of Vallejo, California, added an RBI single and a run scored.
The Roughriders scratched out only six hits facing Central pitchers Lauren Shirley, who suffered the loss in four innings (first and second, fifth and sixth), and ace Kyrstan Garcia, who threw the third and fourth frames.
Versus No. 2-seeded Eastern, Neenah Pangilinan broke up Gila Monsters starting pitcher Kendall Rauk's no-hit bid by ripping a single to center field with one out in the fifth inning. But Rauk dominated otherwise, tossing a three-hit, complete-game shutout. Rauk issued nine walks, but she struck out 11 on 143 pitches.
Rauk settled down later in the fifth after throwing a wild pitch that had advanced Mariah Kalamaras (walked earlier in the frame) and Pangilinan to third and second base, respectively. Griffiths and Guerra struck out in consecutive at-bats to conclude the threat.
In the seventh inning, Yavapai loaded the bases with two outs on back-to-back singles from Griffiths and Guerra, and a walk issued to Boursaw, but Kaluau grounded out to end the game.
Allen again started in the pitcher's circle for Yavapai before giving way to the southpaw Spencer. Allen surrendered five runs on six hits in three innings, fanning three and walking a pair. She gave up three homers. Spencer took over in the fourth, allowing five runs on seven hits and fanning two. She, too, allowed a homer.
Vesi Liilii went 3 for 4 with a homer, two RBIs and two runs scored to lead Eastern offensively. Kaila Burnett was 2 for 4 with a homer, two RBIs and a run scored.
UP NEXT
Yavapai (50-11 overall record) will battle Central Arizona at 10 a.m. today, May 5, in a regionals elimination game at Vallely Field. The winner faces Eastern Arizona in the region championship game, scheduled for 12:30 p.m. If Yavapai or Central beats Eastern, the if-necessary title contest would be played at 3 p.m.
Doug Cook is a sports reporter for The Daily Courier. Follow him on Twitter at @dougout_dc. Email him at dcook@prescottaz.com or call 928-445-3333, ext. 2039.