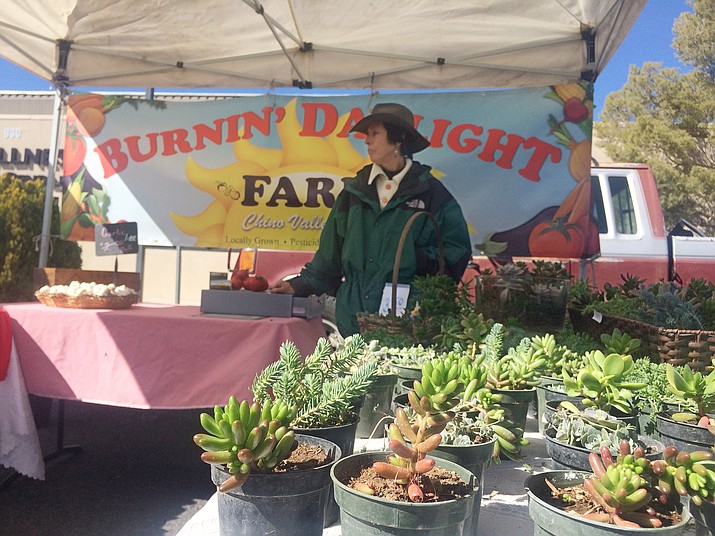 Originally Published: March 7, 2018 5:52 a.m.
Blood drive slated for March 17
Chino Valley Knights of Columbus is sponsoring a blood drive from 8 a.m. to 1:15 p.m. Saturday, March 17, at St. Catherine Laboure' Church Hall, 2062 N. Highway 89 in Chino Valley. To schedule an appointment, call Paul Diemer at 928-636-0747. Walk-ins are also welcome.
Chino Valley Library sale this month
Biographies — a large selection, including biographies of politicians, movie stars, and historical figures, as well as biographies of many other famous and interesting people — are featured this month at the Friends of the Chino Valley Library Sale. All proceeds benefit the library, 1020 W. Palomino Road.
Police Department Citizen Academy
Learn about the Chino Valley Police Department from 6 to 8:30 p.m. Wednesdays, March 28 through April 18, and 8 a.m. to noon Saturdays, April 21 and 28, at the Police Shooting Range classroom, 2178 Sergeant Dee Barnes Way. Call to register early as space is limited: Laurie, 928-636-4223 ext. 8.
Participants will meet the police officers who patrol Chino Valley streets and neighborhoods, experience firsthand some of the training officers go through in the shooting simulator, see vehicles and equipment used by the department, learn about Citizens on Patrol volunteers, see K-9 demonstrations and gain a deeper understanding of how cases are investigated and processed through the legal system.
Lane closures on 89 through Thursday
The Arizona Department of Transportation advises drivers to plan for lane closures on north- and southbound Highway 89 between Road 1 South (milepost 327) and Road 4 North (milepost 330) for pavement repair.
Crack-seal work is scheduled to occur from 7 p.m. to 5 a.m. through Friday, March 9. No weekend work is planned, according to a news release. Work was slated to begin March 5.
Highway 89 will be narrowed to one lane in each direction while work is underway and the speed limit will be reduced from 45 mph to 35 mph. Drivers should proceed through the work zone with caution, slow down and watch for construction personnel and equipment. Schedules are subject to change based on weather and other unforeseen factors; this work had previously been scheduled for this past week, but was delayed because of a storm.
For more information, call the ADOT Project Information Line at 855-712-8530 or email Projects@azdot.gov. For real-time highway conditions statewide, visit ADOT's Traveler Information Site at www.az511.gov, follow ADOT on Twitter (@ArizonaDOT) or call 511, except when driving.
Citizens Academy is underway
Get a close-up and in-depth look at Chino Valley's government through the eight-week academy, moderated by Mayor Darryl Croft. It meets weekly, from 6 to 8:30 p.m. Thursday nights, through April 19.
Sessions, which began March 1 (attend one or all), will be led by a variety of local leaders, including the town's elected officials, department staff and local civic and service organization leaders, and participants will have the opportunity to discuss issues directly with the mayor, vice mayor, council members, town staff, community leaders and others.
Sessions will be held at Town Hall, 202 N. Highway 89, except for one session held at the Fire Station, 1133 W. Road 3N.
Participate in this program is free. Reservation can be made by visiting www.chinovalley.org. For information, call 928-636-2646 ext. 1395 or 1203.
Senior Center dance is March 19
A dance is set for 5:30 to 8:30 p.m. Monday, March 19, at the Chino Valley Senior Center, 1021 Butterfield Road. Tickets are $15, and the price of admission includes pizza and beverages.
Bryan Keith will be playing music from the '50s to the '70s, including country music. Call Anita, 586-295-0015, or Mary, 612-790-1351 for tickets.
Spring football team forming
Those who are interested in a spring football training team are urged to email cvyfacougars@gmail.com, noting the division in which your athlete would play. Four games plus a bowl game are being considered. Games would run mid-April to mid-May. Cheer will not be offered in the spring.
Studio Tour issues call for artists
The application period is open through Friday, April 6, for the 11th annual Prescott Area Artist Studio Tour, which is from 10 a.m. to 4 p.m. Friday through Sunday, Oct. 5, 6 and 7.
Applications are available on the website: www.PrescottStudioTour.com. For more information, email info@PrescottStudioTour.com.
A participation fee is $150 if application is received by March 16. Thereafter, until the April 6 deadline, the fee is $175.
The Studio Tour is open to all artists in the Quad Cities — Prescott, Prescott Valley, Chino Valley, Paulden, Dewey-Humboldt, Mayer, and the surrounding areas.
This is a juried show. Media will include ceramics, digital art, drawing/pastels, furniture, glass, jewelry, metal, mixed media, acrylic, oil and watercolor painting, photography, printmaking, sculpture, textiles/wearables and woodworking.
Last year this self-guided tour, which is free to those attending, featured 59 juried artists at 39 private studios throughout the Quad Cities. For more information, visit www.PrescottStudioTour.com.
Comments due March 6 on PNF project
The Chino Valley Ranger District of the Prescott National Forest (PNF) is seeking comments on the Chino Landscape Restoration Project. The project proposes a series of actions to restore and maintain soil and watershed function, vegetation conditions, riparian and groundwater dependent systems, and natural fire regime.
The PNF has prepared an environmental assessment to evaluate the potential effects of this proposal. The EA and accompanying specialist reports may be viewed online at https://www.fs.usda.gov/project/?project=45619 by clicking on "Analysis." It can also be viewed at the Bradshaw Ranger District in Prescott. You may submit your comments on this project web page by clicking on "Comment/Object on Project" link on the upper right side of the web page. You may also mail or hand deliver comments to the Bradshaw Ranger District, 344 S. Cortez St., Prescott, AZ 86303.
The office is open from 8:30 a.m. until 4:30 p.m., Monday through Friday, excluding federal holidays.
In order for your comments to be considered during project development, and in order to have standing for objections, please submit your comments by March 6.
For more information, contact Christopher Brown, Project Lead, at 928-443-8218 or by email at christopherjbrown@fs.fed.us.
Veterans' town hall meeting March 6
The Northern Arizona VA Health Care System (NAVAHCS) will be hosting a Town Hall Meeting for all Veterans in the Cottonwood/Verde Valley area.
The Town Hall is scheduled from 3:30 to 5 p.m. Tuesday, March 6, at the Cottonwood Public Library, 100 S. 6th Street, Cottonwood.

This event will offer Veterans the opportunity to speak with VA leadership, Service Line Managers and Subject Matter Experts in reference to their care at the VA Cottonwood Clinic. The Town Hall meeting will have information tables in the back of the room with literature, brochures and personnel ready to answer questions.
Northern Arizona VA Health Care System delivers Personalized, Proactive and Patient-Driven Healthcare to Veterans and we welcome the opportunity to listen to our Veterans feedback on our care and services.

If you have questions, contact Mary Dillinger at 928-717-7587.