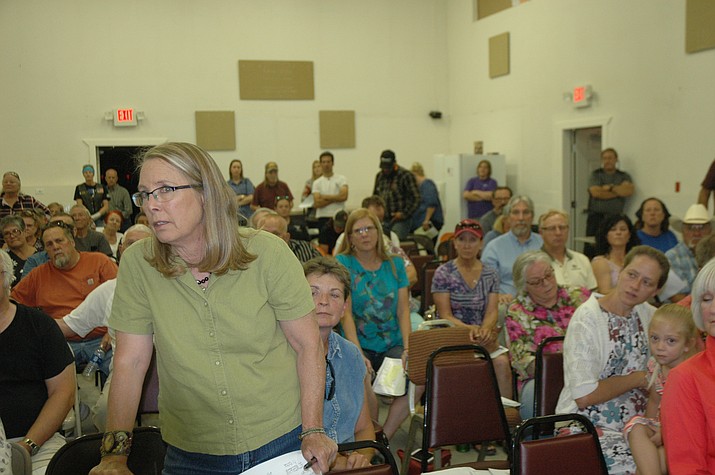 Originally Published: June 13, 2018 6:02 a.m.
New to the water debate, Paulden resident Monica Baty said she was enraged when she found out about the Big Chino Valley Pumped Storage Project.
When ITC Holdings Corp., a subsidiary of Fortis Company, appeared at the Paulden Area Community Organization meeting Thursday, June 7, for a presentation on the project, Baty said she was originally from Pennsylvania and lived in San Diego where chemically treated water damaged her skin and health.
"I moved here for better health, better water," she said. "You're going to take that away from me? I'll be damned."
Previous stories in The Daily Courier note that the project, proposed to be built in northern Yavapai County on 650 acres about five miles southeast of Seligman, would generate and store 2,000 megawatts per hour of electricity for 10 hours a day during periods of low demand and store energy for pumping 12 to 14 hours per day during peak demand.
Initial fill of the reservoir is estimated to take about 27,000 acre-feet of water from the Big Chino Aquifer, ITC Holdings Corp Regulatory Counsel Andrew Jamieson said at the Thursday meeting.
One acre-foot of water is 325,851 gallons.
Project Engineer and Director Brian Studenka said that the area for the project was chosen as a combination of where it is in relation to the transmission grid, the suitability of the site's topography for a pumped storage facility as well as the access to water.
Baty wasn't the only one in the packed-out Paulden Community Center opposed to the project. Paulden resident Judy Krol mentioned some statistics, including that Arizona is in the 21st year of a serious long-term drought and that this winter ranked the fourth driest to start a water year which runs from Oct. 1 to Sept. 30. There were only 0.44 inches of rain when the average is 2.85 inches and in regards to rain and winter snow melt, this is the sixth lowest year ever, Krol said. It won't make up for the deficit nor will it replenish the Big Chino aquifer, she said.
"If we continue to suck water out of the Big Chino so that developers can get rich, we will eventually have a water crisis," Krol said. "Nature is not replenishing the water source in this part of Arizona. When the Big Chino goes dry, what then?"
Additionally, Arizona's major moneymaking industries are farming produce and cotton shipped all over the world and mining, she said. None of those industries can survive without water, Krol said. Further, most of the state's drinking water comes from northern Arizona and goes all over the state, she said.
Suzie Cornman said there is a big need for power, but there is an alternative that doesn't require water called compressed air energy storage. It utilizes underground caverns where heated air powers turbines for electricity and cities and mining operations have been using it for decades, Cornman said. It's cheap and there's already a place for it, she said.
"It's over by Kingman, there's already caverns there, they had talked about putting natural gas in it for storage or even toxic waste," Cornman said. "It's close to Lake Mead, it's close to Las Vegas, to the power grid, to the dam, everything. It's not that far from us, two hours."
Studenka said a lot of different possibilities and technologies to store electricity have been looked at, though compressed air has not. He does commit to looking at it though, Studenka said.
"I would question it being cheap," he said. "It's not always cheap, you're talking about underground caverns, how do you make sure you don't leak anything out of there?"
When told that it's a multi-billion dollar project, Paulden resident Scott Hines recommended a natural gas power plant, stating figures from the Department of Energy that one costs $70 million.
Prior to the meeting, Studenka said response to the project has generally been supportive and open-minded. Following the meeting, where there was an overwhelmingly negative response, he said they look forward to going through their mitigation plans and water studies, looking how to present a solution beneficial to the community.
"We need to go through that process, but we're confident we can get there," Studenka said. "We believe we can present a project that's a benefit to the community."
The community's response to the presentation was clear direction on what to do, said Paulden Area Community Organization President Don Nowell.
"This gives us a fight," Nowell said. "We can show these people that it's just not about big money. Let's shut them down. We the people do have a voice."