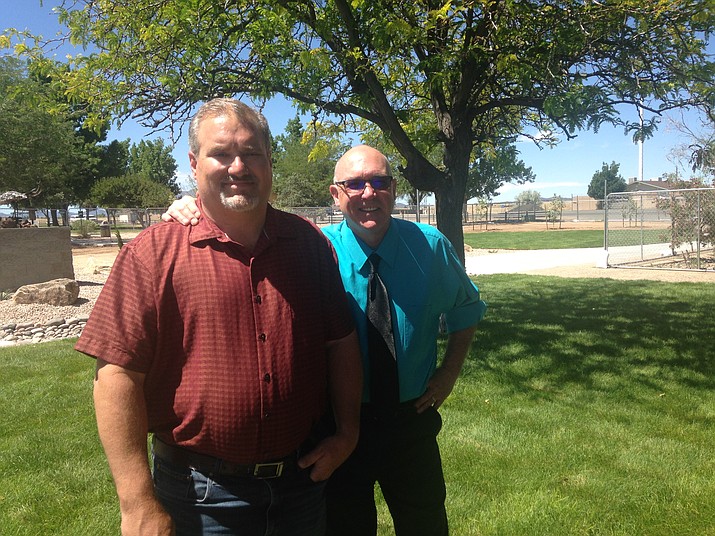 Originally Published: June 6, 2018 5:52 a.m.
The subject of expanding Memory Park in Chino Valley has been being talked about for many months. Police Chief Chuck Wynn thought about expanding because of safety issues with children going to and from the library to the park. So in February the Mayor and town council got the project started. Celia VanDerMolen designed the approximately half acre project, with Town Engineer Frank Marbury, and Community Services Director Scott Bruner being in charge of getting it completed.
"There has been approximately $10,000 in grants and donations with the Friends of the Library matching a portion of it for this expansion" said Bruner.
"One of the main features is a metal sculpture by Lillian Wells, and there will also be other public art installed. We also are going to put a cement slab with a Ramada to use as a small stage for future events, and we hope to have a splash pad (more funds needed for splash pad), we want to bring a continuation of the park to the door step of the library," Bruner added.
"This project will also consist of additional landscaping of grass, low water Native plants and shrubs,path ways, etc. which our project manager Kurt Morrill , who is the eyes and ears of this construction project is in charge of. The first phase is completed and the second phase will begin in July" Marbury explained.
"The proposed budget also calls for new rest room facilities at Memory Park. Hopefully everything (expect the splash pad) will be done by August. As an engineer it's rewarding to be able to take something from a drawing to an actual construction project that people can enjoy," said Marbury.
"We wanted this addition to have unique features and I think we've accomplished that," said Bruner.
"This is for the citizens of our community, and I think everyone will enjoy it."
Anyone who would like to donate to help get the splash pad for the children can contact Scott Bruner at 928-636-2687, or see him at the library located at 1020 W. Palomino Road.