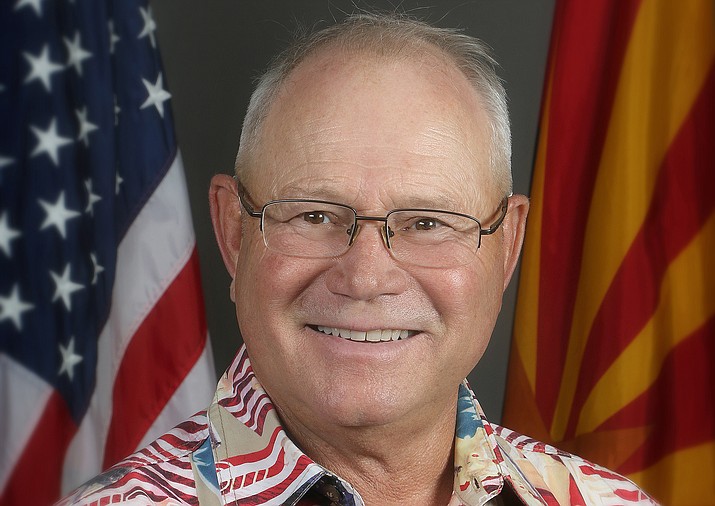 Originally Published: July 11, 2018 6 a.m.
Running unopposed in this year's election, Chino Valley Town Councilman Cloyce Kelly said his only goal is to help make the town better.
Monday, June 25 marked one year for Kelly being on the Chino Valley Town Council, having been appointed to fill an open position. The reason he was interested in being on the Town Council in the first place was to help the town, Kelly said.
"Just helping with water and the roads," he said. "Basically I don't have an agenda … respond to the needs of the people is about the size of it."
Over the past year he's learned a lot and his desire to run for another term is because he wants to keep helping as much as possible, Kelly said, adding that he thinks he's handled the last year pretty well. People will stop him anywhere, call him, leave him messages and he'll add their concerns to a list he keeps, he said. He takes those concerns and complaints to the appropriate place to find out what the story is.
The most pressing concerns for the town at this time are water, roads and controlled growth of population, Kelly said.
"Bring some industry here to support the town," he said, adding that it's important to make sure "it stays rural and friendly and you wave at the people and you help people."
Kelly has voted against growth before for that reason. He cast the only vote against the West Meadows development in September after citizens raised concerns over water and infrastructure.
Kelly also voted against a minor general plan amendment changing the zoning of the Windmill House to commercial/multi-family residential after the condition of a six-foot wall along the west side of the property was removed.
"All the people from that area, I had been to them and listened to them," he said. "The only reason I voted 'no' was about the wall … I'm going with my constituency."
As for water and roads, both of those were identified last year by Town Manager Cecilia Grittman as high on the council's focus for 2018. The town has been moving forward with both. Earlier this year staff and council decided that obtaining smaller water companies and a portion of the Prescott water system within Chino Valley is a priority, and the Roads and Streets Committee has been figuring out possible solutions to pay for road maintenance.
Kelly said he encourages residents of Chino Valley to see him as a regular person working for nothing other than a better town.
"I'm here, call me, talk to me," he said. "I'm here for the people. Life's been good to me and I'm still here."