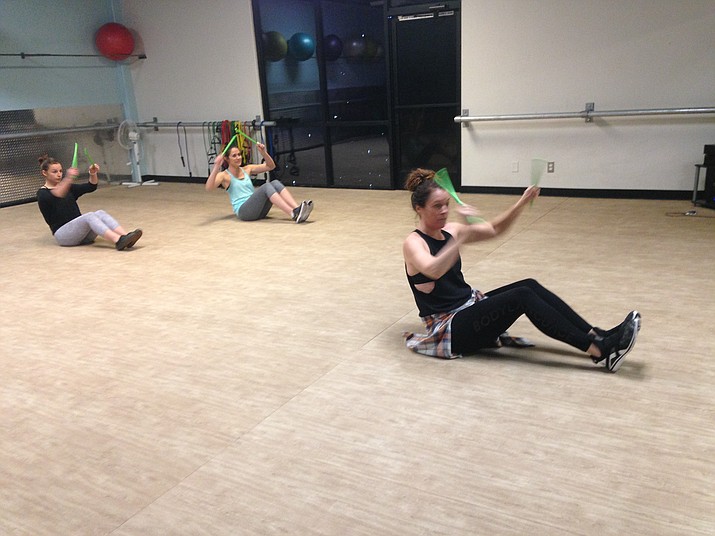 Originally Published: January 10, 2018 5:58 a.m.
A new year is upon us, and with each New Year's Eve one popular resolution is to exercise away those holiday pounds.
Leanne and Jonathan Shearer have owned Anytime Fitness in Chino Valley and Prescott Valley since 2003.
"We offer a large variety of classes at our gym besides working out on the machines," Shearer said.
"We offer gentle exercise classes such as Pilates (exercises performed on a mat stretching and lengthening muscles to improve posture and flexibility), traditional Yoga, and Buti Yoga (a movement practice that transforms the mind and body by combining tribal dance, plyometrics plus conditioning with dynamic power yoga) and Silver Sneakers, to high energy and impact classes such as 'SpNRG,' a high energy form of stationary bike exercise that is guided by a trained instructor to the beat of intensive music, night club style in a darkened room lit with black lights," Shearer said.
For those who love to dance there is Zumba, a high-energy fat burning fitness dance class set to Latin & world music, or Pound, using Ripstix, lightly weighted drumsticks engineered for exercising. Pound transforms drumming into an effective way of working out. Both of these classes are designed to make exercise fun.
"We also have the most amazing instructors, so that no matter what your fitness level is they can help you, as they really care about the people," Shearer said.
Shearer said that because the gym is open to members 24 hours, seven days a week the gym also has safety devices that they recommend that men and women wear if they are in the gym alone in case of an accident. They just have to push a button and it alerts the police and fire department.
"A lot of people who not only want to lose weight, but be healthy physically and mentally, or need a release from anger, or depression come to the gym for release. They need to find the workout that works for them and stick with it," Shearer said.
"I was born to help people, which is why I love this type of work," she said.
"I can't do anything else, as I have tried. This work gives me life."
Anytime Fitness is located at 759 N. Highway 89, Chino Valley. Call 928-636-8348 for more information on how to join.