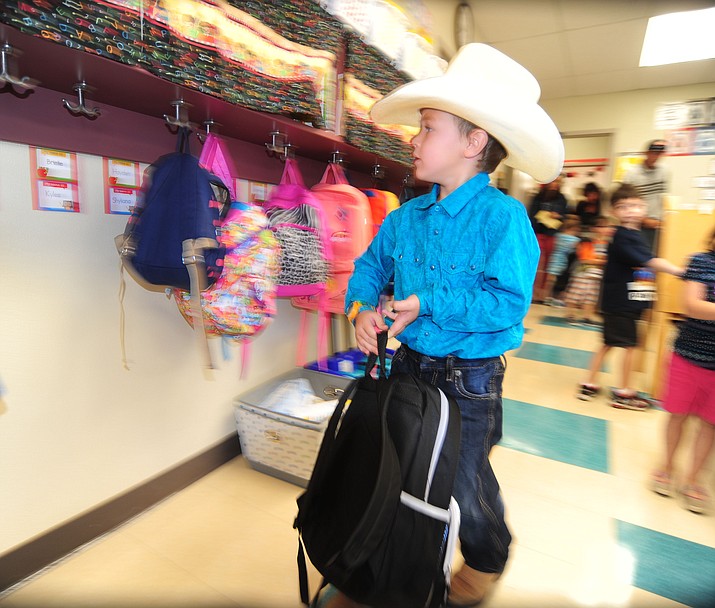 Originally Published: January 10, 2018 5:55 a.m.
PHOENIX — Gov. Doug Ducey kicked off the legislative session Monday with a call for more education funding — but not with the tax hikes that some say are necessary to provide truly adequate funding for schools.
In an interview with Capitol Media Services, the governor said the state has made a "significant investment" in K-12 education, saying aid to schools is $700 million higher now than it was three years ago.
"More is needed," he acknowledged, saying the details of his budget will have to wait.
But the governor rejected suggestions and proposals by several different education and business groups that the quickest — and easiest — way to raise the revenues needed is to boost state sales taxes, curb tax credits or close what some describe as "loopholes" in the tax code.
"I'm not raising taxes," he said.
Instead, Ducey insists that he can find the money elsewhere in the budget.
"Our economy is growing," he said. "Our state government is being operated more effectively and efficiently."
But the kind of money Ducey can find through such savings is unlikely to satisfy those who cite not only Arizona's reputation of being at or near the bottom of per-student funding but the problems in both attracting and retaining teachers. And that starts with 2,000 classrooms not having qualified teachers at the helm, instead being run by substitutes or students being forced into overcrowded classrooms.
Senate Minority Leader Katie Hobbs was more succinct in her criticism of the governor's contention that the state can adequately meet education needs with savings elsewhere.
"We've got all the change from the couch cushions that there is," she said.
It's not just Democrats and educators who are critical of Ducey's position that the state can fund education without additional revenues. He also is increasingly at odds with those who otherwise might be considered allies.
FUTURE OF SALES TAX
It starts with the debate of the future of the 0.6-cent sales tax approved by voters in 2000 specifically to fund education. Without action, it will sunset in 2021, along with the approximately $600 million it raises.
The governor said he supports simply asking voters to extend it, insisting it could be reformed in a way to generate more dollars. He also doesn't want any action this year, a move that House Minority Leader Rebecca Rios called "incredibly irresponsible."
Beyond that, others say education needs more than that 0.6-cent tax raises.
Diane Douglas, the state superintendent of public instruction, favors boosting the levy to a full penny, figuring to use three-fourths of that to boost teacher salaries by about 10 percent.
Jim Swanson, CEO of construction firm Kitchell Corp., thinks even more than that is needed, suggesting a doubling of the 0.6 cent levy. Others, including Phil Francis, the former CEO of PetSmart, said it probably will take a 1.6-cent tax to produce the revenues needed.
Even the more fiscally conservative members of the business community are saying something more is needed to generate more dollars.
"Tax revenues are not matching the health of the economy, not just in Arizona but across the country," said Glenn Hamer, president of the Arizona Chamber of Commerce and Industry, blaming much of that on the increase in online purchases whose tax revenues are not captured. Hamer said he wants to look at reform, opening the door to expanding the list of items and services that are taxed, though he has no specific revenue number in mind.
And Kevin McCarthy, executive director of the business-oriented Arizona Tax Research Association, said he could support a tax increase. But he said that is contingent on cleaning up other disparities in education funding, like some school districts getting more money per student because of things like desegregation expenses.
All that puts Ducey in the position of being a holdout amid increased public focus on the state's public education system and concern that children are being shortchanged because of the state's failure to put more dollars into K-12 education.
There is no dispute over the numbers. Even Ducey press aide Daniel Scarpinato concedes that current per-student funding, after adjusting for inflation, is still not back to where it was before the recession.
There's also the separate fact that Ducey, who convinced voters in 2016 to tap a special trust fund to end a lawsuit against the state, insisted that the cash that generates would be just the first step toward improving education funding. But questions remain about what has been produced so far, with teacher salaries up just 1 percent this year.
Ducey promised another 1 percent for the coming school year. But that still leaves salaries far short of what they are in virtually every other state.
The question of how short depends on who you ask — and what ruler they use. For example, the Morrison Institute says that elementary school teacher pay is the lowest in the nation, even when adjusted for statewide cost of living; high school pay is not far behind at 49. Ducey said those numbers, even if correct, are not where Arizona should be.
"I believe we need to come up on teacher salaries," he said.