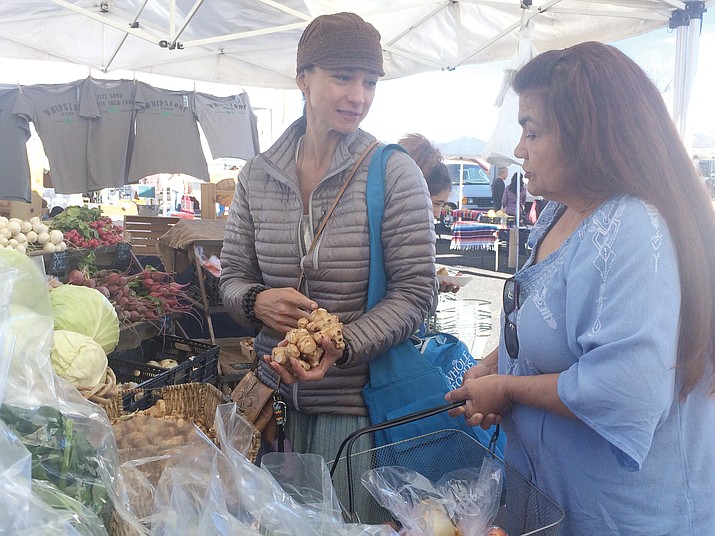 Originally Published: January 10, 2018 6 a.m.
During the winter, local farmers said they do whatever they can to keep their livelihoods going – including selling at the Winter Farmers Markets in Prescott and Prescott Valley.
The only times Paulden's Whipstone Farm is not at the market is when it's not open, said owner Cory Rade. They always try to come with whatever will grow as well as what they've been able to grow earlier in the year, Rade said.
"Some of this stuff is storage, like the sweet potatoes and potatoes and squash. You can't grow those this time of year, but we can store them," he said. "This year's been good because it's been cold, but it hasn't been cold enough to kill all the stuff off."
Last summer, a severe storm caused severe damage to Whipstone Farm. The farm lost five acres and $75,000 worth of crops. They've done a lot of recovery since then, but there was a lot of soil lost and some of the ground is going to take more work, Rade said. It's going to take a year or two to fully improve, he said.
Winter is the time for root vegetables as that's when they're the tastiest, Rade said with Market Manager Kelley Villa adding the sugars in a root vegetable are protecting it from cold. Vegetables such as carrots taste sweeter in the winter because it's colder, Villa said.
Usually, the root vegetables will do their growing before winter and then their tops die off, Rade said. This year though, since there's been nice weather, they are still growing, he said.
While the Prescott Farmer's Market has been around for 20 seasons in the summer, this is the fourth season for the winter market, Villa said. Beforehand, Whipstone Farms always had vegetables stored in the wintertime, but back then, it was leftovers in order to keep for themselves, Rade said. When the winter market came about, they figured out how to store more for selling and other items to produce with a little change in infrastructure, he said.
The winter market also sees newer items such as baked goods or prepared food, Villa said. All of it has at least 10 percent Arizona grown ingredients, she said.
Carol Bigham, owner of Burnin' Daylight Farm in Chino, is one such person selling homemade cupcakes. It's something she started doing as a winter project because she didn't have anything growing, Bigham said.
"Normally, I grow vegetables so I ran out and last winter, I figured I could make cupcakes to hold me over," she said. "Another month or so, I should have tomatoes coming in my greenhouse."
Bigham also called to attention the succulents she started growing in her greenhouse. She started making terrariums when they got bigger, she said.
Villa said she's been encouraged and thankful at the volume of customers that have come to the market in the winter.
"It tends to be slower as compared to the summer when we have more vendors and I think it's more in people's minds that there's a farmer's market. But we've been here for the last four years and there's so many people who have said they love the winter market more than the summer market," she said. "We get customers that are year-round supporting our local farmers. We have such a dedicated customer base that's growing."
Whipstone and Burnin' Daylight Farms can be found at the Prescott Farmer's Market year-round.
In the winter, the Prescott Farmer's Market is located at YRMC Pendleton Center, 930 Division St., and is open from 10 a.m. to 1 p.m. through Tuesday, April 24.
The Prescott Valley Farmer's Market, also open through Tuesday, April 24 in the winter, is located in the Harkins Theatre parking lot on Glassford Hill Road and Park Avenue.
For more information about the Prescott Farmer's Market, and to see summer hours, visit www.prescottfarmersmarket.org.