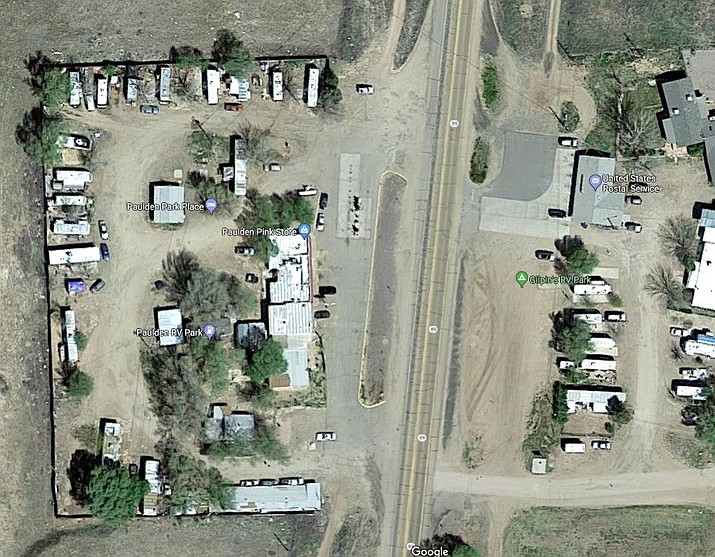 Originally Published: January 10, 2018 6:01 a.m.
A turn lane project by the Arizona Department of Transportation in front of Paulden's post office could go to bid in the next few months, officials say.
Speaking at the Paulden Area Community Organization (PACO) meeting on Thursday, Jan. 4, ADOT Northwest District Assistant District Engineer Andrew Roth said the review was just finished on the 100 percent design. Though there's still some changes to make, the hope is to go out to bid in four or five months, Roth said.
The plans have gone through many iterations while looking at different options, especially between the post office and RV park driveways, he said. The post office driveway will have to be moved north a little bit to get right turn bays between them, Roth said.
"It's not the best access for the post office … at least now you'll have right turn bays to get out of the main line of traffic a little more safely," he said, adding that in between the two driveways will be a two-way left turn bay into United Way. "We did not have enough room to get medians in there to separate the northbound, southbound traffic. That's the best we could do with the limited amount of real estate."

The north and south sides of the project will have concrete medians as well in the hopes to get people to slow down, Roth said. Further, there will be overhead lighting on both sides of the road, starting at the north driveway and going just past the south driveway, he said. There'll be eight in total, Roth said.
Though ADOT is still working on the speed limit, curb and gutter on the outside usually requires the speed limit to be 45 mph, he said. The department is still working on that, Roth said. There has been a positive impact to a 55 mph, said Supervisor Craig Brown.
"Forty-five would be a little better," Brown said.

Roth also mentioned other projects, recommended in a planning study done from Chino Valley to the forest boundary that ADOT did a presentation on the last time it was at a PACO meeting.
The Highway 89 and Big Chino Road improvement was not selected as there was not enough money to go around, he said. However, the Highway 89 and Little Ranch Road improvement did make the eligibility list but not the funding cutoff, Roth said.
"There was only $9 million available statewide for safety improvement projects," he said. "Our next round, there will be about $13 million. We will be looking at submitting that again. The design wouldn't start until 2020 with construction in 2021, if it's selected and makes the funding cut."
There are a lot of projects around the state and not enough money to cover all of them, Roth said.