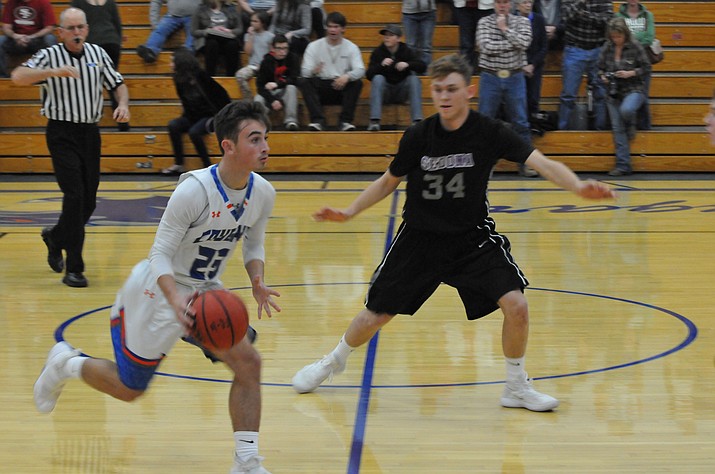 Originally Published: January 5, 2018 11:40 p.m.
Chino Valley's boys' basketball team simply couldn't solve Sedona's pressure defense and athleticism Friday night in an inter-conference clash, succumbing to the Scorpions, 53-37, at the Cougars' main gym.
Sedona of the 2A Central region edged 3A West region Chino Valley, 51-50, in their season opener Nov. 28 at home. The Scorpions led 26-7 in that game late in the second quarter, but let up. Friday's contest was markedly different, however, as the Scorpions rolled to a 32-13 halftime lead. They forced a total of 32 turnovers, including 21 in the first half alone.
Chino Valley struggled mightily against Sedona's half-court trap, and the Scorpions pounced early and often in transition.
"Me and Evan Favorite, he's a junior on our team, we go up at half-court or full-court, and we just cause a lot of pressure up front," Sedona senior Winston Cox said. "And then we have our guys in the back pick off the passes after we press. It makes it a fast pace, and it makes it harder for them to make quick decisions.
"When they're forced to make those quick decisions, that's when we get a lot of our steals, and we use those steals for our offense to just get easy buckets and layups."
The 2A No. 14-ranked Scorpions, who lost in the first round of the 2017 2A state tournament, improved their record to 4-1 in power-point games and 7-3 overall, while the 3A No. 28-ranked Cougars dipped to 2-5 in power-point contests.
"We just let them speed us up [on offense]," Chino Valley starting senior guard Elijah Desmond said. "They're tall and lengthy, and they're a good team. They know how to press well. They're organized."
Sedona assistant coach Jason Bruce, speaking on behalf of coach Paul Bain, said the trap has become a Scorpions staple.
"Last year we had a 1-2-1-1 trap, and this year we switched it up, so we're running more of a 2-1-2 trap," Bruce said. "And it puts so much pressure on the guards that we force them into bad decision-making. Now we need to work on other teams pressuring us, so we need to take care of the ball more, alleviate turnovers, and just play good, fundamental offense and defense."
Chino Valley coach Ravi Shetty said he has an offense that can beat the 2-1-2 trap, but that his team lacks patience.
"We broke it [trap] a couple times; we just struggled," Shetty added. "When we just throw the ball into their hand, any team can look pretty good. We did a poor job of taking care of the basketball, and that's just something we've got to work on."
Added Cougars center Trey Ely about breaking the press, "We kind of dribbled way too much; we should have tried to pass out of it instead of dribble out of it."
Three Sedona players scored in double figures, led by seniors Cox and Michael Ortega, who netted 15 points each. Ortega converted three 3-pointers, his team's lone treys in the game. Cox added six steals. Wyatt Gregson finished with 10 points and six rebounds. Favorite registered eight points and three steals. Sedona rested its starters in the fourth period after grabbing a hefty 48-20 advantage after the third.
"We [still] have a lot to work on," Cox said. "Offensively, we need to keep our mentality sharp throughout the game, and not just the first half. We have a long ways to go, defensively and offensively as a team, but it's starting to come together more than it was at the beginning of the season.
"If we work on a couple things on both ends, we can be a really great team and go far, hopefully, in state."
For Chino Valley, only senior swingman Tyler Hixon tallied double-figures scoring with 11 points. He added four rebounds and two steals. Junior guard Jaydon Harguess had eight points, six rebounds and three steals. Senior swing Ben Grandy notched seven points.
The Cougars were lagging on both ends of the floor without senior post Gavin Cluff, a strong rebounder who will miss the rest of the season with a broken index finger on his left hand, and starting center Thomas Bartels. Cluff injured the finger at the White Mountain Holiday Classic Dec. 28-30 at Blue Ridge High School in Lakeside.
"It's just someone that can be a leader and control stuff on the floor that we miss," Desmond said of Cluff.
UP NEXT
Chino Valley visits Kingman (4-5 record in power-point games, 5-6 overall) for its 3A West opener at 7 p.m. Tuesday, Jan. 9.
Sedona turns around and battles 4A No. 10-ranked Prescott (6-3, 6-8) at 2:45 p.m. today at Talking Stick Resort Arena in Phoenix for the annual Hoopin' It Up series.
Doug Cook is a sports reporter for The Daily Courier. Follow him on Twitter at @dougout_dc. Email him at dcook@prescottaz.com or call 928-445-3333, ext. 2039.