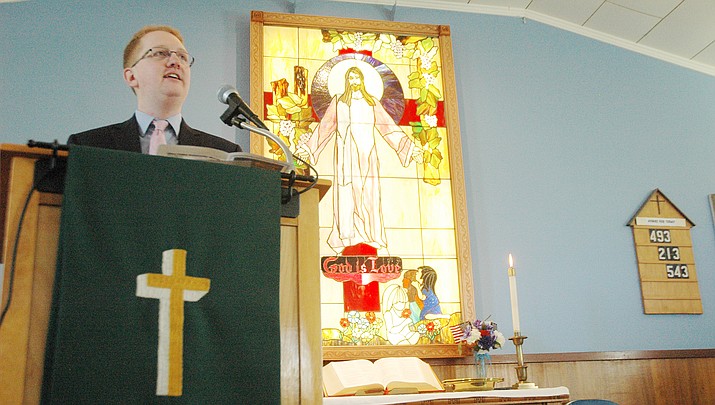 Photo by Jason Wheeler.
Originally Published: February 28, 2018 6:04 a.m.
After filling in as a guest preacher for the past year since January 2017, Chino Valley resident Michael Schoenfeld was voted in unanimously as the Chino Valley Community Church's new permanent, part-time pastor.
Having gotten to know the congregation, Schoenfeld said the church attracted him and his wife because of its outreach in the community.
"We've been here a couple times, my grandma attended this church and still does and they just meet a lot of community needs," he said. "To be able to give back in that way has been a great thing."
Schoenfeld said he tends to be exegetical in his preaching, taking a passage and diving in to see what it says. Whatever the passage says, he's going to do it justice and make sure the message is conveyed as appropriately and honestly as possible, he added.
Putting together his sermons takes a lot of planning and a lot of study to break down the passages, Schoenfeld said. He takes about an hour and a half a night to prepare.
"One of the things that I learned from one of my first seminary classes is you've got to read the passage, and then read the passage, and then read the passage and do it in multiple translations. Then you dive into the commentaries and make your own notes," Schoenfeld said. "It's interesting in the 10 to 12 hours it takes me to craft a sermon, I didn't realize that pastors had to take that much time to do it, but in that amount of time, easily half of that time is just in research, is just in reading."
Though he does not yet have a theology degree, he said he is currently going through Liberty Baptist University's Masters of Divinity program and will have one in December 2018.
Schoenfeld had attended Grace Baptist Church for more than 20 years and went through its youth ministry, he said. Originally, he thought his calling was youth ministry, but realized after the first Sunday he preached at Chino Valley Community Church it was what God wanted him to do and where God wanted him to be.
"To preach and to see people respond to that because you get your fair share of 'good job pastor' and the pat on the head kind of stuff," Schoenfeld said. "But for people to share how that's impacted them or to know that God's not only speaking to me through His word, but speaking to other people and meeting them where they are, that's been the most exciting thing so far."
Chino Valley Community Church is, in the near future, going to focus on children's ministry, Schoenfeld said. Something communicated to him back at the beginning, it felt as if the children in the church grew up, went to college and are now married with families somewhere else and there hasn't been a perpetuation of children, he said.
As for adult ministries, the church has a pretty successful bible study during the week, but because he is part-time with a Monday-through-Thursday job at the school district, investing in a lot of new ministries is not feasible at this time, Schoenfeld said.
However, he and his wife are excited being the youngest people in the church and are excited to start seeing new families come, he said. Further, though he doesn't know how soon it will be until they are implemented, small groups are on the horizon for sure.
Chino Valley Community Church is located at 1969 Highway 89.