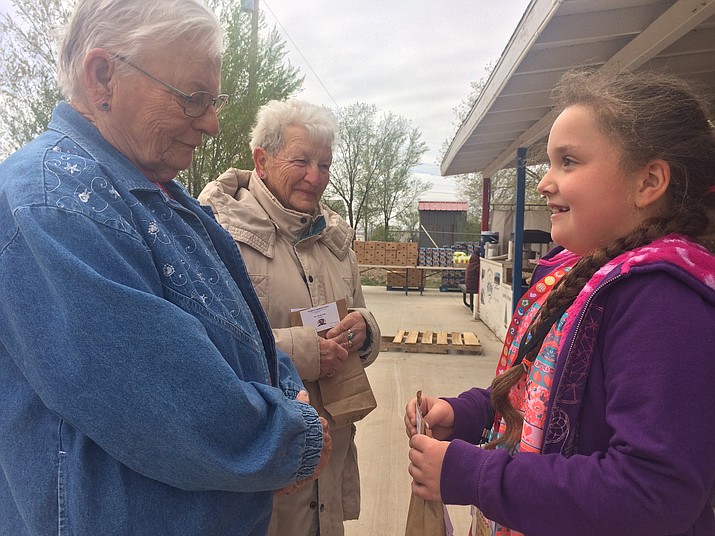 Originally Published: April 25, 2018 6:01 a.m.
A group of Honor Roll students at Paulden Community School got to spend time Thursday, April 19, as principal for an hour.
Principal Martha Potter said she wanted to do something special for the kids who work really hard and have good behavior.
"They have to have straight As, these children have straight As and that doesn't mean just in their classwork," Potter said. "They have to have really high scores on their STAR tests too."
There are other kids who do well, such as the B honor roll students, who get treats at the school, Potter said. Usually, the kids who get to be principal for an hour are taken individually for the hour, she said. However, Thursday, Potter's schedule included going to the Paulden Food Bank and talking to people about possibly enrolling their kids or seeing if people they knew who have kids would like to enroll them in Paulden Community School. As principals for an hour, the kids went with her.
The kids said they had fun. One, second grader Makayla Nelson, said she was enjoying having the chance to be principal for an hour. She did wish she could be principal for longer though, Nelson said.
"I would just go to our classroom, do what (Potter) does and give them points if the kids are being good," she said.
Nelson said she's constantly working to keep her grades high, such as practicing even when she's home. She said she really likes Potter as a principal because she's nice.
Kindergartener Lillian Russell was also enjoying being principal for an hour. If given more time, she'd do what she could to help more, Russell said.
"I love to do that," she said. "I like to be polite."
Like Nelson, Russell said she keeps working hard to do well in school.
The other students who got to be principal for an hour were Eric Ayala, Kamrynn Ceniceros Wolfe, Naidelyn Noriega, Madyson Swan and Oscar Alcala.
A second group of students from the higher grades are getting their chance at being principal for an hour Thursday, April 26. Those students are Bonnie Childress, Abram Campbell, Shawna Audis, Isabella Gonsaga, Ismael Gonsaga and Asher Berg.