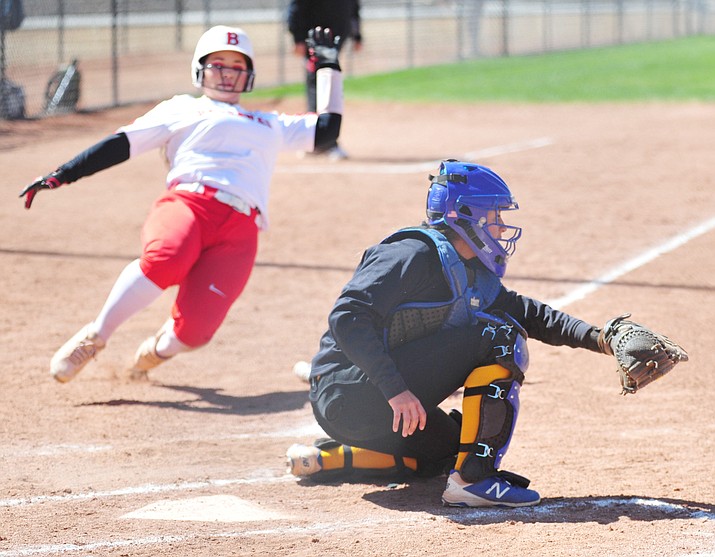 Originally Published: April 14, 2018 12:03 a.m.
Updated as of Saturday, April 14, 2018 6:05 AM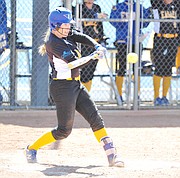 PRESCOTT — Playing in the Cal-Pac Conference has been challenging for Embry-Riddle's softball team in 2018.
On March 28, the Eagles owned an 18-11 overall record and seemed prepared to tackle the meat of their league schedule with a 1-1 mark. However, two weeks later, ERAU is scratching its collective heads and searching for answers, resting all alone in last place in the six-team Cal-Pac.
Friday at a rather windy, but sunny Eagles campus field in Prescott, Benedictine-Mesa rallied in the seventh inning to edge Embry-Riddle, 7-5, in the first game of a Cal-Pac doubleheader, dropping ERAU to 3-10 in conference.
In Game 2, Embry-Riddle bounced back to salvage a split, defeating the Redhawks, 6-1. With the win, the Eagles are 21-20 overall and 4-10 in the Cal-Pac with six league games left. Benedictine stands at 18-28, 5-9.
The Eagles had lost 10 of their last 12 contests, including four straight, going into Friday's Game 2. Only the Top 4 teams in the Cal-Pac advance to the conference tournament May 3-6 in Redding, California.
"We've had a couple heartbreaking games, but, overall, we're playing well," said ERAU leadoff hitter Bailey Critchlow, who went 3 for 4 with two runs scored in the opener. "At this point, we are putting pressure on ourselves that isn't there. We're playing too tense. But we're good. We have the talent."
Eagles assistant coach Rudy Baca, speaking on behalf of interim coach Jamie Long, said the difficulty in conference play "stems back to last year and the year before."
"These teams see each other so many times in the conference that either we get kind of complacent or other teams get complacent," Baca added. "They see our pitching, we see their pitching, so it shouldn't be that big of a struggle. But we've put the pressure on ourselves that we've got to win so bad that we make the goofy things happen [base-running errors, fielding errors]. We've got to learn how to finish."
In Friday's opener, Embry-Riddle committed six fielding errors, and yet you wouldn't know it by looking at the scoreboard. The Eagles carried a 4-3 lead into the sixth inning before the Redhawks plated two runs on an RBI infield sacrifice from Vanessa Marquez with the bases loaded, and an RBI single from McKenzie Turman to pull ahead 5-4.
The Eagles battled back to tie it at 5-5 on an RBI single from catcher Elyssa Bramer. But the seventh inning didn't pan out well after the Redhawks' Lynzee Bollinger crushed a triple to deep right and later scored on an infield error. Morgan Haynes' RBI single made it 7-5, and Embry-Riddle seemed deflated.
Hannah DeLuna led off the home half of the seventh with a single to left, but she tried to stretch it into a double and was tagged out at second base. Haley Basye followed with a deep double to right-center before Katie Moore and Rylee Payton flied out to left field to end it.
Basye said key injuries at the start of conference play hindered the Eagles. Critchlow, one of the team's starting pitchers, broke a thumb and missed time. Basye had suffered from food poisoning, and two other players were hurt. Only recently has ERAU been healthy.
"The biggest thing from here is being mentally tough the whole time, and not letting up," Basye added.

Embry-Riddle starting pitcher Olivia Ramos went the distance in Game 1, allowing seven runs, although only two were earned, on 14 hits, striking out six and walking one in taking the loss.
"A lot of my pitches were on [Friday], which helped a lot," Ramos said. "My curveball was pretty good, and I'm really happy with my rise ball, too. A lot of players really have my back, and I'm really happy for that, especially my catcher, Elyssa."
The Redhawks' Megan Grigsby garnered the victory in two innings of relief for starter Dayton Yingling. Grigsby gave up one run on four hits, fanning one and walking one.
In the second game, the Eagles played much cleaner softball, committing no errors and never trailing. Starting pitcher Carly Carlsen notched a complete-game win, allowing one run on seven hits, striking out four and walking none in seven innings. Benedictine-Mesa scored its lone run in the third inning.
At the dish, Embry-Riddle plated two runs in the third and a run apiece in the first, second, fourth and fifth frames. Mikendra Kramar paced the hosts, going 1 for 3 with a double and two RBIs. Bramer chipped in by going 1 for 3 with a double and an RBI.
Benedictine-Mesa coach Suzannah Toresdahl said "it's been our Achilles' heel to keep the at-bats going, and keep the momentum going on offense." She was pleased with the Redhawks' hitting after Game 1. Bollinger finished the contest with two triples and a run scored. Avriana Jimenez was 2 for 3 with a double.
"We've had a lot of struggle this season in just trying to be as a family and play as one," Jimenez said. "But we're having a lot of fun, and I really love this group a lot. Every day's a new day, so I really love that about this team. It's never the same."
UP NEXT
Embry-Riddle concludes a four-game Cal-Pac series against Benedictine-Mesa at noon and 2 p.m. today at the Eagles' campus field off of Willow Creek Road.
Doug Cook is a sports reporter for The Daily Courier. Follow him on Twitter at @dougout_dc. Email him at dcook@prescottaz.com or call 928-445-3333, ext. 2039.