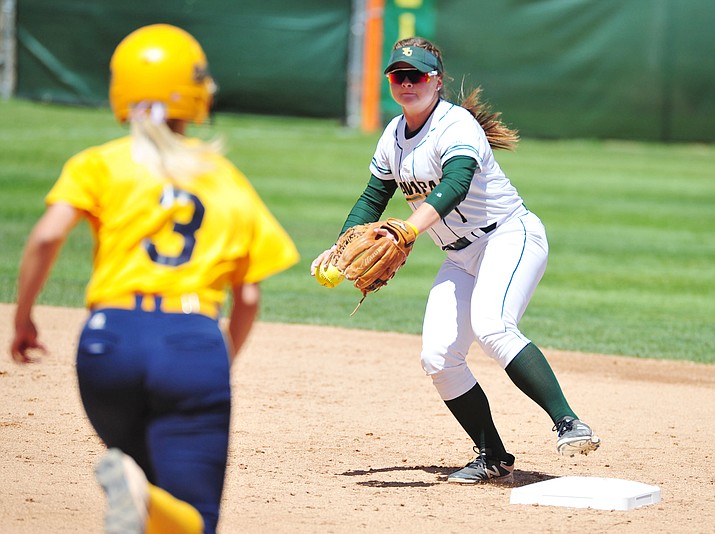 Originally Published: April 13, 2018 6:03 a.m.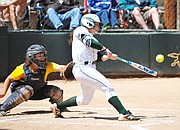 PRESCOTT — Entering Thursday, Yavapai College's softball team had won an Arizona Conference-best 10 straight games and was still jockeying with Eastern Arizona College for first place in the league's NJCAA Division I standings. Then, stalwart Phoenix College came to town.
Phoenix, the ACCAC's NJCAA Division II frontrunner, abruptly ended the Roughriders' winning streak with a convincing 15-7 victory in Game 1 of their league doubleheader Thursday at Bill Vallely Field in Prescott. Yavapai would bounce back in Game 2, however, posting a 6-1 win to finish its eight-game home stand with a 7-1 mark.
With the split, the NJCAA D-I No. 19-ranked Roughriders sit at 31-7 in the ACCAC (39-10 overall), while the D-II No. 7 Bears moved to 31-7 (35-8). Ten games remain in the conference's regular season, and idle Eastern Arizona's clinging to first place with a one-game lead over Yavapai at 32-6 (41-8).
"To give ourselves a legitimate chance [to finish ahead of Eastern], we need to be back one [game], quite frankly," Roughriders coach Doug Eastman said. "They've got a little easier schedule down the stretch than we do."
The ACCAC D-I defending champion Roughriders are probably glad that they won't have to meet the Bears in the NJCAA Region I playoffs in May. Phoenix compiled a 3-1 record versus Yavapai in their four regular-season meetings in 2018. On March 20, the Bears halted a six-game Roughriders winning streak with a 10-0 and 6-2 sweep in their first league twin-bill in Phoenix.
Yavapai, which is 1-1 against defending Region I champion Eastern Arizona this spring, clashes with the Gila Monsters at noon and 2 p.m. Tuesday, April 24, in Thatcher. That series very well could decide which team wins the conference and plays host to the NJCAA Region I, Division I playoffs May 4 and 5. The region champion receives an automatic berth into the NJCAA National Tournament May 16-19 in St. George, Utah.
"We're definitely working hard to prepare for Eastern," Yavapai catcher Jaydee Boursaw said. "Even the game that we lost to them the last time, we did really well against them. It's very possible for us to come out with a sweep on Eastern that could possibly put us ahead."
Added freshman shortstop Brianna Griffiths, "We still have just as much potential to be No. 1 [in the ACCAC] with them. [If] we go there and sweep them, it's gonna be a great time for us and we're going to have a lot of fun. We've just got to come out with our best stuff – best pitching, best defense, best hitting. We can be No. 1 if we really want it. It's fun playing with these girls."
In Thursday's Game 1, Phoenix scored six runs apiece in the third and fifth innings to eventually win the contest on the run rule. Phoenix finished with six extra-base hits, four of which were homers.
The Bears batted around in the third, paced by Heather O'Kelly's two-run homer, Sabrina Elemen's two-run single, Tylor Gil's RBI double and Caroline Chilton's solo homer. In the fifth, Hanna Krosky drilled a two-run RBI single and Kaitlyn Dennis had an RBI single to put the game out of reach for the hosts.
Krosky, a lefty, garnered the win in the pitcher's circle, tricking the Roughriders' hitters early on with an effective blend of fast and off-speed pitches. But in four innings, she gave up seven runs (six earned) on seven hits, striking out four and walking one.
Yavapai starting ace pitcher Jaya Allen, ranked fourth in the ACCAC in ERA (2.45) and No. 1 in strikeouts (191) entering Thursday, struggled against Phoenix's patient, powerful hitters. Allen took the loss after allowing nine runs on 11 hits, including four homers, in three innings. She struck out two and walked a pair. Eastman pulled her in the fourth after she surrendered a solo homer to Haley Johnston to lead off the frame.
"I had my stuff [Thursday], they're just a really good hitting team and the wind blowing out obviously doesn't help," Allen said. "They definitely know how to foul pitches off, and know what's a strike and what's not. They're very disciplined."
At the plate for the Roughriders, Boursaw torched her 23rd and 24th homers in the third and fifth innings, respectively. Her two-run shot on the first pitch in the third and her three-run blast on a 1-0 count in the fifth were wonders to behold.
Boursaw popped out to first base in her first at-bat. She didn't make the same mistake again.
"My first at-bat [Krosky] came up and quick-pitched me, and I got jammed and popped up," Boursaw said. "And, so, in my second at-bat I needed to be ready as soon as I stepped into the box, and she ended up throwing me the same pitch."
Said Eastman about his slugger extraordinaire, "Jaydee makes it look awfully easy when she's on. She can hit pitches down by her ankles out [of the park]. She can hit pitches up by her shoulders out. And she can hit balls the other way out."
Game 2 was a different story for Yavapai, which got a dominating pitching performance from sophomore starter Kiana Spencer, who nabbed the win. In 6-2/3 innings, Spencer allowed only one run on two hits, including a solo homer from Dennis in the seventh inning that ended her shutout bid.
At the dish, Yavapai's Makea-Al Kaluau, who hit a pitch off her left leg in Game 1, went 2 for 3 with a homer, two RBIs and two runs scored in the second game. Neenah Pangilinan (2 for 4, homer, double, RBI, two runs scored), Mariah Kalamaras (2 for 2, double, run scored) and Makayla Guerra (2 for 4, two RBIs) also shined.
UP NEXT
Yavapai visits Gateway Community College (7-31 overall and conference record) for another ACCAC doubleheader at noon and 2 p.m. Saturday in Phoenix.
Phoenix College plays host to Mesa Community College (22-20 overall, 18-20 ACCAC) at noon and 2 p.m. Saturday.
Doug Cook is a sports reporter for The Daily Courier. Follow him on Twitter at @dougout_dc. Email him at dcook@prescottaz.com or call 928-445-3333, ext. 2039.