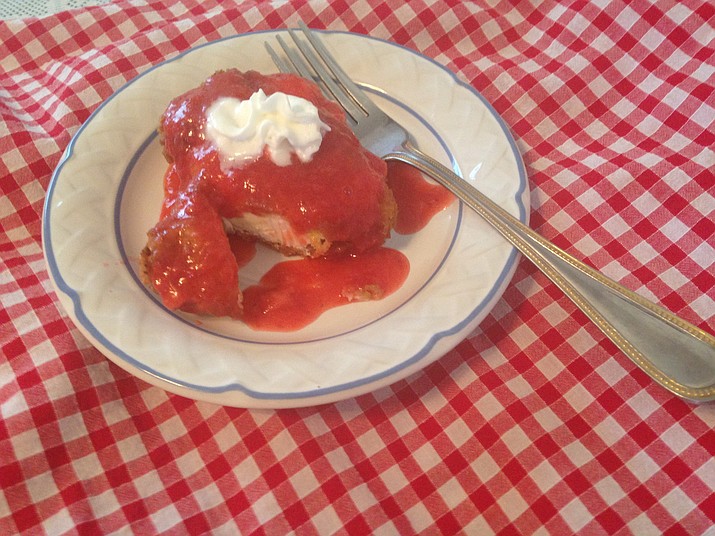 Originally Published: April 11, 2018 6 a.m.
Attention! This is not a low calorie dish! But, you will be hooked when you taste these cheesecake bars with strawberry sauce, at least my husband and I are.
I hope you try it!
1 8 ounce package cream cheese
2 tablespoons lemon Juice
1 teaspoon vanilla
1/2 cup sugar
1 cup heavy cream
3 eggs
18 graham crackers (crushed)
3 cups oil
In a medium bowl mix cream cheese, lemon juice vanilla, then add sugar and cream and mix on high speed until smooth. Line a 8x8 dish with parchment paper, and spread batter in pan making it as level as you can. Put into the freezer overnight. Put graham crackers into a plastic bag and crush with rolling pin until very fine.
In a bowl, beat eggs, put flour in another bowl, and cracker crumbs in another.
Cut the cheesecake into 12 square pieces, Heat oil to 350 degrees. Dip each square in flour, then eggs, then cracker crumbs make sure each square is well coated. Fry each piece about 30 seconds then drain on paper towels. Put fried squares into the refrigerator to chill for a couple hours.
Strawberry Sauce
1 package of frozen or fresh strawberries
4 tablespoons sugar
1/2 cup water
1 tablespoon lemon juice
1/2 teaspoon vanilla
Puree in blender, then cook until mixture boils and simmer 5 minutes. Pour strawberry sauce over each piece of fried cheesecake, and top with whipped cream if desired.