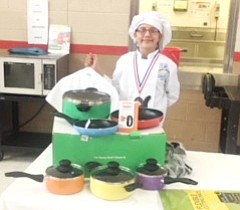 Originally Published: April 4, 2018 5:58 a.m.
We, at Del Rio School would like to recognize one of our outstanding students, Leilani Price, currently a fifth grader in Ms. Garcia's class. Leilani is this week's Student of the Week.
She has been looking forward to the future chef competition since last year when she learned about it; she wanted to "show everyone that kids can cook." Leilani choose to create a stir fry recipe because "it has a mix of vegetables and meats, and the chef can make it taste sweet or spicy."
She loved every part of the competition, she appreciates the help from the high school culinary students, and her favorite part was bringing out her dish to the judges. "I felt like I was on a cooking television show."
"I never thought I would win, I was just happy to be able to be a part of this fun event, but I was super excited when they announced my name as the first place winner," she said.
Leilani would like to thank Ms. Narda in the cafeteria, and the people from Sodexo who provided the help and the prizes, especially the FitBit! We are so proud of Leilani and her accomplishments.
Information and photo provided by Chino Valley Unified School District.