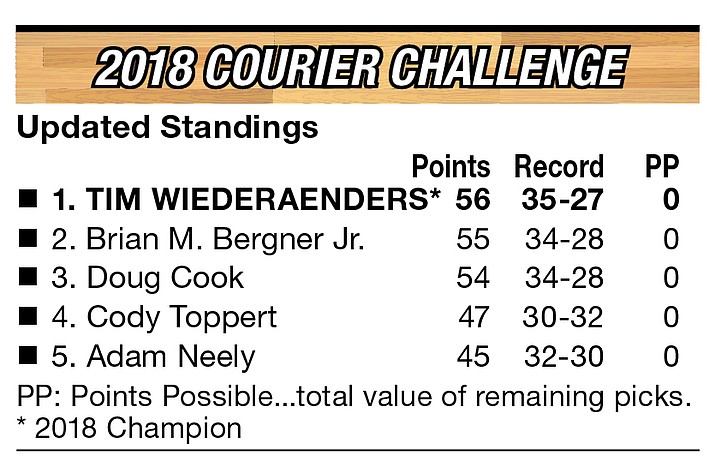 Originally Published: April 1, 2018 6:04 a.m.
PRESCOTT VALLEY — With Villanova and Michigan advancing to the national championship game Monday night, here is the updated 2018 Courier Challenge standings.
RULES OF THE GAME
Each panelist filled out an entire bracket prior to the start of first-round action. Their selections will be revealed each round on game day in the sports section of The Daily Courier. Panelist picks are highlighted by the green checkmark. If the team they picked to win was eliminated in an earlier round, their selection will include a hoop graphic.
POINT VALUES
1st Round: 1 Point
2nd Round: 2 Points
Sweet 16: 3 Points
Elite 8: 4 Points
Final 4: 5 Points
Championship: 10 Points
The panelist with the highest point total at the end of the tournament is declared the winner, with their record serving as a tiebreaker. A title game score will be selected for additional tiebreaker purposes.
FOLLOW ALONG
If you missed our special two-page March Madness preview bracket in the March 12 edition, you can one online at dCourier.com. Follow us on Twitter at @CourierSports, or use the hashtag, #CourierSports, for updates.
Thanks for reading and enjoy the tournament!