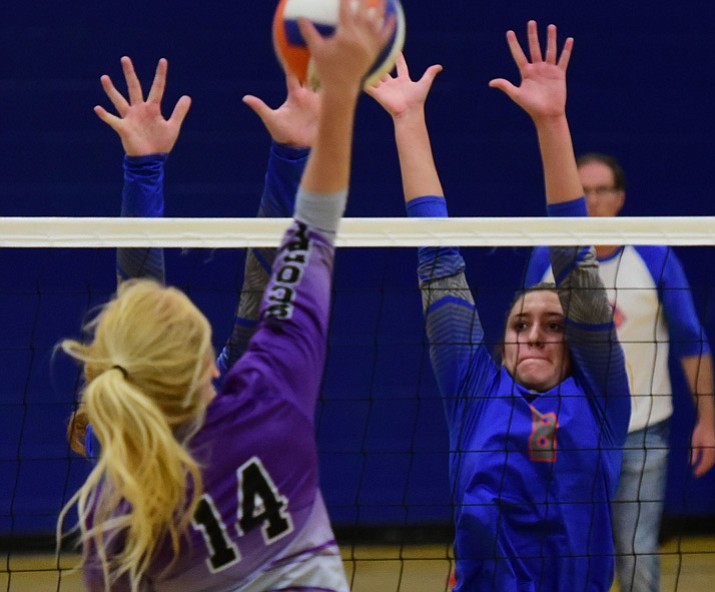 Originally Published: September 21, 2017 11:15 p.m.
Photo Gallery
CVHS Vs Sedona Volleyball 09 21 17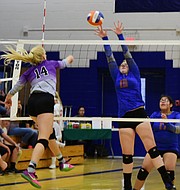 In a rematch from their 2017 season opener Aug. 29, Chino Valley's volleyball team again struggled to solve Sedona on Thursday night at the Cougars' main gym.
Swept on the road by the Scorpions in late August, the Cougars succumbed by the same count, 3-0 (25-14, 25-13, 25-17), as outside hitters Julia Koss and Jacki King led the visitors to victory in non-conference play.
Red Rock (6-1 record in power-point matches), ranked 13th in 2A, made quick work of Chino Valley, rated 23rd in 3A. Scorpions coach Danni Barker said she expected more from her girls, however.
"We played well, but we still aren't satisfied with our setter-hitter connections," the coach added. "We've got some tough matches coming up, so we hope to have our offense more effective by then."
Sedona senior defensive specialist Liza Westervelt said the Scorpions do well at taking advantage of opponents' mistakes. Their first power-point match loss came Tuesday at 1A No. 7 Anthem Prep.
"It's hard, because we have some really, really good teams in our conference as well, so we haven't really had really close games [early on in the season]," Westervelt said. "In Tuesday's loss, we played a really hard team and couldn't capitalize on their mistakes because they were a good fundamental team. Tonight we were just trying to work on running our offense and controlling the ball."
Chino Valley (2-3) put forth a valiant effort. With senior right-side hitter Taelor Winegar out of the lineup due to a possible season-ending injury, middle hitter Sophia Lopez paced the hosts with four kills, nine digs and a service ace.
Lopez said the Cougars must improve their mental focus in matches.
"It's all about ourselves, and pushing ourselves harder to get up and catch up to the team [opponent] when they're doing well," she added. "When we're playing teams like this, we know we can get to their level. We know we're as good as them, we just have to get it in our heads that we can [do it]."
Chino Valley outside hitter Katryna Davis followed Lopez with three kills, seven assists, five digs and an ace. Junior hitter Jadyn Clawson (three kills) and senior libero Kylee Tiedeman (nine digs) contributed.
The Cougars' attack struggled without Winegar, compiling a negative hitting percentage (13 kills on 65 attempts, 19 errors). Chino Valley served four aces, but registered 10 service errors, killing momentum.
"It'll take some time just to figure each other out [minus Winegar] when you're playing a new rotation like that, especially for inexperienced girls," Chino Valley coach April Jelovic said. "I'm proud that the girls kept playing hard, even though things weren't going their way. That makes me excited for what we have the potential to do later on."
UP NEXT
Chino Valley opens 3A West region play at 6 p.m. Tuesday, Sept. 26, when it hosts River Valley.
Sedona begins 2A Central region play Sept. 26 at Paradise Honors in Surprise. Barker said the Scorpions have a chance to qualify for the state tournament this fall, but their region is competitive. Sedona reached the 2A quarterfinals in 2016.
Follow Doug Cook on Twitter @dougout_dc. Reach him at 928-445-3333 ext. 2039, or via email at dcook@prescottaz.com.