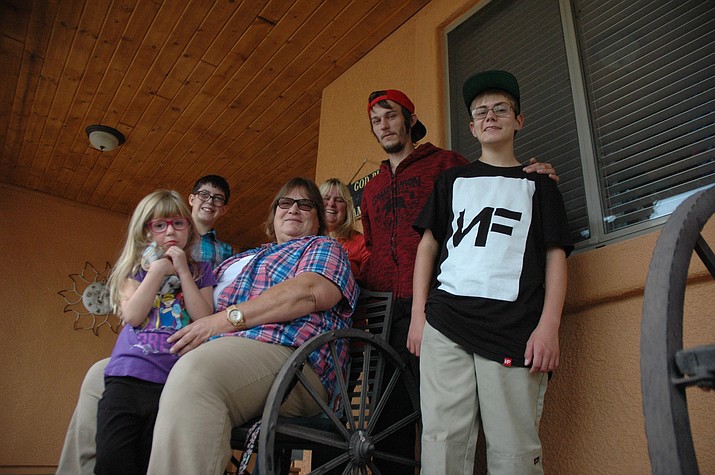 Originally Published: September 13, 2017 6:02 a.m.
At 57 years old and as a disabled veteran, Marie Neuschwander knows she's no spring chicken, but also knows her children need to be taken care of should anything happen to her.
She's gotten that sense of security through the Chino Valley Unified School District's special needs services, as well as Child & Family Support Services (CFSS), Neuschwander said, noting that though the children were adopted at various times, there was an immediate need for special services. However, at the time, they were in California and with children in foster care, there are limits on what foster parents are allowed to do with children and social workers are overburdened with cases, she said.
"I started looking because my father passed away and there was no reason for us to stay in California any longer," Neuschwander said, commenting she needed a "better place for our older, biological son and the kids' special needs could be addressed … and where they had a better VA for me."
After a lot of searching, it was either Gardnerville, Nevada, or Chino Valley, Arizona, she said, remarking it all started with CFSS, which told her and her wife, Lori Johnston, how they worked really well with the Chino Valley Unified School District.
Everyone seemed a lot friendlier and more willing to work with her kids than they were anywhere else, Neuschwander said, citing the transportation department as one area that's been really helpful.
"Jeff with transportation has been extremely helpful with getting my children set up with the bus system," she said. "It seems like everybody has been really welcoming and overly concerned with the kids and helping us get the right services for the kids."
There are a lot of aspects in place to ensure that special needs children within the school district get the education they deserve, said Special Services Director Nicole Burdett.
This includes identifying as quickly as possible children who need special needs services and involving the parents as much as possible because they know their children better than anybody and the goal is to be a team to support the children at every angle, Burdett said.
The district does Child Find where anyone in the schools, parents or grandparents can bring their child and have them assessed, she said, calling it a screening process. If there's concerns, further evaluations can be done, Burdett said.
"We try to put that out in the community that we're here to support in any way we can," she said, stating that early intervention is the best. "We believe all kids can learn. Despite if they have a disability, it doesn't matter how severe, I believe and I know my team believes every child has potential.
"We just have to work together to find out what they need as an individual to help them be successful and grow. Even if that growth is just a little at a time, it's OK."
It looks like they're finally on the right path and on their way to success, Neuschwander said. They adopted their youngest when she was 3 days old, she said, commenting that she was born drug exposed. She started Head Start in February and there were concerns so the school district did some testing and found she has no depth perception and eye issues, Neuschwander said.
Those issues are being addressed and she goes to Head Start in the morning and to Territorial in the afternoon and now is doing a lot better than last year, she said.

Federal law emphasizes the least restrictive environment and the special services team wants children to be able to integrate and be in the general education environment as much as possible that they can handle, Burdett said.
"If there's a child that's in a self-contained classroom, we try to increase their skills to a level to where they can handle going out. Even if their next step is out into a resource room, then maybe the next step would be into a general education room, even if it's for 15 minutes," she said.
"Our goal is to try to help them be with their non-disabled peers as much as possible as well."
The children come first and the district's special needs services team is going to do its best to provide the best education possible for them, Burdett said.
In doing so, Burdett said she has an open door policy and wants families to feel comfortable coming to her. The children can only come first if everyone is working together, she said.
The services in Chino Valley are more familiar and helpful with the kids than anywhere she's experienced in California, Neuschwander said.
"My biggest concern is that I am not a spring chicken. I am 57 years old and a disabled veteran. My body's not 100 percent good and I want to know that if I was to die or anything, that the kids would be taken care of," she said. "I absolutely have gotten that guidance and feeling through the district and through CFSS."