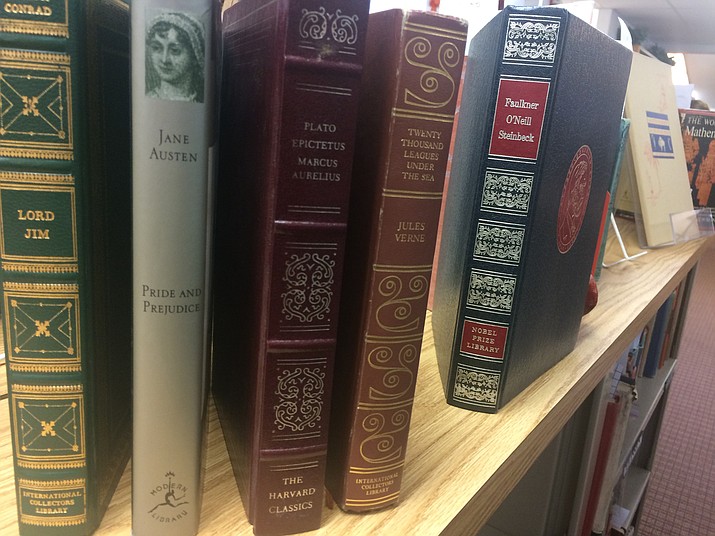 Originally Published: September 13, 2017 6 a.m.
CVHS marching band plans car wash
The Chino Valley High School Marching Cougar Band will be holding a car wash from 1 to 3 p.m. Saturday, Sept. 16, in O'Reilly's parking lot. The band is raising money for a trip to San Diego.
Any person or company wishing to sponsor a student for the trip should call Tom Wiegert, director of Chino Valley Bands, at 928-636-3398, ext. 5625.
Heritage Foundation offers scholarships
Prescott Western Heritage Foundation, Inc. is accepting scholarship applications. The Prescott Western Heritage Foundation will award two very unique scholarships for up to $2,000 each this year to deserving students ages 16-19.
Students who have a passion and talent for preserving our western heritage through western art, music, literature, craft, trade, ranching, or rodeo should apply. Selected students will be presented the scholarships at the 5th annual Western Heritage Banquet on Oct. 28. Applicants must be residents of Yavapai County.
To obtain an application, visit www.VisitWesternHeritageCenter.org.
Family center presents car seat distribution
Thanks to the Governor's Office grant, Yavapai Regional Medical Center's Family Resource Center team has been able to offer free safety seats and supporting education to help keep children safe inside their family's vehicles too.

Families need a vehicle with working seat belts (if your vehicle's seat belts do not lock, you may qualify to have your seat belts repaired free of charge at your local dealership — call your dealership for more details).

Families are assisted with installation by a certified technician, who reviews the installation with them, assuring that the seat will be properly re-installed should it be moved from the vehicle or require re-installation. The education and installations are conducted by nationally certified Child Passenger Safety technicians, are customized to your vehicle, seat, and child, and are available in English and Spanish.
On Saturday, Sept. 16, from 9 a.m. to noon, the Family Resource Center will host a larger car seat event in the parking lot of the YRMC Del E. Webb Outpatient Building (3262 N. Windsong Drive, Prescott Valley), with additional seats and technicians on hand to provide the car seats, installations, and educational services to families in our community. These will include infant, convertible, and booster car seats.
Seats will be provided on a first come, first serve basis until supplies run out. Please bring the vehicle(s), child (or children), and caregiver(s) who will be using the seat(s) the most in order to help assure the best seat and installation custom to your child and vehicle.

For more information, call Lina First at the YRMC Family Resource Center at 928-442-8861.
Legion's swap meet Sept. 15-16
The American Legion's swap meet Sept. 15 and 16 is from 9 a.m. to 4 p.m., including a bake sale and hot dog sale.
For sale spaces outside are $10, inside $15. For more information, call Kathie at 602-421-2833 or Deb at 928-899-6924.
Chili Challenge coming in October
Join the Mayor and others who love chili and compete for cash prizes plus great bragging rights in the "traditional" or "alternative" Chili Challenge divisions. Details and applications forms are on the Chino Valley Chamber's website, www.chinovalley.org.
This is just one component of a full day of Family Fun at Fall Fest 2017 at the chamber (across from Maverick on Highway 89) and is scheduled for Oct. 21.
"Youth chefs" are encouraged to enter and show off their culinary talents.
This is one of the most audience-popular events at Fall Fest and it is growing annually. Open to individuals, teams and youth.
September book sale under way
Friends of the Chino Valley Public Library September book sale — old and classic books — is underway at the library. "Old books still have tales to tell so they are on sale."
All proceeds benefit the Chino Valley Library.
Sheep topic for Historical meeting
The Chino Valley Historical Society is beginning its fall season of programs. The next meeting will be at 7 p.m. Thursday, Sept. 14, at the Chino Valley Public Library Community Room. Margaret Hangan, archaeologist with the Kaibab Forest, will talk about "Historic Sheep Grazing on the Kaibab National Forest."
This talk discusses the results of a study to try to learn about the history of sheep grazing on the Kaibab in an effort to understand why so many sheep related sites were found.
PACO seeks board members
Nominations are being accepted for the next board of directors of the Paulden Area Community Organization.
The board meets twice a month and takes a leadership role in the community. Election is planned for November. Call 928-458-5106.
Sequins & Saddles dance coming
The Chino Valley Area Chamber of Commerce is planning its annual Sequins & Saddles Community Barn Dance for 5 p.m. Saturday, Sept. 23. The event is a fundraiser for the scholarships the organization awards to graduating Chino Valley High School students.
A portion of the proceeds goes to Horses with Heart Veterans Program.
It's scheduled for Warren's Feeds Hay Barn and Sky Daddy and the Pop Rocks are providing the music. Tickets are $40 per person and a table of eight is $300. Reservations are necessary.
Visit www.chinovalley.org or call 928-636-2493.
Master Chef casting in Phoenix
Master Chef is seeking passionate home cooks who've never cooked professionally in a fine dining restaurant.
On Saturday, Sept. 16, from 10 a.m. to 6 p.m. screenings will be at the Pointe Hilton Squaw Peak Resort, 7677 N. 16th St. Phoenix, Arizona.
For more information and to pre-register, visit masterchefcasting.com.
Town seeks help
The Town of Chino Valley is seeking applicants interested in sharing their talents, expertise and enthusiasm to serve on the following council-appointed boards and committees: Board of Adjustment, Industrial Development Authority and Municipal Property Corporation.
Visit www.chinoaz.net/222/Boards-Commissions to view committee descriptions, desired qualifications, residency requirements, terms of office, and meeting days and times, and see where you best fit in!
Obtain a Public Body Appointment Application from the link above or address below. Application must include brief resume or summary describing relevant experience. Applicants must be willing to serve on a volunteer basis.
Submit application or direct questions to:
Town of Chino Valley; Attention: Town Clerk's Office; 202 N. Highway 89; Chino Valley, AZ 86323. Phone 928-636-2646, ext. 1052; Fax 928-636-2144; jlewis@chinoaz.net.