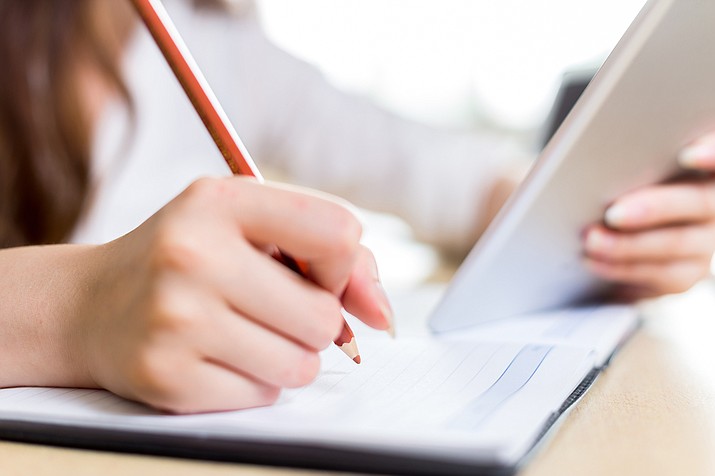 Originally Published: September 11, 2017 6:01 a.m.
School district leaders in the tri-city area seem to be relatively pleased with the results of the AZMerit tests that were released this past week, with students for the most part showing steady progress in both English and math.
Humboldt Unified School District Superintendent Dan Streeter said he is "very proud" of the district's teachers and students as the tests show "tremendous growth" over the last year, with his particular focus on how students have been able to move into proficiency as designated through this test.
AZMerit has four main categories for individual students: minimally proficient, partially proficient, proficient and highly proficient.
"Some teachers have very impressive numbers, and it speaks volumes about our staff and our kids," Streeter said.
As an example, the state average for grade four language arts was 48 percent of students and one of Humboldt's schools was at 60 percent. In almost all nine of its schools that participate in the testing, Humboldt saw its results be at or above state averages in both English and math. Two of Humboldt's elementary schools — Humboldt and Coyote Springs — have been cited as eligible for some incentive state dollars based on the fact that they are among the state's highest performing schools, Streeter said.
Like many district and state education leaders, however, Streeter said as much as he is glad to see the test results improve year to year, he was clear that these scores do not paint the total picture of how students perform. The test measures just language arts and math, and does not show the motivation of students who are stretching themselves to take more rigorous course work through such programs as their Advanced Placement Academy.
Streeter said he prefers other more student-focused testing mechanisms — the nationally-recognized Galileo tests — that he and other educators say better evaluate individual student progress and performance. In those assessments, Streeter said district students are showing tremendous progress and mastery of subject matter.
"That's what drives our decision making on instruction," Streeter said.
Prescott Unified School District Assistant Principal Mardi Read was equally pleased with the district's results that also indicated improvement in almost all of its schools, with particularly impressive numbers with the high-level math courses at the high school that on a statewide basis have not seen strong results.
At Mile High Middle School, math proficiency increased from last year by eight percent, up from 31 percent proficiency to 39 percent. The state average for seventh and eighth grade is about 31 percent proficient.
Not only are students now more comfortable with the testing format as this was the third year it was in place, but Read attributed the improvements to more professional staff development and instructional coaching that has improved how teachers "engage kids in learning."
"Overall, we're very happy with our schools," Read said. "When you look at state averages, as usual, our schools are higher than the state averages."
Of course, Read said there is always room for improvement, and there are still some math scores that the district would like to see improve. The aim of district leaders and faculty is to use the test as a means to evaluate strengths and weaknesses, and seek to make improvements
Chino Valley's district scores also showed improvement in the elementary and middle school grades, with a dip in the language arts grades for the high school. Chino Valley schools are closed on Friday and leaders were unable to be reached for comment. As for local charter schools, progress rates for their students also indicated high rates of success.
Arizona Charter Schools Association President Eileen Sigmund said the strong performance of charter schools across the state speaks to the quality educational options these schools provide.
On average, charter schools were 9 percentage points above the state average in English and seven percent higher in math.
What remains something of a mystery is how these results will be used to calculate letter grades from A-F for individual schools. The state Board of Education is expected to release those grades in October.
"It's frustrating to give schools and districts one letter grade, because it's more complicated than that," Read said, noting no one school is the same as another. She said they cannot "reflect all the hard work we do in various areas."
The state Department of Education website offers the ability to search out individual schools and districts, and the districts and charters are given specific results for individual students.