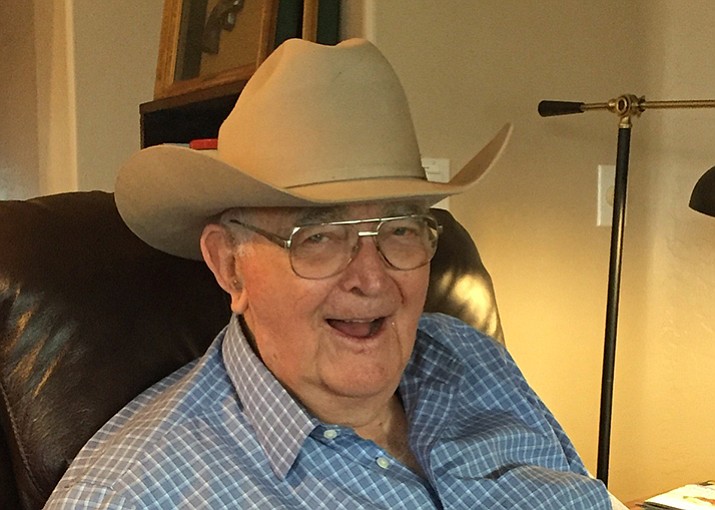 Originally Published: October 27, 2017 6:04 a.m.
David R. Gipe, passed away peacefully in his Prescott home Oct. 23, 2017. He was preceded in death by his wife of 64 years, JoAnne, and is survived by four children, eight grandchildren, 11 great-grandchildren, one brother, and numerous nieces and nephews.
David was born in Polson, Montana, Feb. 6, 1927, and grew up in Cold Creek, Colorado, and Yuma, Arizona. He served in the United States Army before attending the University of Arizona, where he met and married JoAnne. The couple moved to Yuma in 1948. After 36 years in Yuma, raising four children, and building David's career as an agribusinessman, David and JoAnne relocated to the Rio Verde Ranch in Paulden and became cattle ranchers. The ranch has been a successful operation and in 2014 it was awarded Range Manager of the Year.
A man of unwavering integrity, David's lifelong devotion to God governed every aspect of his life. He was a man of many talents and freely used his gifts to serve others. David participated in various boards and committees for the Church of the Nazarene, Camp Pinerock, ANLI, Point Loma Nazarene University, the Arizona Water Commission, and the Lower Lights Rescue Mission in Yuma. David was a skilled pilot and an avid U of A Wildcat fan.
A public memorial service is scheduled for 2 p.m. Saturday, Oct. 28, at Prescott First Church of the Nazarene, where David taught an adult Sunday School class for over 30 years. Donations in David Gipe's memory may be made to Young Life West Yavapai (P.O. Box 1728 Prescott, AZ 86302).
Information provided by survivors.