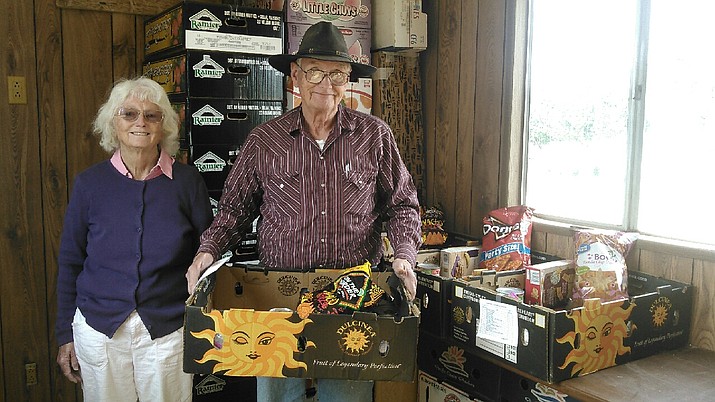 Originally Published: October 11, 2017 6:04 a.m.
"Hunger is a huge enemy! We have developed the Lord's army to fight hunger," said David Meier, who, along with his wife Karen, is one of the coordinators of Squash Patch Farm Ministries.
Squash Patch Farm helps provide food to needy families in this area. They provide nonperishables and also fresh veggies and eggs from the farm when it is available.
All donations of nonperishables are welcome, along with personal care items (toothpaste, soap, shampoo etc.) that are needed. There are many locations in Chino Valley for people to drop off food donations, such as Overflow Coffee, Going Local, M & M Eye Institute, Tom's Print Shop, and Skillets Cafe to name a few, Karen said.
"We follow similar guidelines that food banks do, except we are not answerable to the larger food banks, and we give out food ... Tuesdays and Thursdays from 9 a.m. to 1 p.m. from a small trailer at the Word of Life Church," David added.
The Meiers have been the Squash Patch coordinators for over 10 years, and David was a Chaplain for 30 years.
"When you're working for the Lord your never retire, he just moves you where he wants you," David said.
The Squash Farm Ministries are in need of volunteers in general, but especially anyone who might have experience in marketing and obtaining grants.
"We not only provide food for people but we sit down and talk to them to see what other areas in their lives they need help with. We want to develop a trust with them," explained David.
Anyone who is in need of help, or would like to volunteer, can call 928-215-0863 or 928-636-4224. Also those who would like to donate cash can send a check to Word of Life Church 590 W. Road 1 North, Chino Valley. Just put "food connect program" on the bottom of the check.