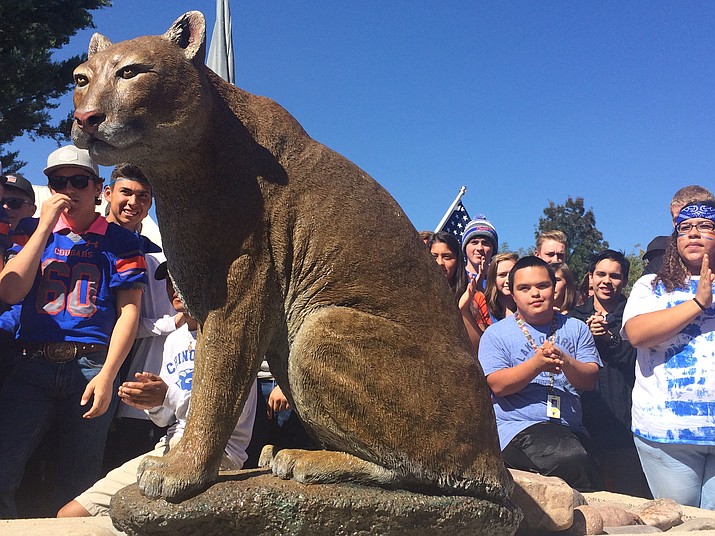 Originally Published: October 11, 2017 6:01 a.m.
There's a cougar sitting in front of Chino Valley High School.
No, it won't bite. Won't breathe either. Because it's a statue.

Every year since she's been in charge of student council, past principal Wes Brownfield would say it would be great to have a cougar statue, said Chino Valley High School School Counselor Ivette D'Angelo.
"I'd be like 'well Mr. Brownfield, the student council doesn't have money," D'Angelo said. "At the beginning of last year, he said he found someone who could do it, but it would be $25,000. I said' OK, it'll take us about six years to raise the money."
It came earlier than that, though. Last week actually, after Thursday's Cougar Pride assembly. The freshmen decided to take it on and there were going to be a lot of fundraisers, D'Angelo said. But then, Tara Tompkins said she knew someone who would do it for free if the school got all the materials, she said.
That person was Carl Wolf, who dedicated hundreds of hours of his time to sculpt and put the statue together.
The money for those materials came when the bus for the senior trip didn't show up last year, D'Angelo said. When figuring out what to do with the money that was going to be used for the trip, Superintendent John Scholl said it had to be used for something with the seniors, she said.
"We took that cookie dough money and put it towards the statue and then when we were doing our budget this year, we realized we had extra money. And because Carl was so generous and doing this for free, he saved us so much money that we were able to have this statue ready by the end of the school year, but we didn't have a chance to dedicate it to Mr. Brownfield," D'Angelo said. Thursday, "the class of 2017 … and the class of 2018 is dedicating this statue to Mr. Brownfield."
It's named Wes.