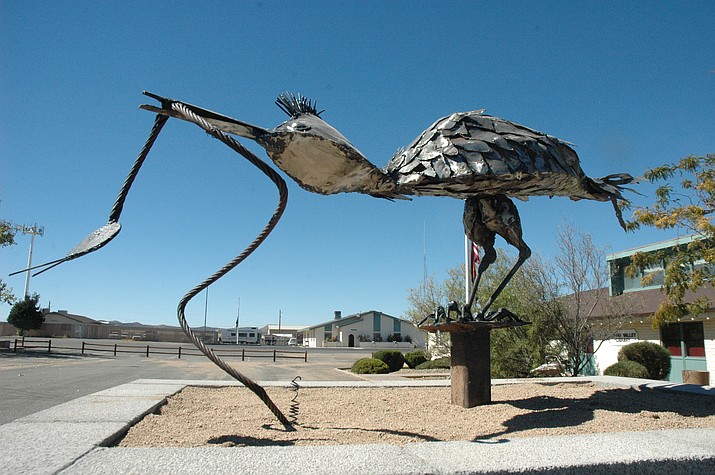 Originally Published: October 11, 2017 6:03 a.m.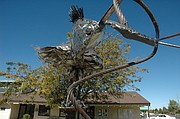 A fifth-generation Arizonan, Vivian Wells has been in Chino Valley for about 55 years and her newest sculpture, "Patricia Paisano," is the most recent addition to Memory Park.
Here are five things to know about this statue:
1 - Just like all her other work, this sculpture depicts a female. In this case, it's a mother roadrunner feeding her babies.

"I have quite a number of sculptures that I've done and all of them have been females to begin with anyway because I figure I'm a lady and I'm doing girl sculptures," Wells said. "A roadrunner, usually, when they catch anything, they immediately eat it unless they're hauling it back to their young … she's got a rattlesnake in her mouth."
2 - There's as much on the inside as there is on the outside and all the feathers were individually cut with no pattern.
"The legs extend all the way inside to the middle of that bird and are attached to the backbone," Wells said. "All the feathers are different sizes and different kinds of shapes and when I start to put them together at the end, each one of them is individually shaped and fitted to that particular area."
3 - Wells is 77 years old and wanted to start welding since she was 10 years old. She started in the 1990s by way of a welding class in college.
"I used to go out and watch my dad weld all the time and that was something that I knew I wanted to do before I died," Wells said. "I was going to get my degree so I could teach art and my counselor said I had a whole bunch of real difficult subjects that I was doing at the time and he thought I should have something that was kind of relaxing."
4 - This isn't Wells' last sculpture that will be a part of the Memory Park expansion.
"I have another, it's a little over half-done. I have a great horned owl that's going to be there," Wells said. "It's going to be sitting on a tall tree and hopefully I can put two babies in the tree in the nest."
5 - Wells has works all around the country and only cares about whether or not her clients are happy with her work.
"I've sold as many out of state as I have in," Wells said. "All I care about is they're happy with what they have."