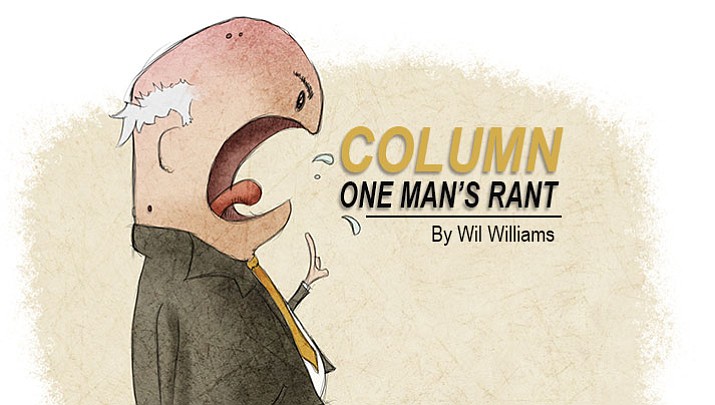 Originally Published: October 4, 2017 6:02 a.m.
Five years ago, I walked into my first Territorial Days pancake breakfast here at the Chino Valley Senior Center. We had just moved from Phoenix to Paulden. My wife was out of town that Labor Day weekend so I was on my own in a place I didn't know well.
With a full breakfast tray, I found a table populated by only one gentleman. I sat down, said hello and immediately began a wonderful friendship that lasted until Jerry Miller unexpectedly died just last month.
Fellow Lion Penny Hubble remembers Jerry visiting her insurance agency a few months ago. He sat behind her desk as a prank, awarded a pay raise to one employee and gave another the rest of the day off. He didn't know a stranger.
Jerry's sense of humor was evident wherever he went. When asked how he was, he frequently answered, "Fine as frog's hair." I remember this unconventional response decades ago in my own family. According to my sources, it originated in the middle 1800s in this country. Jerry was well equipped to live in modern America, but something tells me he would have been just as comfortable living his life in the middle of any American century.
Another Lion and longtime friend, Bud Hanen, tells me that for many years while he was manager of the annual Christmas Tree lot, Treasurer Jerry was responsible for the funds raised. Bud was constantly concerned whether the Club was covering its costs and raising enough to underwrite Lions Club community programs. Jerry always had the same answer to questions; "Quit worrying, it will work out." Bud says it always did.
Before they moved to Tucson this past summer, my wife and I periodically visited with Jerry and his wife, Darlene. Over cans of Bud Light, we'd kibitz about current affairs and trade the easy banter of friends. We always left their house basking in the warmth of a unique friendship.
Jerry and Darlene were married for 67 years. God bless both of them – I'll never experience a marriage of that durability – my wife and I have only been a couple for 12 years.
Beginning with that pancake breakfast in 2012, I learned that I had made far more than just another acquaintance. In thinking about Jerry as I knew him, I've come to conclude that he was part of an America that used to be. His values were simple, but they were the same ones that have molded our historic national character. He cared for his family, but also, his neighbors and friends and those he would never meet personally. That's probably why he was an active member of the Lions Club for more than 20 years. As a devoted Lion, he held positions of Tail Twister, Treasurer, Secretary and President. He worked hard to maintain the mission and traditions of the Club.
He was the kind of fellow I'd go to if I had a personal challenge and needed some seasoned guidance. I wish I'd known him earlier in my life.
I don't think I ever heard Jerry say he didn't know how to do something mechanical. He operated Miller's Small Engine Repair in Prescott for 21 years. He also spent 20 years as a contract mechanic in fleet maintenance for the Forestry Service. And he served as a Ground Support Unit Leader for wildfire crews. Sounds to me as if this man knew his gears and gaskets.
A local Celebration of Life Gathering was held for friends and family at the Chino Valley Senior Center on Sept. 9.
To comment on this column, email wilaugust46@gmail.com.