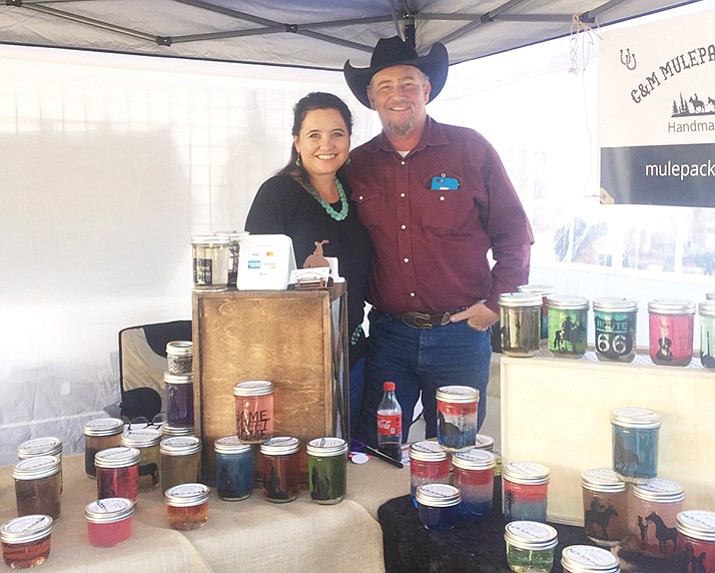 Originally Published: November 29, 2017 6 a.m.
The Chino Valley Hometown Christmas event has taken place for several years now and is a big hit with the community. This event is held at Heritage Middle School, and this year will be from 10 a.m. until 4 p.m. on Dec. 9.
One of the highlights is the many vendors selling their unique wares. There is also musical musical entertainment, ornament making, Christmas treats, etc.
Here are a few of people who will be there adding to the holiday fun.
One of the vendors scheduled to be at the event is Marisa and Chris Mulepacker with their unique 'Gel Candles'.
"We started making candles this past year. We chose gel candles because they look so pretty and they burn much longer than wax candles," Marisa said.
"We have several colors and scents and they come in three different sizes 8-, 16- and 32-ounce containers, and range in price from $10 to $36. They make great Christmas gifts." she said.
Another fun group that will be entertaining at Hometown Christmas is our school superintendent John Scholl with his Ukulele group the "Sand Fleas."
"I started playing the Ukulele about five years ago, after my brother brought me a ukulele from Hawaii. I joined PUG (Prescott Ukulele Guild, and they taught me how to play. PUG has many sub groups which is what Sand Fleas is. We play many gigs all over the tri-city area," Scholl said.
"This year we will be playing and singing traditional Christmas songs at the Hometown Christmas event and will be appearing around noon. I like playing in general but it is even better playing to a live audience."
Anyone who is interested in learning to play the Ukulele can contact Prescott Ukulele Guild.org, Scholl said.
Barbara Kraus, plans to sell some beautiful hand-blown glass ornaments that her son Josh makes and sends to her.
"This is my second year selling these items at the Hometown Christmas. I have Christmas ornaments, cactus, vases, and bowls that range in price from $5 to $35. I love hearing the comments about my son's beautiful work. What I like best about selling my son's glass is the uniqueness of each piece. They are truly one of a kind and cannot be duplicated," Kraus said.