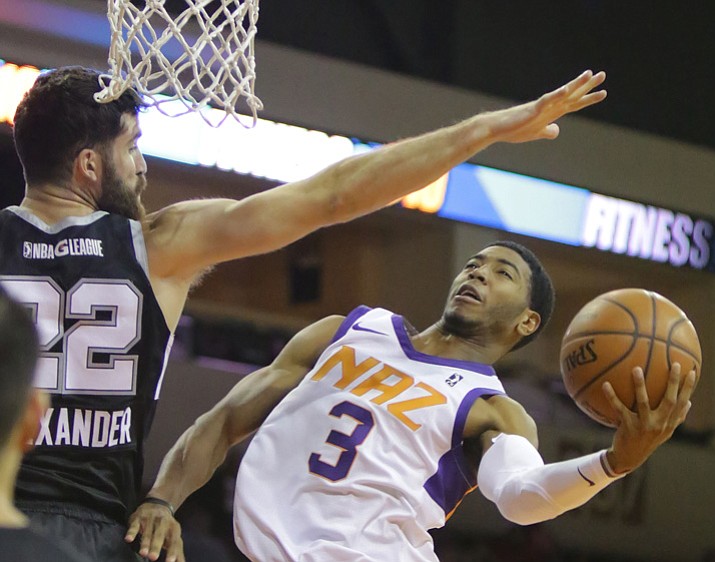 Originally Published: November 21, 2017 10:15 p.m.
Updated as of Wednesday, November 22, 2017 6:47 AM
The Northern Arizona Suns have made a habit of playing close games during the first two-plus weeks of the 2017-18 regular season. On Tuesday night at Prescott Valley Event Center, the Austin Spurs of Texas became the third opponent in the Suns' first seven contests to edge them by a razor-thin margin.
Northern Arizona (3-4) led most of the contest until midway through the third quarter and went on to lose 101-98 to the Southwest Division-leading Spurs.
The Suns, losers of three of their last four contests, have suffered setbacks of one, two and three-point losses in that stretch. However, this was the first game that Northern Arizona has not scored more than 100 points.
"We came out solid on the defensive end of the floor, but we missed a lot of easy shots," first-year Suns coach Cody Toppert said. "We've got to bring it on both ends of the floor. Not just one or the other."
Four Spurs (6-3) registered double-figures scoring on the evening, led by Darrun Hilliard's 38 points, eight rebounds and four assists. The Suns led 98-97 with 27 seconds left, but Hilliard's shot in the lane, splitting a group of defenders, made it 99-98 Spurs with 16 seconds to go.
"He's an NBA-level player, and he showed it tonight," Toppert said of Hilliard. "We've had three games now come down to where one defensive stop wins us the basketball game, and they're forced to foul and we're in the driver's seat. We just can't get that stop. We've got to find five guys that are going to do what's necessary to win at the end."
The Suns had a chance to win in their final possession, but Derrick Jones Jr. and Xavier Silas missed back-to-back shots, the savvy Hilliard grabbed the rebound, was fouled and converted two free throws with 2.6 seconds remaining to seal the win.
"They're a great team, and they have the record that they have for a reason," a dejected Jones said of the Spurs. "But we could've played a little harder, executed plays a little more, and did the little things. It's just something we're going to learn from and go out next game and we're going to have it better."
Nick Johnson, formerly of University of Arizona fame, followed Hilliard with 14 points, seven boards and two steals. Center Matt Costello aided in the effort with a double-double of 12 points, 12 rebounds, five blocks and four assists. Austin improved to 6-1 when Costello's in the lineup.
"We didn't play very well in the first half, and we were lucky to be down three [45-42]," Costello said. "We really tried to pick it up in the second half, just our energy. We were kind of lethargic on the offensive end early. Luckily we were able to grind it out and finish it."
The Suns shot only 35 percent from the field (35 for 100) and were outrebounded 59-54, and yet they committed 12 turnovers to the Spurs' 15. Despite their shooting woes, Northern Arizona still had five players score in double figures. Silas scored a team-high 24 points to go along with six rebounds, two assists and three steals. He was 4 for 11 from 3-point range.
On loan from Phoenix, Jones followed with a double-double of 23 points, 11 rebounds and three blocks in 32 minutes. Newcomer Mike Young had 11 points.
Point guard Askia Booker, who said his team has to play better on the defensive end if it is to begin padding leads late in games, finished with a double-double of 11 points, 10 assists and eight rebounds. Booker converted only three of his 12 shots on the evening. He averages 21.3 points per game.
"It was one of those nights – that's the game of basketball," Booker said. "Every team has them. We have great shooters on this team. I'm in a little slump. XJ [Silas] hits most of the shots that he takes normally, and so does Alec Peters [eight points, 3 for 16 FG]. Nothing to be concerned about."
SOLAR FLARES
Former Northern Arizona Sun center Daniel Alexander made his first appearance at PV Event Center as an Austin Spur on Tuesday. He scored two points and grabbed six rebounds in 12 minutes. … Suns swingman Peter Jok (right groin) and forward Tidjan Keita (right foot) did not play. Despite a left-hip flexor, forward Rahlir Hollis-Jefferson still played. … Northern Arizona entered Tuesday's contest leading the league in scoring with 123.2 points per game.
UP NEXT
Northern Arizona will head east on a four-game road trip. First up, the Suns visit the Fort Wayne Mad Ants (5-1) at 3 p.m. Sunday, Nov. 26, at Allen County War Memorial Coliseum. The Mad Ants have won five straight, including four at home, after a 0-1 start. That game will be broadcast over the internet on Facebook Live.
Doug Cook is a sports reporter for The Daily Courier. Follow him on Twitter at @dougout_dc. Email him at dcook@prescottaz.com or call him at 928-445-3333, ext. 2039.