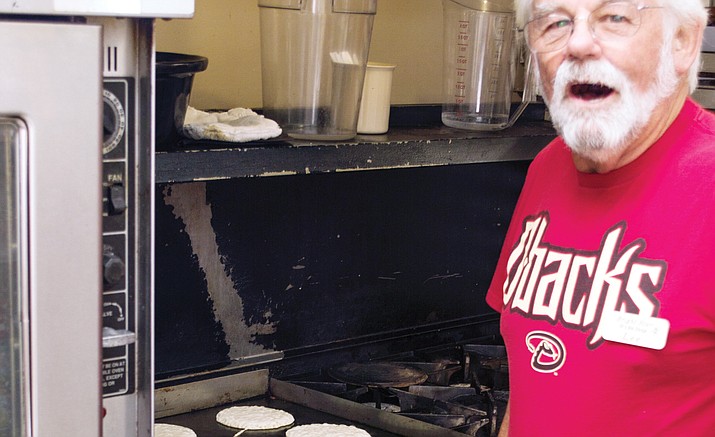 Originally Published: November 8, 2017 6 a.m.
On Veterans Day, members of the Chino Valley Elks Lodge will be up earlier than most getting ready for their annual veterans pancake breakfast.
"We have to get here really, really early in the morning and turn on the ovens and we heat the ham," said Elks Lodge Charitable Activities Coordinator Beverly Swanty. "Then the crews come in about 6:30 and start making pancakes."
Held from 8 to 11 a.m. on Saturday, Nov. 11, at the Chino Valley Senior Center, 1021 W. Butterfield Road, the breakfast is free for veterans and $5 for the general public. It used to be less than that for the public but other service organizations encouraged the Elks Lodge to charge $5 because that's what they were charging, Swanty said.
Last year's pancake breakfast saw 42 veterans in addition to other members of the public Swanty said. That usually includes a busload from the Bob Stump Memorial Hospital too, she said.
"We do really good," Swanty said. "We got just about enough to pay for it."
It's challenging to get the word out about the breakfast and a lot of it is spread by word of mouth, she said. There's also the sign in front of the high school, fliers around town and a military group that her husband belongs to who have a lot of people come, Swanty said. Though the Lions Club may have a bigger event, the Elks Lodge likes to think it has the most popular pancake breakfast in Chino, she said.
Having been putting the pancake breakfast on for nine or 10 years, Swanty said she enjoys the look on their faces as well as being able to sit and talk with them as they have interesting stories. Her husband and someone else also stands out in front of the senior center and greets them as they come in, she said.
The Elks Lodge also centers their admission on the honor system, Swanty said.
"We don't actually make them prove they're a veteran," she said. "If you say you're a veteran, we take your word for it."
For more information about the pancake breakfast, call the Elks Lodge at 928-636-9920.