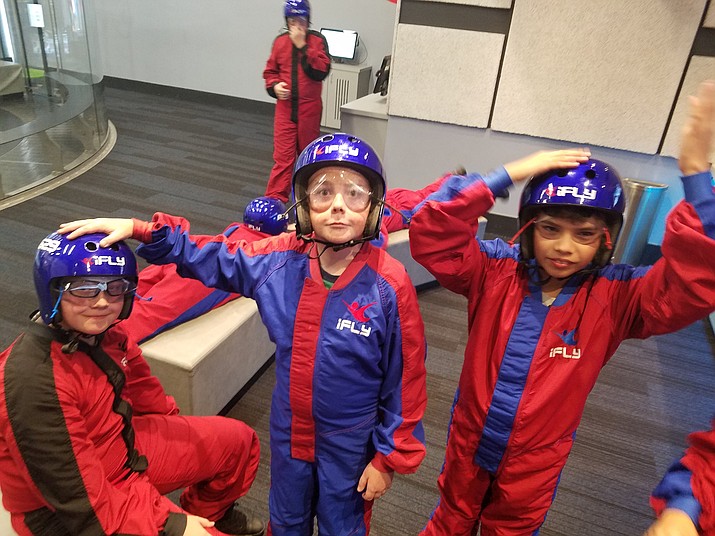 Originally Published: November 8, 2017 5:59 a.m.
Chino Valley Public Library Sale
Books about almost everything — a little of this and a little of that will be the November Book Sale by the Friends of the Chino Valley Public Library.
Visit the bookstore at the library, 1020 Palomino Chino Valley.
All proceeds benefit the library.
Veterans Day Assembly Nov. 8
The public is invited to attend a Veterans Day Assembly at Del Rio School, 1036 N.Road 1 West, Chino Valley, at 1:30 p.m. on Wednesday, Nov. 8, in the gym. This is a special time-honored tradition at Del Rio School for our students, staff, and community members, as we pay tribute to the men and women in the military who serve our country now and in the past.
Please call the front office with any questions, 928-636-4414.
Historical Society celebrates anniversary
At its Nov. 9 meeting, the Chino Valley Historical Society plans to celebrate the 40th anniversary of the publication of "Cowchips & Calluses" written by Ellen Ginn.
It is Chino Valley's outstanding source for information on our long history. Ellen and Gene Ginn came to Chino Valley in 1946. They quickly became involved with their new town. Ellen worked for the Chino Valley Irrigation District and Gene helped his parents as they built the motel, the Road Runner Mobile Home Park, and a variety/hardware store where A2Z Hardware is now.
In 1960, Ellen started publishing The Chino Shopper, a local news sheet telling the goings-on about town. She also had been gathering much earlier history from Chino Valley's pioneer families. In 1964, she published a special issue of The Shopper, "Through the Years in Chino Valley 1864-1964," which contained her groundwork for her future book.
Operation Christmas collections planned
The week of Nov. 13 to 20 is collection week for Operation Christmas Child. The drop off location in Chino Valley is at the First Southern Baptist Church at 1524 N. Highway 89.
OCC, a Franklin Graham ministry sends shoeboxes around the world, and even to this country, to children living in poverty, and those struck by major disasters. After a cyclone hit the Philippines several years ago, he ordered shoeboxes to be sent to the hundreds of children orphaned by the storm. There have been multiple disasters hitting recently a lot closer to home.
Receiving a box filled with school supplies, toiletries, small toys, and other items are a great comfort to the children.
If you are interested in information on how to pack a box, or have other questions, please contact Evelyn at 509-492-6037, Diane at 928-830-0067, or email perrigodk@yahoo.com. Or call the church at 928-636-2014.
Chamber director earns certification
Chino Valley Area Chamber of Commerce Chairman of the Board Wendy McManigal is pleased to announce that Arlene Alen, President/CEO of the Chamber has earned her Public Administration Manager Certification from Arizona State University. Earlier this year Alen completed the IOM Certification (Institute of Organizational Management) a four-year program of the United States Chamber of Commerce.
Alen will be presenting two workshops this week in Phoenix at the Governors Summit on Volunteerism & Civic Engagement and a regional workshop Nov. 9 in Prescott Valley hosted by West Yavapai Guidance Clinic.
Red Kettle volunteers
The Salvation Army serving Chino Valley and Paulden seeks volunteers to be bell ringers during December prior to Christmas.
The blocks of time are two hours on Fridays or Saturdays. Individuals, families, public offices, church and school groups or businesses are needed to volunteer. A poster with your group or business name is allowed to let the community know who you are. Small countertop Red Kettles are also available to place in your business. Join the fun.
If interested, call Al Gibbons at 928-713-8996.
Pancake breakfast to thank veterans
There will be a free pancake breakfast from 8 to 11 a.m., Nov. 11, at the Chino Valley Senior Center. General public $5. Please come over and thank our veterans.
Blood drive Nov. 11
The Knights of Columbus is sponsoring a blood drive from 8 a.m. to 1:15 p.m., Saturday, Nov. 11, St. Catherine Laboure Church hall, 2062 N. Highway 89, Chino Valley.
To schedule an appointment, call Paul Diemer at 928-636-0747. Walk-ins welcome.
Spinners and Weavers Guild's Show and Sale Nov. 11
This year is the Spinners and Weavers Guild's 40th anniversary and the eighth year for the Holiday show and sale at Hassayampa Inn, 122 E. Gurley St., in the Marina room downtown Prescott. The holiday show and sale is a free one day event from 10 a.m. to 4 p.m. on Saturday, Nov. 11 combining the talents of the Mountain Spinners and Weavers Guild and the Prescott Area Woodturners, where they will be offering a wide variety of exceptional artwork and gifts at reasonable prices.
The fiber creations provided by the spinners and weavers will include wearable art of all kinds: fashion accessories, household decor, felted items, beadwork, and jewelry, basketry, children's wear and pet items, as well as hand spun and hand dyed yarns and fibers. The Woodturners' display includes beautifully crafted works in exotic and domestic woods including decorative boxes, turned bowls and vases, ornaments, carvings and sculpture.
Meet the artists as the Spinners and Weavers will be demonstrating the various aspects of the fiber arts. Enter the raffle sponsored by the spinners and weavers for the chance to win handmade treasures.
Register for the 2018 Chino Grinder
Registration opened for the fifth annual Chino Grinder to be held on May 5, 2018, in Chino Valley. The first 20 participants to register can use the code AZGRAVEL to receive an extra 10 percent off the early bird price!
New this year!
• More gravel, 15 miles of pavement from the previous course will be replaced with a 20-mile section of gravel and a new turnaround destination for the 115-mile course at White Horse Lake Campground.
• New course options of 25 miles and 62 miles have been added along with the 44 mile option.
• U18 category has been added to the 25-mile option where juniors can participate for a flat fee of just $30.
The Chino Grinder will once again be the AZ Gravel State Championship (non-sanctioned).
Win your 115-mile category and you are the undisputed champ. We can't afford champagne or a jersey so a bottle of beer* and t-shirt will need to suffice.
(* Must be 21 or older for the beer, if under 21 we will provide a non-alcoholic beverage.)
A USA Cycling license is not required to participate in AZ Gravel Rides events.
The field is limited to 500 participants.
PACO elects new board members
Listed below are the 2018 Board Members for the Paulden Area Community Organization. They take office officially on Jan. 1, 2018.
Don Nowell, Terri McPherson, Gary Hanby, Todd Macilroy, Calvin Jones, Zach Darger, Carol Hanby, Heidi Gonzales and Damian Vilchiz.
Special needs Christmas set
There will be a special needs family Christmas party from 1:30 to 5 p.m. Sunday, Dec. 17, at Chino Valley American Legion, 650 E. Road 3 South.
Any family with a child with special needs is welcome. This is a family event, and every child gets gifts — special needs children and their siblings.
There will be crafts, games and time with Santa and Mrs. Claus, with a gift from them.
Each family is asked to bring snack foods to share at the party, potluck style.
Register by Dec. 1 so Santa's elves have plenty of time to ready gifts for each child. To register, email the following information to sassylady_2004@hotmail.com: family name; parents' names; address; email; phone number; name, physical age, developmental age and disability of each special needs child; name and age of each sibling; a bit of info about each child's interests and likes to help Santa's elves choose gifts.
Please keep in mind, this is a family party. You may bring a caregiver with you to assist, but please don't just send your child with a caregiver.
For questions, call Suzanne Vicory at 928-898-3582.
Vendors sought
The American Legion Auxiliary in Chino Valley is seeking vendors for the arts and crafts and bake sale that takes place from 9 a.m. to 4 p.m. Saturday, Dec. 2, at the American Legion Auxiliary Post 40 at Highway 89 and Road 3 South in Chino Valley
Call Anita at 586-295-0015 for more information.
Town seeks help
The Town of Chino Valley is seeking applicants interested in sharing their talents, expertise and enthusiasm to serve on the following council-appointed boards and committees: Board of Adjustment, Industrial Development Authority and Municipal Property Corporation.
Visit www.chinoaz.net/222/Boards-Commissions to view committee descriptions, desired qualifications, residency requirements, terms of office, and meeting days and times, and see where you best fit in!
Obtain a Public Body Appointment Application from the link above or address below. Application must include brief resume or summary describing relevant experience. Applicants must be willing to serve on a volunteer basis.
Submit application or direct questions to:
Town of Chino Valley; Attention: Town Clerk's Office; 202 N. Highway 89; Chino Valley, AZ 86323. Phone 928-636-2646, ext. 1052; Fax 928-636-2144; jlewis@chinoaz.net.
Blues concert set for Nov. 11
Grammy Winner Beverly "Guitar" Watkins and the R.D. Olson Band with special guest Diana Rein
Two of today's most electrifying female Blues guitarists — Grammy-winning legendary Beverly "Guitar" Watkins, and the "Six-String Siren," Diana Rein — join blues harp maestro R.D. Olson for what promises to be a night to remember at the Prescott Center for the Arts, 208 N. Marina St., at 7 p.m. Saturday, Nov. 11.
Famed music journalist George Varga wrote that Watkins "sings and plays with enough poise and verve to make musicians half her age or younger consider alternative means of employment;" Sandra Pointer-Jones wrote, "Beverly Watkins is a pyrotechnic guitar maven whose searing, ballistic attacks on the guitar have become allegorical tales within the blues community."
For more information, visit pfaa.net.
Candidates Abboud, Hoffman to speak at Yavapai Dems meeting
The first Democratic candidate to file to run for Jeff Flake's seat in the U.S. Senate race in April of 2018, Deedra Abboud, will be speaking at the Yavapai County Democratic Party meeting Thursday, Nov. 9, at the Adult Center of Prescott, 1280 E. Rosser St. The meeting starts at 5:30 p.m. Kathy Hoffman, candidate for Superintendent of Public Instruction, will also address the attendees.
One of two candidates who have announced a Senate candidacy — she was followed by Congresswoman Kyrsten Sinema in September — Abboud has been outspoken in her criticism of the current president and his Administration's discriminatory policies toward Muslims. A Phoenix-based attorney, Abboud, 45, founded the leadership consulting firm, the Global Institute of Solution Oriented Leadership. She was the recipient of the Martin Luther King Jr. Diversity Award in Tempe and the Martin Luther King Jr. Award presented by the Human Relations Commission in Phoenix.
Hoffman, a dedicated educator for 5 years, is working to bring attention to the underfunding and overcrowding of public schools in Arizona. She also announced her candidacy first, followed by another Democrat in the race, David Schapira.
A speech therapist in the Peoria Unified School District, Hoffman previously taught in Tucson for three years and, prior to that, in the Portland Public Schools in Oregon. Throughout her professional career, she has collaborated with teachers, administrators, specialists and parents to provide the best possible solutions for students.
While in Tucson, Hoffman was a member of the Autism Society of Southern Arizona's Education Committee and worked with United Cerebral Palsy of Southern Arizona.
Donations are requested by attendees to cover costs. Please contact the Yavapai County Democratic Headquarters at 928-541-0413 for more information. Meetings typically end by 8 p.m.
Convergence at Arcosanti Nov. 10-12
Convergence at Arcosanti -- an all-weekend event combining social and environmental discourse with music, art and dance -- is both conference and music festival. It brings together renowned speakers, artists, musicians, and activators to co-create a weekend of vibrancy.
The event begins at noon Friday, Nov. 10, and ends at 9 p.m. Sunday, Nov. 12.
With themes of empowerment, creativity, and collaboration at the core, attendees will convene to approach essential discussions of this era, and to demonstrate sustainable values together. The goal is to DO community and sustainability, not just talk about it. Each day, attendees will guide themselves through a flow of keynotes, workshops, panel discussions, art installations, performances, film screenings, acoustic, dance music and more.
Organic meals will be offered in the Arcosanti Café. There's also a Community Kitchen available to cook your own food, as well as the annual Slow Food Breakfast on Sunday!
Camping will be available overlooking the beautiful Agua Fria River, or the Cordes Junction Motel offers rooms about 2 miles away.
Arcosantii challenges all attendees to leave NO FOOTPRINT. This means bringing their own plates/utensils, refillable water/drinking vessels, and in general slowing down to do things right!
A full weekend pass is $150; a day pass is $80, and early entry is $50. Enter the promo code "arcocommunity" for 10 percent off passes.
For tickets, information and more, visit arco.life.
Bearizona: Free admission for veterans, active duty military on Nov. 11
This Veterans Day, Bearizona Wildlife Park invites all active duty and retired military to enjoy a day at the park as a Thank You for their service.
On Saturday, Nov. 11, all veterans and active-duty military personnel will receive free admission into Bearizona Wildlife Park, 1500 E. Route 66, Williams, Arizona, by presenting a military ID or proof of service.