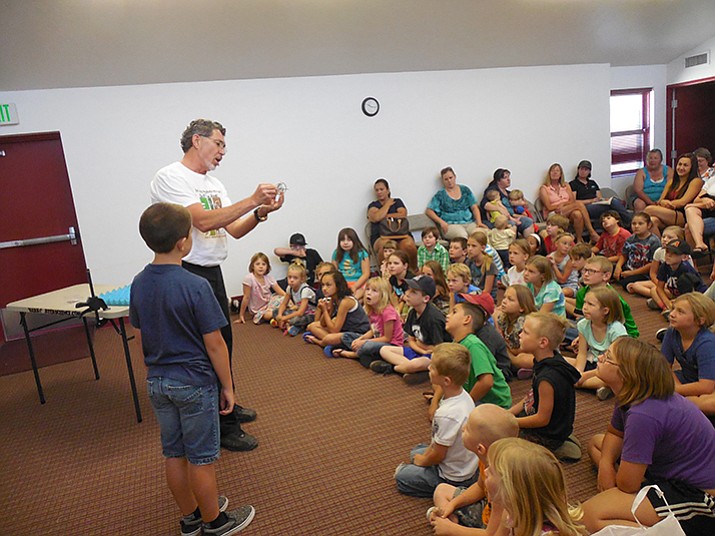 Originally Published: May 17, 2017 5:55 a.m.
Everyone knows that reading is important. Through reading you learn new things such as hobbies, gaining greater understanding of topics that interest you, new ways to solve problems, and understand the world you live in.
Miss Darlene (Darlene Westcott) has worked at the Chino Valley Library since 1995, and has been the Children's Librarian since 2000, and does her best to keep reading an important part of children's lives.
"During the year I have three story times a week for pre-schoolers and toddlers. I also go to Head Start and do programs once a month, and schools come to the library for educational programs," Miss Darlene said.
When school is out, to make sure children keep up their reading skills, Miss Darlene starts a summer reading program at the library, on June 7, which lasts for eight weeks.
"This year's summer reading program's theme is 'Build a Better World.' The programs are on Wednesdays at 9:30 or 10:45 a.m. for ages pre-school through 5th grade in the community room. I suggest people come early to the programs as they are usually well attended. Also on Thursdays starting June 8, at 10:30 a.m. is our Special Needs (Self-Club) programs," said Miss Darlene.
"Every week during the summer we have a new program which consists of science, magic, music, balloons, and even Ronald McDonald, and the summer program ends with a grand finale in the park, everyone brings a blanket to sit on and enjoys lunch provided by the school summer lunch program with a Japanese drummer to entertain. The children who participate in the program, receive free books at the finale sponsored by the Friends of the Library," she said.
Miss Darlene said she really enjoys and loves all the children who come to the library programs and they love her too.
"Each year at the summer programs it's like a big family reunion for me. I not only get to meet new people, but I also get to see the kids and families that used to come to my programs," she said.
"I enjoy this job because I love serving the people of the community, and I plan to stay as long as I can to help make reading a fun part of children's lives."
For more information about this free program call Miss Darlene at 636-9115.