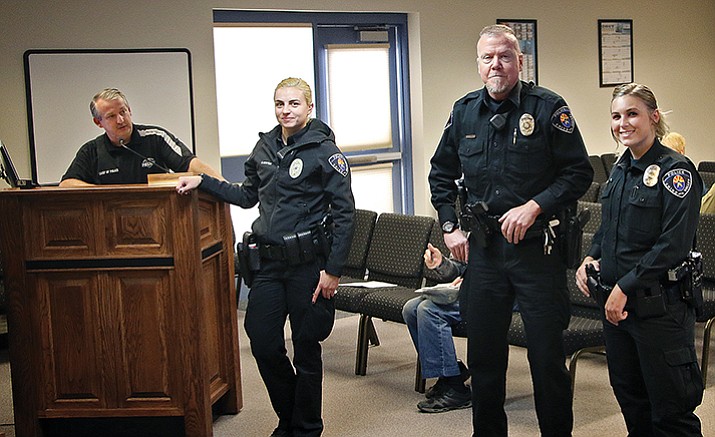 Originally Published: May 17, 2017 5:50 a.m.
Chino man wins at chess
Jim Briggs, a Chino Valley resident, won the Prescott Chess Club Blitz No. 4. He won six matches, losing two to earn $60 in prize money. All games are played with a time control of five minutes for each side.
Tom Green of Prescott was second, with a 5-3 record. He earned $40.
The competition was held at the Pine Cone and was officially rated by U.S. Chess. Three Prescott-area chess players are listed in the April 2017 top 100 blitz chess players age 65 and older. Green is 48th, Henry Ebarb is 65, and David Steeves is 84th.
Children hone entrepreneur skills
The Arizona Homeschool Chapter hosts a Children's Vendor Fair from 10 a.m. to noon, Saturday, May 20, at Little Dealer Little Prices, 2757 N. Truwood, at the east end of Prescott Valley.
Activities and items include crafts, paintball shooting, RC obstacle races, face painting, homemade lotions and more.
Sharla Coffman, head of the Chapter said, "We are trying to teach our kids in the group how to be an entrepreneur and what it takes to run your own small business by selling different items they have created and so forth. Everything sold is a $1 or less."
This event is in its second year, with this past year's Vendor Fair a huge success, Coffman said.
For more information, call 928-308-9085.
Chino Mudder returns
The Town of Chino Valley plans its second Chino Mudder for Saturday, Aug. 26 at Old Home Manor. There will be 20 unique mud obstacles to navigate. To register, visit www.chinomudder.com.
Memorial Day service
American Legion Post 40 officials plan a Memorial Day Service at 10 a.m. at the Chino Valley Cemetery on Monday, May 29. After the ceremony, hamburgers and hot dogs will be served at the Legion Post on Highway 89 at Road 3 South.
The Legion continues to offer a breakfast for $7 every Sunday from 8 a.m. until 11 a.m. They have a karaoke night planned for Friday, May 19.
Head Start accepting applications
Chino Valley Head Start Center is accepting applications for enrollment for the Chino Valley/Paulden area. NACOG/Head Start offers quality services at no cost for all income-eligible families, which include classroom and home learning, healthy meals, and services for children with special needs. They have different options to fit families, including: Early Head Start for ages 0-3, Full or Half-Day Head Start for ages 3-5.
Slash free program
The annual free slash drop-off program is now open through June 1 at county transfer stations.
This is the time of year to create, or maintain, defensible space around properties. Slash includes brush, branches, grass, leaves and yard trimmings — all removed from plastic bags. Items not accepted are lumber, stumps, roots, cactus, metal and garbage.
County transfer stations are located in Black Canyon City, Camp Verde, Congress, Mayer, Paulden, Seligman, and Skull Valley. Drop off during normal operating hours. For locations and hours, visit: http://www.yavapai.us/Portals/30/TransferStationList.pdf.
Heritage Festival
The Chino Valley Area Chamber of Commerce plans its second Chino Valley Heritage Festival for 11 a.m. to 4 p.m. Saturday, May 20, at the Chamber's office on Road 2 South and Highway 89. There will be a bus tour of historic sites in Chino Valley with commentary from members of the Chino Valley Historical Society, live music, food vendors and face painting.
In addition, the Chamber is sponsoring an APS Crock Pot Cook-Off. There is no charge to enter. Cost for attending is $3 and children under 10 are free.
Money raised helps supports the Chamber's scholarship fund for graduating Chino Valley High School and JTED students. Visit www.chinovalley.org for information.
How to paint
Acrylic painting classes at Chino Valley Senior Center, 1021 W. Butterfield Road every Thursday from 1 to 3 p.m. Upgraded paints and other professional supplies furnished; with structured lessons and one-on-one personal assistance by highly skilled artists — all for only $3. Just bring your enthusiasm; have fun creating art and display it at the Senior Center. For more info contact Chino Valley Senior Center 928-636-9114. Sponsored by High Desert Artists, Inc. a 501c3 nonprofit organization.
Pure fiction
The Friends of the Chino Valley Library are featuring hardcover fiction books, each for 50 cents, during the month of May. Money raised benefits the library. See the group's display inside the library.
Town seeking volunteers
The Town of Chino Valley is seeking applicants interested in sharing their talents, expertise, and enthusiasm to serve on the following Council-appointed boards and committees: Board of Adjustment, Parks and Recreation Advisory Board, Roads and Streets Committee, Senior Center Advisory Board, Industrial Development Authority, and Municipal Property Corporation.
Visit www.chinoaz.net/222/Boards-Commissions to view committee descriptions, desired qualifications, residency requirements, terms of office, and meeting days and times, and see where you best fit in!
Obtain a Public Body Appointment Application from the link above or address below. Application must include brief resume or summary describing relevant experience. Applicants must be willing to serve on a volunteer basis.
Applications will be accepted until the positions are filled.
First review to occur in mid-May.
Submit application or direct questions to:
Town of Chino Valley
Attention: Town Clerk's Office; 202 N. State Route 89; Chino Valley, AZ 86323; Phone (928) 636-2646, ext. 1052; Fax 928-636-2144; jlewis@chinoaz.net.
Suspect comes down from tree
Cottonwood man who allegedly fled the scene of a crashed van in Camp Verde eventually had to be coaxed out of a tree near a Sedona hotel by Yavapai County Sheriff deputies on May 6.
The 37-year-old ultimately was arrested on a variety of charges.
The Yavapai County Sheriff's Office reported in a news release Wednesday, May 10, that Brandon Mandeville fled the scene of a May 4 accident in Camp Verde – from which he faced charges of driving on a suspended license, leaving the scene of an accident, criminal damage, resisting arrest, and possession of drug paraphernalia.
Witnesses reported seeing Mandeville leaving the scene of a crashed blue 1997 Chevrolet van in the 2900 block of South Salt Mine Road, Camp Verde, the sheriff's news release stated, adding that the van had struck a fence and damaged a main cable distribution box.
After being informed that he was being detained, Mandeville reportedly ran, dropping a backpack that allegedly contained a scale with heroin residue. Other drug paraphernalia — bindles, syringes, scales, spoons, and smoking devices, all with heroin residue – was found in the damaged van, according to the sheriff's office.
Officers could not find Mandeville that day, but at about 9:30 p.m. May 6, Sedona Police officers located him in the parking lot of the Sedona McDonald's restaurant along West Highway 89A, and he allegedly immediately fled again – this time to the nearby hotel, where he gained access to the roof, and then to the balcony of a hotel room, according to the sheriff's account.
Sedona officers contacted YCSO, and deputies soon arrived at the hotel, where Mandeville could be seen on the second floor. When he was told of his pending arrest, Mandeville allegedly began kicking the sliding glass door of the balcony in the occupied hotel room, causing about $2,000 of damage and disrupting the hotel activities and guest movement.
"Not able to get in, he ran back to the roof and then jumped into a tree," the sheriff's office account said of Mandeville. It added: "Mandeville was eventually coaxed out of the tree and arrested."
Additional charges include attempted burglary, criminal damage, disorderly conduct, and resisting arrest.
Mandeville was booked at the Camp Verde Detention Center on charges from both incidents, the sheriff's news release stated, adding, "The court released him on a promise to appear the next day."
Information provided by Yavapai County Sheriff's Office.