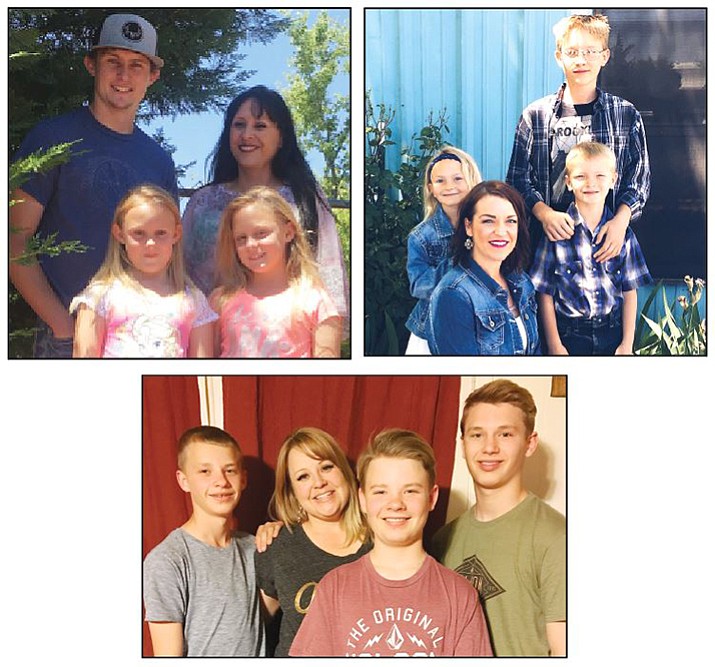 Originally Published: May 10, 2017 6 a.m.
There are many names for mothers, Mom, Madre, Mum, Mama, Mommy, whatever they are called, it is said with love and affection by their children.
Here are some Chino Valley stories from mothers of twins.
Ashley and Virgil Funkhauser had their first son Colton, then 12 years later in 2010 Ashley found out she was pregnant again.
"I was so excited when I found out because Virgil had a terrible accident as a teen and was told he would be unable to father children.
We asked our son Colton what he wanted a boy or a girl, and he said he wanted one of each, and that is what we had, a boy, Brody, 8 pounds, 2 ounces, and Emma, 6 pounds, 3 ounces," Funkhauser said.
Ashley's cousin, Courtney (who has quadruplets), helped prepare her on how to c are for twins to make it easier on her.
"She said when one baby wakes up, wake up the other one to feed and diaper. Colton and Virgil were both my rocks and really helped me," Funkhauser said.
She said Brody and Emma, who attend Territorial Elementary, have a special bond, and their own brand of communication.
"Both of the twins are very smart. Brody is kind hearted and easy going, while Emma is brave, reserved and has a plan of action," she said.
The twins, age six, said they know what they want to be when they grow up. Brody wants to be a cowboy, a chef, and a Navy Seal. Emma wants to be an artist and live in Paris.
"Having twins is double the blessings, double the love and hugs, because you have two little bundles of joy."
Jennifer Hutchinson was going to her doctor to see about having a hysterectomy, but during the pre-opt testing found out she was pregnant. Twelve years earlier Jennifer had her son, Hunter, who was born premature on her birthday. Then in 2008 she had her twin girls, Alexandra (Alex) and Andria (Andi), who were also born premature on her birthday.
"Unfortunately, the twins came early because 75 percent of my placentia had torn and I was bleeding internally, which made one of the twins (Alex) very sick too. She has a blood disorder and has to go have platelet treatments every so often, but we are able to keep it under control with high vitamin C," Hutchinson said.
"Alex and Andi, who attend Del Rio Elementary, both love to ride quads and horses, and though they look very much alike, their personalities are totally different. Andi is a people pleaser and wants everyone to be happy, while Alex is very strong willed in her thinking and will speak up for herself," she said.
"The most difficult thing for me with twins is the competitiveness with each other, because one is always hurt, and that hurts me," Hutchinson said.
"My husband … and I thank God that even though He waited so long for me to have another child, He gave us two. We feel doubly blessed in our family.
"When I was told I was having twins, my husband Shane and I were in shock because twins don't run in either of our families," Jen Stevenson said.
Jen had twin boys, Craig and Cory, who are now age 14 and attend Mingus Springs Charter School. We also had a son, Clayton, who was two when the twins were born. All the boys are very close and when they were little people thought I had triplets, in fact now people think 16 year old Clayton and Craig are the twins," Stevenson said.
"For me the most difficult thing when they were babies was not getting enough sleep, but luckily they started sleeping through the night when they were a month old," Stevenson said.
As the twins have grown, Stevenson said how totally opposite they are.
"Craig is more independent, social and more into athletics, while Cory is very friendly, loves everybody, and is more tender-hearted. Cory plays the piano, and Craig is into football," Stevenson said.
Having twins is a joy for us. We had a lot of fun with my family picking out twin names. My advice to women having twins is to enjoy it, and to document what they do," she said.
"I admit having twins has taught us patience, but I feel very blessed to have strong healthy sons."